Photo Album
The Yorm Bopha Protests: 176 Days of Solidarity in Cambodia
Today is Yorm Bopha's 176th day in Correctional Center 2, a prison on the outskirts of Phnom Penh.
Bopha is a human rights defender from the Boeung Kak community who played an active role in the movement calling for the release of the Boeung Kak 13, a group of women who were imprisoned in May 2012 for defending their land rights. The 13 were released on June 27, but Bopha was arrested on Sept. 4, 2012, and accused of beating of a man in Boeung Kak. Though she maintains her innocence, Bopha was convicted on Dec. 26, 2012, and sentenced to three years in prison.
Since Bopha's arrest, Boeung Kak residents and other supporters have staged approximately a dozen major protests calling for her release. This photo album documents some of these events.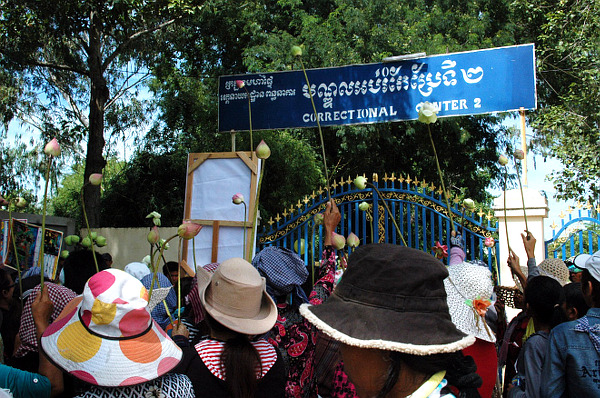 Day six in prison (Sept. 9, 2012): Bopha's supporters protest outside Prey Sar Prison's Correctional Center 2 in Phnom Penh.
Related Material
Topics & Tags