Article
Further land abuses in Phnom Penh perpetuates the cycle of poverty, violence
Published on September 19, 2005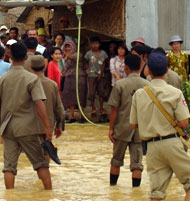 Police force facing Russei Keo community
On the 9th of September 2005, the Governor and Deputy Governor of Khan Russei Keo led approximately 100 armed civilian and military police, together with bulldozers and approximately 20 workers to demolish 200 private houses occupied by squatters. This incident continued the dangerous trend by authorities of illegally evicting squatters and reappropriating land, through violent and destructive means.
In the course of the eviction the authories destroyed the houses of 545 families, including their personal belongings. One resident was also injured during the eviction and was treated by the LICADHO Medical Office. The local authories did not carry out the eviction peacefully, nor did they obtain the proper warrants for the eviction or provide the residents with the required notice period. The eviction was a clear violation of legal procedures and an illegal act of destruction of private property.
The local authorities had not intervened when the squatters initially built their houses on the land and only intervened after the houses were completed. Such action is in breach of Sub-Decree No. 86 'Nor Kror Bor Kor', Article 31, Paragraph 7 (Construction Permission Letter dated 19th December 1997), which states that: "....in [this] particular case, the local authority has to file a complaint to the court asking [for] an urgent warrant for pulling down...".
Given the increasing tension surrounding land evictions, it is unacceptable that authorities pay no regard to making contact with the squatter communities prior to the eviction or make any attempt at planning for a fair resettlement of the evicted community. While there are some attempts are made for compensation from the government and the private sector, they are rare and most often inadequate.
LICADHO urges the relevant ministries and court institutions to take appropriate action against the local authorities for destroying the squatters' property by illegal means and also to continually monitor future land transfers. The Russei Keo eviction only represents one among many evictions in what has become a disturbing trend in recent years. Such violent and illegal acts of land grabbing affects the poorest and most vulnerable of society and perpetuates the cycle of poverty and abuse.