Article
Jumbo finale for Southeast Asia Human Rights Defenders forum in Cambodia
Published on November 24, 2006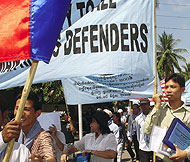 A colorful march to Wat Phnom concluded the first ever meeting of Southeast Asian Human Rights Defenders on 18 November, with a surprise guest appearance by perhaps the 'biggest' supporter of human rights in Cambodia: Sambo the elephant. Draped in banners proclaiming "Solidarity to all human rights defenders", the elephant led more than 100 marchers from around Southeast Asia for a lap of Wat Phnom in the searing midday heat.
It was a fitting conclusion to the 1st Southeast Asian Human Rights Defenders forum, held in Phnom Penh from 14-18 November. 33 regional activists joined more than 50 Cambodian human rights defenders for the event, which was organized by FORUM-ASIA and LICADHO, in cooperation with ADHOC. Delegates came from Aceh, Burma, Cambodia, East Timor, Indonesia, Malaysia, the Philippines, Singapore and Thailand, with a guest representative from Nepal.
"As human rights defenders we need to have good networks and learn from each other," said Htoo Chit, director of Grassroots Human Rights Education, Burma.
Mr. Chit spoke passionately about his experience visiting the Andong village relocation site for the 1,600 families forcibly evicted from Sambok Chab, saying the conditions were worse than he experienced as a refugee in camps along the Thai-Burma border.
"The human rights defenders in Cambodia are raising issues which we have to support back in our countries," he said.
This acknowledgment of the seriousness of human rights violations and offers of support were welcomed by Cambodian activists, who came from both the formal NGO sector and from grassroots community struggles.
"If we have a problem we can contact our partner and this network should push together," said Mam Sakin, a forestry activist from Kratie province.
The five-day forum was held at the new Ministry of Women's Affairs building and covered a wide range of issues. Two of major themes that emerged from the week-long talks were natural resource management (particularly land issues) and the lack of fundamental freedoms such as assembly, association, movement, expression and access to information throughout Southeast Asia.
Participants also discussed the role of the UN in supporting human rights defenders, with particular interest in the roles of UN Special Representatives, how UN country offices can support local activists and mechanisms in place to protect human rights defenders. Activists shared the experiences of their country's human rights situation and made a commitment to improve information sharing, as well as to engage in joint lobbying for specific issues raised by FORUM-ASIA members and partners in Southeast Asia.
Many participants were inspired by the events in Nepal, where a 'people power' movement toppled the king in April this year and led to the signing of the Comprehensive Peace Accord on 21 November which formally brought to an end Nepal's decade-long civil war.
The forum was also addressed by Suciwati, the wife of Munir, an Indonesian activist poisoned on an international flight in 2004. The high profile assassination and subsequent cover-up had striking similarities to the case of trade union activist Chea Vichea, who was shot in broad daylight, also in 2004. The two men convicted of the assassination are still in prison despite a lack of evidence and international outcry as to their believed innocence.
A recurring theme throughout the forum was that everyone has a responsibility to defend human rights, not just NGO workers. This resonated with Cambodian participants, who included trade union workers, community activists, students and monks.
"The role of monks is not only to build pagodas, but to also build the capacity and development of the people so they understand Buddhism and human rights," said Mean Someth, a monk from Wat Preah In Kosa, Siem Reap province.
Participants are in the process of drafting a 'Phnom Penh Declaration' to articulate unity amongst Southeast Asian activists and to urge for the role of human rights defenders to be strengthened. The draft declaration discussed on 17 November noted that Cambodian human rights advocates suffer arrests, threats, intimidation, physical assaults, travel restrictions, malicious legal action and murder.
The final Phnom Penh Declaration will be completed within a week and will be tabled with declarations drafted in South Asia and Northeast Asia when participants meet in Bangkok for a regional forum on 28-29 November.