Article
Innocent Prisoners in Cambodia Mark 1,700 Days Behind Bars
Published on September 25, 2008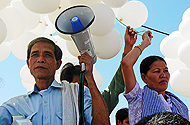 Sok Sam Oeun's father and Born Samnang's mother addressing the gathering in front of PJ Prison.
September 23, 2008 marked the 1,700th day that Born Samnang and Sok Sam Oeun have spent in prison for a crime they did not commit.
Despite overwhelming evidence of their innocence, the two men continue to serve 20-year prison sentences for the murder of trade union leader Chea Vichea. They remain in Phnom Penh's PJ prison, where they have been since their arrests on January 28, 2004.
On the Tuesday morning, over 70 family, friends and supporters gathered outside of PJ prison in a show of solidarity to release balloons to mark the 1,700th day in prison for the two men. The group gathered outside the prison walls adjacent to the two men's prison cell in the hopes that they would be able to see the balloons and hear that people are still supporting them.
Attending the gathering were Sok Sam Oeun and Born Samnang's parents joined by Chea Vichea's brother Chea Mony. Each addressed the gathering thanking the people for their ongoing support and calling for justice for the two men.
"Please do not lose your hope. There will be the day you will receive the justice that you have long been denied," Chea Mony told the crowd, in comments intended for the two imprisoned men and their families.
Also present at the gathering were Cambodian Independent Teachers Association president Rong Chhun, Community Legal Education Centre Executive Director Yeng Virak, and Voice of Democracy Radio Director Pa Nguon Teang , all of whom have been unjustly imprisoned in the past.
"We all know that Born Samnang and Sok Sam Oeun are not guilty; however the government still keeps imprisoning them," Pa Ngoun Tieng told the crowd, "I have been jailed before and I too know the feelings of injustice these men feel."
The Cambodian police and courts' handling of Born Samnang and Sok Sam Oeun's case has attracted widespread criticism, from inside and outside of the country. The two men's trial by the Phnom Penh Municipal Court in August 2005, and an Appeal Court hearing in April 2007 which upheld their convictions, violated Cambodian legal procedures and international human rights standards.
Following the Appeal Court's upholding of their convictions in April last year, the two men have been waiting for 17 months for the Supreme Court to hold a hearing on their case. By law the Supreme Court is supposed to issue a verdict within six months of receiving a case.
Speakers at the balloon-launching event called for the Supreme Court to quickly hold a hearing on the case, and the court to restore some justice in this case by ordering the immediate release of Born Samnang and Sok Sam Oeun.