Article
Cambodia Monthly News Summary – May 2010
Published on June 1, 2010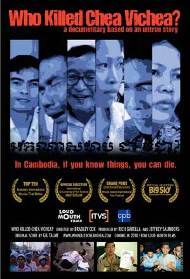 The movie poster for the film "Who Killed Chea Vichea?
Public Screening of "Who Killed Chea Vichea?" Documentary Banned
1 May 2010. In celebration of Labor Day, the Cambodian Confederation of Unions (CCU) together with members of the opposition Sam Rainsy Party attempted to conduct a public screening of the documentary film "Who Killed Chea Vichea?" The film examines the January 2004 assassination of Chea Vichea, President of the Free Trade Union of Workers in the Kingdom of Cambodia (FTUWKC). The film was going to be shown near the newspaper stand where Chea Vichea was gunned down, however anti-riot police repeatedly pulled down the movie screen when organizers attempted to show the film. Various government ministries and departments gave differing reasons for the banning of the public screening, saying that the foreign-produced film was illegally imported, that prior permission was not given and that the government must approve all films.
China Pledges Military Aid to Cambodia
3 May 2010. Whilst attending the Shanghai World Expo, Prime Minister Hun Sen met with Chinese President Hu Jintao, who pledged military aid to Cambodia worth 100 million Yuan (USD$14 million). The aid will come in the form of 256 military trucks and 50,000 military uniforms for the Royal Cambodian Armed Forces. The new Chinese aid comes quickly after the US had suspended a similar shipment of aid in response to the deportation of 20 Uighur asylum seekers to China in December 2009.
Amnesty International Releases 2010 Human Rights Report
27 May 2010. Amnesty International released its annual report on the state of human rights worldwide. The report included commentary on the state of affairs in Cambodia, citing the most pressing issues to include forced evictions, prosecution of human rights defenders and the restriction of freedom of expression. The Cambodian government criticized the report as attacking the government without any basis.
LICADHO Staff Member Arrested for Disinformation
29 May 2010. LICADHO staff member, Leang Sok Chhoeun, was arrested at his home in Phnom Penh at approximately 615am. The next day he was charged with disinformation by the Takeo provincial court and sent to pretrial detention in Takeo prison. LICADHO believes the arrest, charges and detention of its colleague is completely baseless and has appealed to all authorities to respect the law and ensure its colleague is not subjected to mistreatment.