Article
2012 in Review: Crackdown on Freedom of Expression and Freedom of Assembly
Published on February 15, 2013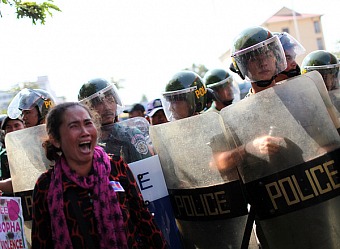 Enlarge this picture
A Boeung Kak Lake resident cries out on December 10, International Human Rights Day, after police beat back demonstrators attempting to march to the Council of Ministers building.
As part of the lead up to the release of our report "Human Rights 2012: the Year in Review," on February 18, LICADHO is publishing a four-part web series reviewing the key human rights of 2012. Daily installments will be published throughout the week, culminating with the publication of our report on February 18.
The most shocking attack on freedom of expression in 2012 came in September, when muckraking journalist Hang Serei Oudom was murdered. His battered body, hacked at least six times with an axe, was found in the trunk of his car. Oudom's work had focused on exposing illegal logging and forest crimes involving the local elite.
Meanwhile, as Cambodia's ASEAN chairmanship unfolded and the 2012 commune election approached, the government demonstrated increased intolerance for peaceful assembly and expression.
In March, 30 villagers from Koh Kong travelled to Phnom Penh to deliver a petition to the Chinese embassy regarding an ongoing land dispute with the Chinese Union Development Group Co. that affects over 1,000 families. Authorities confronted the group at their guesthouse in Phnom Penh, and forced them into a bus that returned them to Koh Kong. Two of the group's leaders were detained in Phnom Penh.
Similarly, in May, the Pursat court opened a criminal complaint against Kuth Veng, a prominent community leader, accusing him of incitement in relation to an ongoing land dispute between communities in Pursat and Pheapimex Co. He was informed of the criminal case the day he accompanied LICADHO lawyers in filing his community's civil case related to the land dispute.
Land and labor ... have emerged as the most pressing human rights issues in Cambodia today. Land and labor form the foundation of peoples' livelihoods – they are at the core of any society. When there is no justice in these sectors, there is no justice in any sector.
The 21st ASEAN summit and the 7th East Asia Summit in November, and an associated gathering of ASEAN civil society organizations prior to the meetings, brought a new wave of crackdowns on freedom of expression and assembly.
Prior to the summit, authorities repeatedly warned on television, radio, online and in print that citizens were expected to behave during the ASEAN summit and that disturbances would not be tolerated.
On November 12, the Ministry of Interior stated that they would not allow a planned march of 3,000 people from Cambodia and the region organized by the ASEAN Grassroots Peoples Assembly/Solidarity for Asian People's Advocacy (AGPA/SAPA) – an ASEAN umbrella group for civil society – on November 16. Ultimately, about 1,500 people gathered anyway in front of the Korean Center in Phnom Penh, and marched to the nearby National Assembly, where they stayed for about three hours without any disruptions.
Between November 12 and 14, at least five venue owners unilaterally pulled out of contractual agreements to hold civil society events at the last minute due to pressure and intimidation by authorities. In one case, the Stung Meas restaurant in Phnom Penh – which was to be the site of the AGPA/SAPA opening ceremony – pulled out on the day of the event, as 1,500 people were en route to the gathering. Both the electricity and water supplies to the venue were cut off.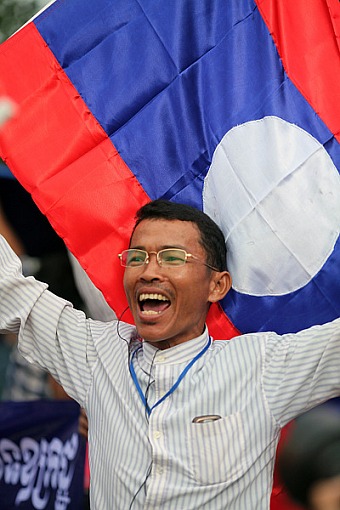 Enlarge this picture
A man participates in a pan-ASEAN civil society march in Phnom Penh on Nov. 16, 2012, just prior to the 21st ASEAN summit. Authorities attempted to block the gathering.
Meanwhile, more than 250 activists from around Cambodia were turned out of their guesthouses, some in the middle of the night. Several activists also received threatening phone calls, warning them to be quiet in the run up to the ASEAN summit. Undercover and uniformed police also intimidated activists directly, trying to enter an NGO office and disrupt a workshop, asking for names of all participants, and making threatening comments. They also questioned all NGO venues which hosted ASEAN related metings, both for AGPA/SAPA gatherings and for separate meetings organized by the Asean Civil Society Conference/Asean People's Forum (ACSC/APF).
On November 15, eight residents of Thmor Kol village, located near Phnom Penh International Airport, were arrested and detained after they painted "SOS" on their rooftops next to images of US President Barack Obama, who was due to arrive in Phnom Penh the following week for the ASEAN Summit. The villagers – who have possession rights to their land under the law – were among some 165 households who received eviction notices in July. The notices claimed they were living on state land. The villagers were released 12 hours later.
Also in November, the government issued a new circular ordering the closure of all Internet cafes within a 500 meter radius of schools and educational institutions – an order that, if implemented, would have amounted to a near-complete ban on such businesses in central Phnom Penh. After an outcry of negative publicity, authorities publicly denied that they intended to close any Internet cafes. But the tone of the circular led to fears that Cambodia's forthcoming Cyberlaw – which could be enacted as early as 2013 – could contain draconian provisions restricting the use of the Internet.
In a more positive development, more than 42,000 people from across Cambodia came together to mark International Human Rights Day at multiple events nationwide between December 8-11. Most events were peaceful, though some were not – notably a planned marched by the Boeung Kak community which ended in vicious police violence when residents attempted to march to the Council of Ministers building.
Participants in many events signed T-shirt petitions calling for an end to forced evictions, among other things. The T-shirts were then brought to the National Assembly on December 17, along with thousands of advocacy items calling for an end to evictions sent in from Amnesty International members in South Korea, New Zealand, France and Germany. To conclude the gathering in front of the National Assembly, hundreds of organizers and volunteers danced to a land-rights themed rendition of "Gangnam style" wearing T-shirt petitions which had been endorsed by over 11,000 Cambodians.
Looking to 2013
As 2013 begins, at least 12 human rights defenders remain imprisoned, land conflict continues to dominate the human rights agenda, and fear permeates the landscape. The year will also see National Assembly elections in July, an event almost certain to bring increased repression and obstruction of personal freedoms as the ruling Cambodian People's Party seeks to maintain its grip on power. In light of the events of 2012, and the political importance of 2013, the human rights atmosphere will likely remain tense.
MP3 format: Listen to audio version in Khmer