Article
ADHOC and NEC Staff Handed Suspended Sentences For Bribery Convictions
Published on September 26, 2018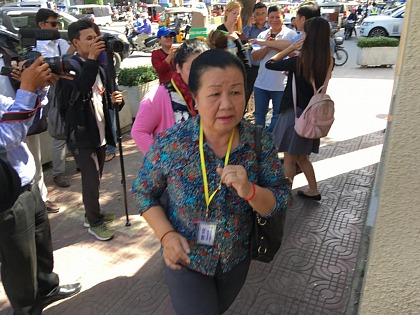 Enlarge this picture
Lim Mony arrives at Phnom Penh Municipal Court on 26 September 2018.
Four staffers from the Cambodian Human Rights and Development Association (ADHOC) and a National Election Committee (NEC) official were convicted today at Phnom Penh Municipal Court on bribery charges linked to a case against former opposition leader Kem Sokha.
The four ADHOC staffers – Lim Mony, Ny Sokha, Yi Soksan and Nay Vanda – and NEC official Ny Chakrya, were handed five year suspended sentences by a panel of three judges. The time already served by the five during their pre-trial detention was included in the sentencing and the remaining time was suspended, meaning they will not return to prison.
During the trial they were questioned about their dealings with Khom Chandaraty – an alleged mistress of Kem Sokha who approached ADHOC for help when she was interrogated by anti-terrorism police. They were also quizzed about material assistance payments made to her along with legal advice. Presiding Judge Duch Sok Sarin said the four ADHOC staffers convinced Chandaraty to lie about the alleged affair and that Ny Chakrya acted as an accomplice.
Chandaraty, the plaintiff and key witness in the trial, was not present in court and statements were read out for just two out of seven other absent witnesses which made cross-examination impossible. No credible evidence was presented by the prosecution.
The four ADHOC staff were charged and convicted under Article 548 for "bribery of a witness" and NEC official Ny Chakrya – a former ADHOC employee – was found guilty as an accomplice to the same crime, under Articles 548 and 29 of the Cambodian Criminal Code.
The five human rights defenders previously spent 14 months in pre-trial detention in Phnom Penh. Their imprisonment was deemed arbitrary by the UN Working Group on Arbitrary Detention.
Their arrests were part of a sweeping and ongoing crackdown on civil society organisations, independent media and human rights defenders.
MP3 format: Listen to audio version in Khmer
100%
0%
0%
0%
Topics & Tags
Related Material