Article
Authorities Stop Communities Collecting Garbage and Discussing Land Rights
Published on October 1, 2018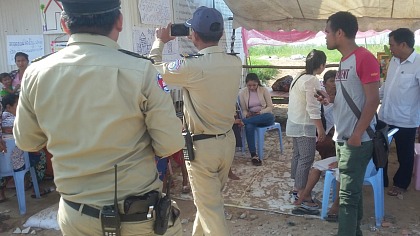 Enlarge this picture
Police shut down a World Habitat Day event in Prek Takong 60 Metre community, Phnom Penh, on 28 September 2018 (Photo credit: community representative).
At least two communities have been prevented from celebrating the United Nations' World Habitat Day by Cambodian authorities and others have cancelled events out of fear of reprisals.
More than 2,000 people in at least 30 communities nationwide have planned events to raise awareness of this year's theme – "municipal solid waste management" – as well as the annual theme: the right to housing. Activities are taking place between 28 September and 5 October 2018, many of them in communities affected by land grabbing and forced evictions or threatened by new developments.
According to the UN, World Habitat Day (WHD) is an opportunity to "reflect on the state of our towns and cities, and on the basic right of all to adequate shelter".
Communities in Phnom Penh, including Borei Keila and Boeung Kak Lake, have marked WHD with neighbourhood garbage collections, children's activities and discussions on citizens' basic right to housing but were closely monitored by security forces as in previous years.
However, several communities in the capital and around the country have been threatened and intimidated by authorities, prompting some to cancel events or hold them indoors.
Police shut down a WHD event in Phnom Penh's Prek Takong 60 Metre community on Friday as people began collecting garbage, claiming the gathering was illegal. One community representative was detained and forced to thumbprint a letter pledging not to organise similar events in the future without government permission.
In Siem Reap, a community event was banned by local authorities who claimed it was illegal when they were informed of the plans in advance. Phnom Krom community had intended to march around their neighbourhood today picking up garbage as well as holding discussions on land and housing rights. However the community was forced to cancel the event due to threats of a crackdown if it went ahead.
More events are planned in the coming days.
MP3 format: Listen to audio version in Khmer
33%
11%
56%
0%