Article
Civil Society Marks Five-Year Anniversary of Veng Seng Killings
Published on January 3, 2019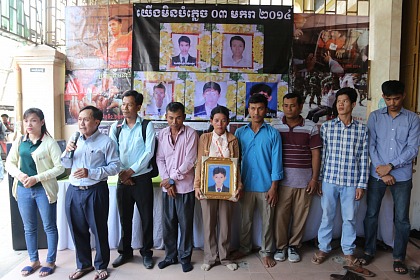 Enlarge this picture
Victims of the violent crackdown on Veng Sreng Boulevard address participants and the media at a memorial service in Phnom Penh.
Around 100 unionists, workers and rights activists gathered for a memorial ceremony this afternoon to mark five years since security forces opened fire on striking workers at Phnom Penh's Veng Sreng Boulevard, killing four and injuring dozens.
Today's commemoration was held at association and union coalition Solidarity House and attended by garment workers, unionists and families of the victims. Participants took part in a religious blessing ceremony and a discussion on the minimum wage protests, where workers were demanding a $160 living wage, and the ensuing violence.
Victims of the violence called for security forces members to be held accountable for the killings and for protest-related charges against workers and union leaders to be dropped immediately.
The violent crackdown followed widespread worker protests over the minimum wage in 2013 and converged with the opposition's boycott parliament in relation to the contested results of the 2013 national election.
On 3 January 2014, mixed security forces shot at workers, killing four people, with one person, who was last seen shot in the stomach, still missing. At least 38 people were injured and hospitalised, many with bullet wounds.
The four workers who were killed are Kim Phaleap, Sam Ravy, Yean Rithy and Pheng Kosal. A fifth worker, Khem Saphath, was last seen being taken away by security forces with a bullet wound in his stomach. While authorities have claimed to have investigated the disappearance and despite repeated requests for a proper investigation, Saphath's body is still missing five years on.
At the time, 23 union leaders and activists were arrested, charged and imprisoned for five months. Last month, six union leaders – Ath Thorn, Chea Mony, Yang Sophorn, Pav Sina, Rong Chhun and Mam Nhim – were convicted and given suspended sentences in relation to the protests. This included a two-and-half year suspended sentence and collective compensation of around $8,600 to two civil parties.
So far not a single security or armed forces member has been suspended or prosecuted for the deaths of the workers.
MP3 format: Listen to audio version in Khmer
0%
0%
100%
0%
Topics & Tags
Related Material