About Cambodia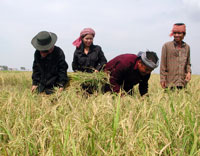 Cambodian rural life
Cambodia is located on the Southeast Asian peninsula between the southern part of Vietnam and Thailand. A significant part of the Mekong River runs through Cambodia. The Mekong and the Tonle Sap - a unique lake which expands and contracts seasonally - provide much of the livelihood for Cambodia's fisherman, as well as flood plains and irrigation for its rice farmers. Cambodia is a primarily agricultural country in which people depend on farming and fishing for their livelihood.

Cambodia's population is approximately 13 million, comprising ethnic Khmer and minority groups. Most of Cambodia's people are Buddhist, with a sizable minority Muslim group and indigenous people in the north-east.

Internationally, Cambodia is perhaps best known for its ancient temple complex of Angkor Wat - the largest religious monument in the world - and, conversely, for the brutal Khmer Rouge regime of 1975-79, that resulted in the deaths of at least 1.7 million people.

Severe poverty is a reality for many, including these garbage pickers1Cambodia was an underdeveloped country before the Khmer Rouge regime, but the destruction of all social, health, educational and financial systems at that time had a devastating effect which is still felt 30 years later. A significant number of Cambodia's well-educated people were murdered or fled overseas, while Buddhism was suppressed and monks were murdered. Cambodians who remained suffered from crippling famine and a totalitarian government.

Today, Cambodia is still struggling to recover from the consequences of the Khmer Rouge, and the years of civil war that preceded and followed it. Poverty remains a massive problem with over 36% of people living below the official poverty line2. Recent research suggests that most economic growth has occurred in urban areas, while in rural areas increases in food production and other forms of development have only matched population growth3. The number of people dying from curable and preventable disease is very high, largely because health care is limited and access to appropriate medicine is inadequate. While the number of Cambodians who are HIV positive has dropped from 2.6% in 20034 to 1.9% according to the latest figures, this is still one of the largest HIV epidemics in Asia. In education, at each successive level the student dropout rate grows increasingly large. As a result, a quarter of the population is illiterate.

Poverty is exacerbated by poorly developed infrastructure, with harsh roads, minimal electrical supply outside urban areas and limited telephone coverage. The land title system is not yet reliable, contributing to the problem of land grabbing by powerful people. Meanwhile, there is unsustainable pressure upon natural resources, with forests declining from irresponsible logging and fishing conflicts growing more common.
Human Rights in Cambodia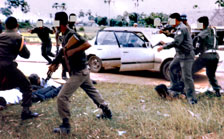 State agents often commit abuses
Human rights abuses remain prevalent in Cambodia. Killings, assaults and threats are common - a legacy of Cambodia's recent violent history. Crimes against women, such as rape, human trafficking and domestic violence, not only continue but in some cases appear to be increasing over time. Children are also victims of domestic violence, rape, trafficking and exploitative child labor. The practice of torture by police and within prisons continues to be discovered by human rights workers.

Problems with governance remain the greatest hindrance to realizing respect for human rights. The legal system in Cambodia often fails to punish crimes, and perpetuates other abuses. Perpetrators, especially if they are powerful or wealthy, are rarely arrested or convicted. Even grave crimes such as murder are sometimes settled unlawfully, by way of cash payments from the offender to the victim's family, rather than by criminal prosecutions. Such settlements are made even with the participation of court and other government officials, such as police officers or village chiefs.

These deeply entrenched problems are fueled by a variety of causes, including corruption and incompetence within the government and courts, impunity for the powerful, and a lack of political will to reform. In politicized cases, the courts have little power to act independently from the executive branch of the government, and there are few checks on the judicial system. Mechanisms such as the Supreme Council of Magistracy aren't functioning properly and are not independent. The judicial process is tilted in favor of the person with the most power and money, rather than following the rule of law. Even grave crimes such as murder are sometimes settled unlawfully, by way of cash payments from the offender to the victim's family rather than by criminal prosecutions. Such settlements are made often facilitated by court officials, police or village chiefs.

Since the formation of the new coalition government in 2004, the opposition Sam Rainsy Party (SRP) has come under heavy pressure. The seven-year conviction of opposition politician Cheam Channy for alleged fraud and organizing an illegal armed force was seen as a farce by local and international human rights groups. Opposition leader Sam Rainsy and another politician Chea Poch remain in self-imposed exile after having their parliamentary immunity stripped in February 2005, opening the door for civil defamation charges against them to become criminal cases. Banners denouncing the SRP have been hung on state school, indicating a government-sponsored campaign to marginalize the opposition ahead of the 2008 national elections.

Despite these challenges, there is still hope.

Cambodia is now relatively at peace and has taken significant steps towards building a democracy. Civil society is maturing and becoming a stronger voice in the debate on the direction of the country. However, the human rights environment in Cambodia remains precarious, with the issues of land grabbing and a clampdown of freedom of expression of particular concern.
Land Grabbing
In 1975, the ultra-Maoist Khmer Rouge regime abolished private property ownership and destroyed land titles. As people resettled during the 1980s and 1990s, land was occupied and various documents were issued by a range of different authorities. In many cases the best plots were seized by those with the guns and the money, while poor citizens settled on what land they could find.

As the population grows and land prices in modern day Cambodia soar, land grabbing is emerging as one of the Kingdom's most pressing human rights issues. Typically, land occupied by poor Cambodians is claimed by rich and well-connected people who offer no compensation. Violent forced evictions are a regular occurrence.

Unfortunately, land grabbing is fast becoming out of control in Cambodia. The UN Special Rapporteur on Adequate Housing visited in July 2005 and described the situation as a "frenzy" by the rich and powerful to acquire land. LICADHO's Monitoring Office investigates and assists vulnerable communities at risk of have their land illegally seized.
Freedom of Expression
While freedom of expression is enshrined in Cambodia's Constitution, the government has increasingly stifled dissent through arrests, threats and restrictions.

In October 2005, the director of a radio station and a teacher's union leader were jailed in pre-trial detention for alleged defamation relating to a controversial border treaty with Vietnam. A wave of arrest warrants have been issued for several other critics of the treaty, including a student leader and a member of the Royal family.

Cambodia's usually free press has also come under pressure. Journalists have been banned from the Phnom Penh municipal court and must now ask permission from the court director to attend hearings. The Ministry of Culture said in 2005 it was drafting a sub-decree to allow the government to "correct" alleged inaccuracies in history books. These moves indicate a disturbing move towards censorship of the media, which is protected by the Constitution.

History of Cambodia
Monks demonstrate after the 1998 election
Cambodians have long remembered the glory days of Angkor, when a Khmer kingdom ruled large parts of Southeast Asia and huge monuments were constructed. This kingdom eventually fell into decline, and in the 17th and 18th centuries Cambodia was constantly in danger of being absorbed by its two larger neighbors, Siam (Thailand) and Annam (Vietnam).

In 1863, the Khmer kingdom was forced to become a French Protectorate, ushering in 100 years of French colonial rule. The young King Norodom Sihanouk guided Cambodia to independence from French rule in 1953.

The years under Sihanouk are regarded by many as the golden age of Cambodia, yet his rule was authoritarian and his opponents were silenced. As his reign progressed, Cambodia was increasingly drawn into the conflict in neighboring Vietnam. In 1970 Sihanouk was overthrown in a coup which installed Lon Nol as the country's president, whose brief rule was marred by ineffectiveness and corruption. Cambodia accelerated into anarchy, with the United States military bombing positions inside Cambodia, and a civil war pitting the government against a communist Khmer Rouge insurgency in the countryside.

The Khmer Rouge took control of Phnom Penh in April 1975, bringing with them a radical agenda to reshape the country as an ultra-communist agrarian utopia. Their misguided vision resulted in almost four years of torment and death for Cambodia's people through starvation, exhaustion and easily curable diseases. In addition, innumerable people - especially those suspected of having middle or upper class backgrounds, or suspected of 'betraying' the regime - were executed. All vestiges of a civil society and infrastructure were abolished, including money, education, health care, and property. It is estimated that around 1.7 million people died during the Pol Pot regime.

In response to border provocations from the Khmer Rouge, Vietnam invaded Cambodia and took control of the capital in January 1979. A Vietnamese sponsored socialist regime followed, but the government was not recognized by Western countries or the United Nations. As a result, no foreign aid from the West came to the country, which was desperately poor after the Khmer Rouge. In 1985, Hun Sen (the current Prime Minister) came to power.

A civil war continued throughout the 1980s between the government in Phnom Penh (who were allied with Vietnam), the Khmer Rouge remnants and other resistance forces near the Thai border.

In the late 1980s, with the decline of the Communist Bloc and decreasing aid to Cambodia from the Soviet Union and Vietnam, negotiations toward a peace settlement gathered momentum. The eventual result was the signing of the Paris Peace Accords in 1991, in which all the Cambodian parties agreed to disarm and participate in UN-supervised elections.

The Khmer Rouge later reneged and pulled out of the elections. The ballot emerged as a contest between Hun Sen's Cambodian People's Party (CPP), and FUNCINPEC led by Prince Norodom Ranariddh, the son of King Sihanouk. FUNCINPEC won the May 1993 elections, but the CPP refused to accept the results, claiming election irregularities. The King brokered a deal whereby his son's party FUNCINPEC would share power with the CPP. Ranariddh and Hun Sen were appointed co-Prime Ministers in the coalition government, with ministerial and provincial governors' positions split between the two parties. In later years, FUNCINPEC increasingly complained that the division of power was unequal and local levels of government remained in hands of the CPP. In 1995, Cambodia's third main party was formed by Sam Rainsy, a former Minister of Finance who was ousted from the government and from his seat in the National Assembly. Meanwhile, Khmer Rouge guerrillas continued to fight government forces in parts of the countryside.

Tension escalated between the two major parties over power-sharing and military hostilities broke out in July 1997. After a few days of fighting in Phnom Penh, Hun Sen's CPP forces defeated those of Ranariddh's FUNCINPEC. Ranariddh, Sam Rainsy, and many other figures from FUNCINCPEC and the opposition fled the country. In the next nine months, more than 80 alleged political killings - mostly of FUNCINPEC military personnel - were reported by UN human rights workers.

In 1998 Cambodia held its second multi-party elections, a process that was marred by pre-election violence and intimidation, a last-minute change in the formula used to allocate National Assembly seats, and the dismissal of numerous complaints of election irregularities. The CPP won the most votes, but the result was contested by FUNCINPEC and the Sam Rainsy Party (SRP). Large public demonstrations were held in Phnom Penh for several weeks before they were ended by police crackdowns. Negotiations led by the King again produced a new coalition government between CPP and FUNCINPEC, while the SRP became the opposition in the National Assembly.

During 1997 and 1998, the Khmer Rouge insurgency collapsed as many of its top leaders and troops defected to the government. In 1998, Pol Pot, the Khmer Rouge leader who orchestrated the regime which resulted in the death of over a million people, died. Cambodia had a chance at peace for the first time since the late 1960s.

In 2002, Cambodia had its first ever local government elections. The election day itself was largely successful, but the pre-election environment was characterized by violence, intimidation and inequitable media coverage - prevented the parties from competing on a level playing field. The CPP did well in the ballot while FUNCINPEC lost power and the Sam Rainsy Party increased its share of votes.

In 2003, after years of negotiations between the UN and the Cambodian government, an agreement was made to hold a joint tribunal to prosecute surviving leaders of the former Khmer Rouge regime. However, the agreement was criticized by many human rights organizations. They argued the tribunal would not meet international standards and warned that influence from the Cambodian government could jeopardize the trial's independence.

National elections were held again in July 2003, with similar issues regarding intimidation and violence, although some improvement was noted. The CPP and the SRP gained seats in this election at the expense of FUNCINPEC. However, CPP lacked enough seats to form the government without SPR or FUNCINPEC. The two minor parties formed an 'Alliance of Democrats' to bargain with the CPP. Cambodia's government remained in limbo for almost a year, as negotiations between the parties over a new coalition government faltered.

Finally, FUNCINPEC broke ranks with their opposition-allies and on July 15, 2004, a new government was formed comprising CPP and FUNCINPEC. The establishment of the new government was controversial because it required the National Assembly to pass an addition to Cambodia's Constitution in order to allow the simultaneous appointment of Ranariddh as National Assembly President and Hun Sen as Prime Minister. Critics maintain that this change was unconstitutional.

Claims that Ranariddh had accepted a multi-million dollar bribe from Hun Sen to form the coalition government resulted in several defamation suits against the opposition. On February 3, 2005, the National Assembly voted to strip the parliamentary immunity of three SRP politicians. While party leader Sam Rainsy and Chea Poch (who faced defamation charges) immediately fled the country, Cheam Channy was arrested and detained for allegedly forming a rebel army. Six months later, a Military Court found Channy guilty and sentenced him to seven years in jail. International and local human rights groups decried the decision, saying the evidence against Channy was highly dubious and that the Military Court had no jurisdiction over a civilian. Amnesty International declared Channy a 'Prisoner of Conscience'.

In October 2005, the prospect of signing a controversial border treaty with Vietnam sparked heated criticism of the government. Some people claimed the treaty would give away Cambodian land to the Vietnamese and urged the National Assembly, Senate and King not to sign. Prime Minister Hun Sen reacted angrily, threatening to jail anyone who spoke out against the treaty. When arrest warrants were issued for several of the most outspoken critics - including a student leader, union bosses and a member of the Royal family - many fled the country. Rong Chhun, head of the teacher's union, was arrested on October 15 trying to cross into Thailand and was detained awaiting trial on defamation charges. In an October 17 speech, Hun Sen hinted at the possibility of abolishing the monarchy if the passage of the border treaty was blocked. It was signed into effect by King Norodom Sihamoni on November 30.

Cambodia has made great strides in recovering from its tragic recent history. However, ongoing human rights abuses and the recent escalation of issues such as land grabbing and the persecution of opposition voices continue to undermine the hard-won advances.


1 Photo used by permission of Kevin Bolton, eightballpub@yahoo.com.kh
2 The latest national poverty line is approximately $0.45 per day, according to the World Bank
3 Beresford et al (for UNDP), The Macroeconomics of Poverty Reduction in Cambodia, March 2003
4 Figure is for 2002, according to UNDP website.