Briefing Paper
Comments and Legislative Recommendations on the Draft Law on Prisons
Published on October 19, 2011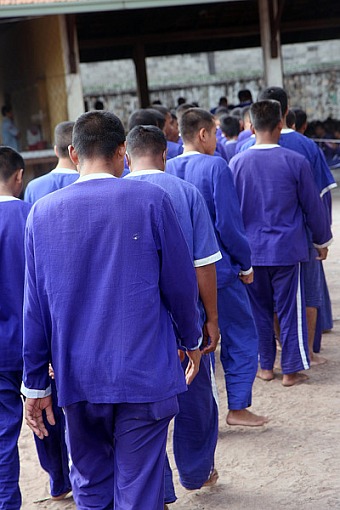 Enlarge this picture
Under proposed legislation, prisoners would be made available to work for private companies.
Cambodia's draft prison law is set to go before the National Assembly in the next two weeks. This briefing paper is meant to serve as a guide for the National Assembly as it debates the laws, by highlighting the current draft's flaws and making recommendations for improvement.
Overall, the draft is a positive step for Cambodia's prison system, but it falls short of fully protecting prisoners' rights in several key respects. Among the most alarming provisions is Article 71, which authorizes the use of prison labor for private enterprise. Both Cambodian and international law forbid the use of prison labor for the benefit of private individuals in most circumstances. Vagueness is also a problem in many areas of the draft. While the law makes broad pronouncements in areas such as sanitation, prison discipline, cell space and recreation, it fails to provide benchmarks or minimum standards in these areas. The law also fails to provide sufficient protective mechanisms in areas such as prison discipline and prison grievances, and places improper limits on public advocacy related to prison issues.
The law also does little or nothing to address core problems which have been well-documented for over a decade, such as requiring prison visitors to pay bribes and the rampant commodification of basic prison amenities, from clean water to sleeping space.