Flash News
Tep Vanny Awaits Appeal Verdict
Published on July 27, 2017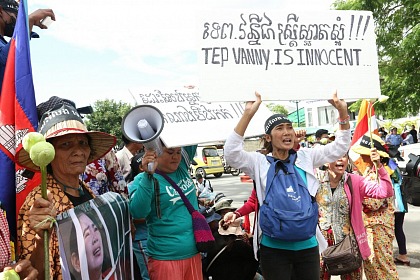 Enlarge this picture
Supporters from communities affected by land disputes protest outside Tep Vanny appeal hearing.
The conviction of land rights activist Tep Vanny over her participation in a peaceful protest was considered by the Court of Appeal today as supporters protested outside almost a year after she was first detained. No plaintiffs or prosecution witnesses were present at the hearing, preventing cross-examination and – as in the first instance trial in February – no credible evidence was presented.
At a 2013 protest in Phnom Penh – over the jailing of another activist – para-police brutally beat and injured Vanny and other protestors. Nonetheless, she was convicted on 23 February 2017 for "intentional violence with aggravating circumstances" in a trial which fell far short of acceptable legal standards, including a lack of cross-examination of the plaintiffs (security guards known as para-police).
The appeal seeks to overturn a two years and six months' sentence as well as fines and compensation to the plaintiffs amounting to 14 million riel ($3,500). Since her arrest on 15 August 2016, Tep Vanny has spent 346 days in detention. A verdict will be announced on 8 August 2017.
0%
0%
67%
33%