Flash News
Koh Kong Farmers Protest Sugar Concession Land Grabbing
Published on August 22, 2017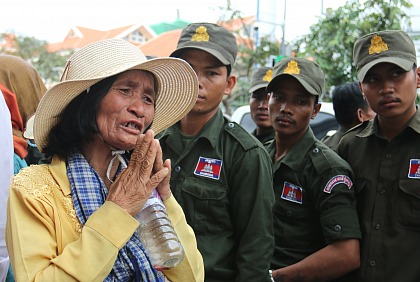 Enlarge this picture
Farmers from Chi Kor Krom community are surrounded by para police during protest outside the Ministry of Land Management on 22 August 2017.
This morning more than 100 farmers from Chi Kor Krom community in Koh Kong protested outside the Ministry of Land Management, demanding that the government resolve a land conflict affecting at least 15 families. Police and para police pushed the protesters from the roadside, hurting two female members of the community and smashing the group's megaphone.
In 2010, the affected community lost their farmland to an Economic Land Concession (ELC) held by the Heng Huy Agriculture Group which cleared it for sugar production. The community has struggled to find a solution for seven years, repeatedly presenting their case at the local and national level. More than 120 members of the community travelled to Phnom Penh on 2 February 2017 and spent several months petitioning authorities.
Returning five days ago, the community met with a representative of Prime Minister Hun Sen's cabinet who pledged to find a solution. After several hours protesting outside the land ministry today, a spokesman informed the group that their case was still being examined.
Despite repeated government assurances that the land conflict would be resolved, the community is still waiting for action to be taken and plans to remain in the capital to appeal for a solution.
0%
0%
33%
67%