Flash News
Supreme Court Considers Boeung Kak Lake Case
Published on November 24, 2017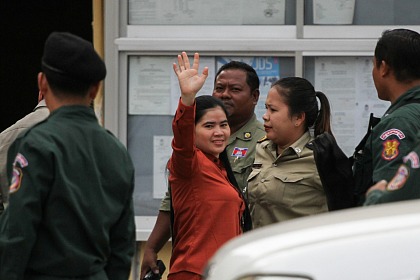 Enlarge this picture
Tep Vanny arrives at Supreme Court on 24 November 2017.
This morning the Supreme Court considered the conviction of four Boeung Kak Lake activists – Tep Vanny, Kong Chantha, Bov Chhorvy and Heng Mom – on charges of "insult [of a public official]" and "obstruction of a public official with aggravating circumstances".
If the verdict is upheld, they face six-month prison sentences – under Articles 502 and 504 of the Criminal Code – related to a 2011 land rights protests outside Phnom Penh city hall. Tep Vanny has been in detention since 15 August 2016 and is appealing another protest-related conviction.
Lawyers and witnesses for the plaintiff did not appear in court which meant cross-examination was not possible.
The verdict will be announced on 8 December 2017.
14%
0%
57%
29%