Flash News
Borei Keila Commemorate Sixth Anniversary of Forced Eviction
Published on January 3, 2018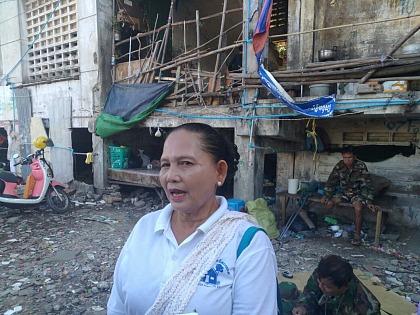 Enlarge this picture
Borei Keila community representative Sor Sorn participated in the commemoration.
Borei Keila community in Phnom Penh marked the sixth anniversary today of the violent forced eviction by authorities on 3 January 2012 to make way for a high rise housing development. The community is still seeking fair compensation and re-location near the site of their former homes.
A religious ceremony was held as well as speeches highlighting the plight of the community which has faced violence, intimidation and unjust imprisonments since the first forced evictions in 2009.
The building firm Phanimex obtained a land sharing agreement with the community and the government in 2003 to develop the site and pledged to build ten apartment buildings to re-locate more than 1,700 families. Only eight of the ten buildings were completed.
Hundreds of families were forced to move to re-location sites far outside the city which lacked proper sanitation, services and access to schools and employment. Some returned and continue to live in dilapidated conditions while petitioning authorities for a just settlement.