Flash Info
Activists Jailed over Kem Ley Memorial Denied Bail
Published on July 25, 2019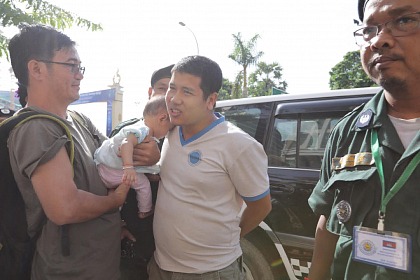 Enlarge this picture
Kong Raiya is met by his young daughter before entering the Phnom Penh Municipal Court on 11 July. (Photo credit: N1M Facebook page)
Kong Raiya and Soung Neakpaon, two activists arrested on 9 and 10 July 2019 while peacefully commemorating the anniversary of political analyst Kem Ley's murder, were denied bail by the Phnom Penh Municipal Court on Wednesday afternoon.
Both men were arrested after peacefully exercising their freedom of expression and were charged with criminal incitement. Raiya, 28, was arrested on 9 July 2019 after he posted on Facebook that he was selling t-shirts featuring the image of Kem Ley, and also posted the phone number of a taxi driver who could bring people to Phnom Penh to commemorate the slain analyst. Neakpaon, 29, was arrested the day after Raiya outside of the Caltex Bokor petrol station where Kem Ley was murdered three years earlier. Neakpaon, a former member of Kem Ley's youth group, was holding a sign that read "End extrajudicial killings" prior to his arrest.
Neither of these men should be in prison for exercising their freedom of expression, which is guaranteed under Cambodian and international law. LICADHO reiterates the call from 87 civil society groups for authorities to immediately release both men and drop all charges against them.