Flash Info
Groups Recall Promise of Rights, Democracy Enshrined in Paris Peace Accords
Published on October 23, 2019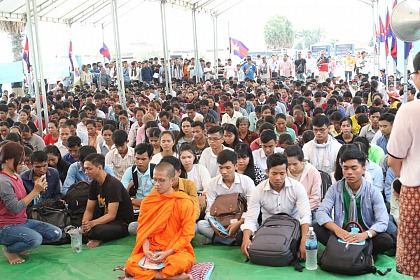 Enlarge this picture
Members of unions, land communities and civil society gather to commemorate Paris Peace Accords Day in Phnom Penh.
More than 500 people from land communities, civil society organisations, unions and independent analyst groups gathered in Phnom Penh on Wednesday morning to celebrate the 28th anniversary of the Paris Peace Accords.
The celebration occured at the relocated Freedom Park, and speeches were given praising the promises of peace, democracy, respect for human rights and development enshrined in the Paris Peace Accords. Representatives from the US and EU embassy joined participants to listen to speeches from independent analysts and union leaders, who discussed the importance of respect for human rights and pluralistic democracy. Dozens of plainclothes and uniformed security officers were also present.
Organisers were denied permission to march from The Council for the Development of Cambodia and instead held the event in the confines of Freedom Park. The government announced earlier this year that October 23, Paris Peace Accords Day, will no longer be an official holiday starting next year.