Flash Info
Supreme Court Denies Bail For Activist Arrested Over Kem Ley Memorial
Published on November 4, 2019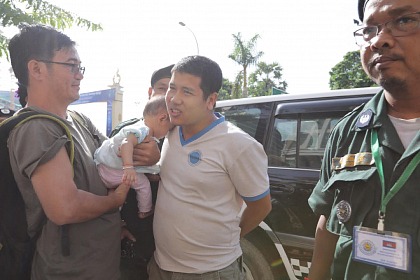 Enlarge this picture
Kong Raiya is met by his young daughter before entering the Phnom Penh Municipal Court on 11 July. (Photo credit: N1M Facebook page)
The Supreme Court issued a verdict this morning denying bail to Kong Raiya, who was arrested on 9 July 2019 after advertising in a Facebook post that he was selling t-shirts featuring the image of slain political analyst Kem Ley.
Raiya was charged with "incitement to commit felony", along with Soung Neakpaon, who was arrested the day after Raiya at a memorial event for Kem Ley and faces the same charges. Both men are currently being held in CC1 prison in Phnom Penh.
Eighty-seven civil society groups, unions and grassroots communities, including LICADHO, issued a statement calling for the release of both Raiya and Neakpaon a few days after their arrest in July. The statement noted their arrests were arbitrary and a clear violation of the pair's right to freedom of expression under the Cambodian Constitution. Five current human rights special rapporteurs from the United Nations (UN) also called for the dropping of all charges against both Raiya and Neakpaon and urged the Cambodian government to release both men. International human rights organization Amnesty International has labeled Raiya and Neakpaon "Prisoners of Conscience" and also called for their release, as has the ASEAN Parliamentarians for Human Rights (APHR).