Statement
Cambodian NGOs allege serious abuses linked to Thai sugar giant, Mitr Phol Sugar Corporation
Joint Organizations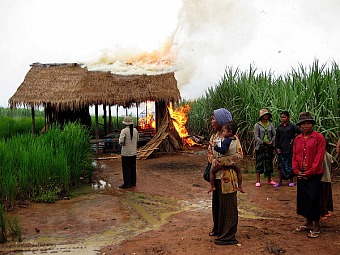 Enlarge this picture
The above photo was taken during the October 2009 forced evictions inside the Mitr Pol Sugar's land concession.
May 31, 2013 - Two Cambodian NGOs, LICADHO and Equitable Cambodia filed a petition on behalf of 602 complainants about serious human rights violations linked to large sugar concessions held by Thai sugar giant, Mitr Phol Sugar Corporation.
The organizations allege that systematic, serious abuses have taken place in the issuance and cultivation of the Thai company's three enormous economic land concessions (ELCs) for industrial sugarcane production. The concessions are located in the districts of Samrong and Chongkal, in Oddar Meanchey Province, in northwest Cambodia. On the same day, and in the same letter, 70 year concessions were granted to three companies directly linked to Mitr Pohl: (1) Angkor Sugar Co. Ltd., (2) Tonle Sugar Cane Co. Ltd., and (3) Cane and Sugar Valley Co. Ltd.The directors of each of the three companies are all senior figures in Mitr Phol, and the company has admitted they are all part of one venture. Cambodian Senator Ly Yong Phat is also believed to have been involved.
The Cambodian League for the Promotion and Defense of Human Rights (LICADHO) and Equitable Cambodia's petition states that the Mitr Phol concessions, through actions by the companies granted the concessions, local police, military and security forces, have resulted in the illegal confiscation of land from local people; the destruction of their homes; killing of livestock; arson; looting of crops; beatings, threats, intimidation and arrests of villagers– all of which has led to extreme food insecurity and impoverishment of affected households. The NGOs also claim that labor rights violations and child labor take place on the ELCs. The petition also details how the concessions were issued in clear violation of Cambodia's land lawsand international obligations.
51-year-old Mrs. Hoy Mai said, "my family has been forcibly evicted from our land and home, under threats by armed forces. Since I lost my farm and home I had to rent farmland and take out loans to pay for daily living expenses. I cannot afford this so I needed to ask my son to stop studying. My children have been taken out of schoolsince we lost our land and home."
The NGOs argue that Mitr Phol has taken no action to address the human rights violations arising from its ELCs, despite repeatedly being presented with hard evidence. Eang Vuthy, director of Equitable Cambodia, stated, "What we want now isfor the company to address the situation and remedy it. There can be no excuse for inaction or apathy."
The 602 complainants in this case and other affected individuals are seeking appropriate remedies. LICADHO and Equitable Cambodia stated that Mitr Phol must give the villagers fair compensation. Failing that, the company should return the forcibly seized lands. Moreover, the company should pay damages to victims for abuses they suffered due to the company's actions or negligence. Thus far, when compensation was given, losses were undervalued, and the process was characterized by a lack of participation, threats and corruption.
The petition details how over 250 families' homes were burned to the ground or bulldozed by police, military police and hired demolition workers. It also describes multiple arrests, assaults, jail sentences, and the violence which took place during the forced evictions. One pregnant community leader was imprisoned and had to give birth during her eight months in jail. Households have lost extensive rice fields, other land, crops, access to community forests and associated livelihoods. Local water resources were blocked, polluted, or covered over with earth to meet plantation requirements. Most households reported suffering increasedfood insecurity post-concession.
"The victims have been affected and impoverished. We have documented clear violations of Cambodian and international law. The familieshere deserve justice," said Eang Vuthy.
The petition follows a similar petition brought by communities affected by sugar concessions in Cambodia's Koh Kong province. The Thai Human Rights Commission has since issued detailed preliminary findings confirming the Koh Kong petitioners' allegations ofwidespread abuses.
For more information, please contact:
▪ Ms. Naly PILORGE, Director of LICADHO: +855-12 803 650; director@licadho-cambodia.org
▪ Mr. EANG Vuthy, Equitable Cambodia Executive Director: +855-12791700; vuthy@equitablecambodia.org
PDF format: Download full statement in English - Download full statement in Khmer
MP3 format: Listen to audio version in Khmer