Statement
New Law on Telecommunications: A Legislative Attack on Individuals' Rights and Freedoms
Cambodian League for the Promotion and Defense of Human Rights (LICADHO)
March 31, 2016 - Behind a façade of "technical" intent, the new Law on Telecommunications (Telecoms Law) poses a severe threat to freedom of expression in Cambodia, targeting not only online public expression but also any private communications made using telecommunications devices.
In a briefing paper released today, LICADHO analyses the law's most egregious provisions – which, among others, allow the government to secretly intrude into the private lives of individuals, destroy evidence before criminal trials, and seize control of the entire telecoms industry if arbitrarily deemed warranted. Its excessive measures, particularly those creating new criminal offenses, reveal the true intent of the law: to intimidate individuals, punish the exercise of fundamental rights and freedoms and quash individual and group dissent.
With a year to go until the next commune elections and two years until the next national election it seems that the Cambodian government has equipped itself with a whole new arsenal with which to threaten and obstruct civil society – including political movements – which increasingly rely on social media platforms as part of their work.
As set out in the briefing paper, the Telecoms Law authorizes both secret government eavesdropping on all telecommunications and the punishment of electronic communication between individuals, potentially delivering a severe blow to freedom of expression. Every phone conversation, text message, email, or social media activity could be under observation – and subject to punishment – at any time without the knowledge of those involved. Individuals could now face up to 15 years imprisonment for simply expressing an opinion via Facebook if deemed to violate unclear "national security" clauses. Not only are these vague clauses extremely vulnerable to politically motivated abuse, but exercise of these powers could amount to violations of individual rights and freedoms.
The ludicrous conviction and prison sentence of student Kong Raya for a Facebook post shows the government is already willing and able to harshly punish online expression and suppress critical content by misusing existing laws
A lack of clarity in the law also means that any expression could later be interpreted as criminal by the authorities on the basis of their perception of its consequences. In recent years, Cambodia's internet boom has seen a rapid increase in those able to air their opinions over the internet. Until recently, online space was perceived as one of the few available ways to public critical opinions. But such a lack of certainty, and the law's vulnerability to abuse, is likely to precipitate a chilling effect on the willingness of Cambodians to communicate and express themselves on the Internet.
"The ludicrous conviction and prison sentence of student Kong Raya for a Facebook post shows the government is already willing and able to harshly punish online expression and suppress critical content by misusing existing laws," said LICADHO director Naly Pilorge. "With the Telecoms Law that allows for any online expression, whether public or private, to be overheard and punished, the government is signaling even more clearly their intention to throttle freedom of expression online."
With the creation of "telecommunications inspection officials" with full judicial police powers and the ability to call in the Royal Cambodian Armed Forces to enforce provisions, the law adds a third unit – and the might of Cambodia's armed forces – to the already excessive policing of online content by the Ministry of Interior's "cybercrime unit" and Council of Ministers' "cyber war team." The potential mobilization of a specialized force backed by military support in response to online content and communication between individuals is inappropriate, disproportionate and unnecessary.
The law actively enables prosecutors to order the destruction of "prohibited or harmful" evidence prior to trial. This could permit the arbitrary destruction of evidence proving the innocence of those facing charges – an offence under Cambodian criminal law. These provisions could amount to a state-sanctioned crime, contrived to deliver a further blow to Cambodia's woeful record of fair trial rights, the presumption of innocence and rule of law.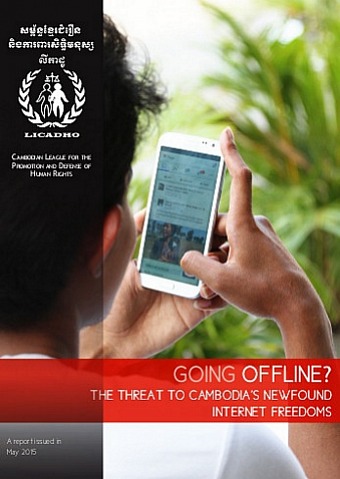 Enlarge this picture
LICADHO 2015 report
Going Offline? The Threat to Cambodia's Newfound Internet Freedoms
The government maintains a firm grip on traditional media in Cambodia – and now, as warned in LICADHO's 2015 report Going Offline? The Threat to Cambodia's Newfound Internet Freedoms, the Telecoms Law entrenches state powers to control the very architecture of the internet as well through telecoms operators. For example, the law allows for government ministries to essentially nationalise private telecoms firms if compelled by vague "force majeure" circumstances, while the government is also able to terminate and replace senior management staff if a firm is deemed to have violated the law. All Telecoms operators will also be required to apply for a new license within one year, meaning the government will decide on the continued existence of television companies, radio stations and internet service providers shortly before for the 2017 commune election.
"Providing for state control of the internet under undefined circumstances opens the door to shut down social media, preventing individuals and the opposition mobilizing," said Naly Pilorge. "The 2013 national elections demonstrated the power of social media as a critical platform – so it is no surprise that the ruling party want to stifle this vibrant online space in time for elections in 2017 and 2018."
The Telecoms Law has been characterized at every stage of drafting and enactment by a total lack of transparency and meaningful consultation. It forms part of a broader attack on fundamental freedoms and as of its enactment in December is now a fully enacted weapon in the authorities' legislative arsenal, alongside the Law on Associations and Non-Governmental Organisations (LANGO) and is expected to imminently be joined by further repressive laws as the government seeks to tighten its grip ahead of the next election.
LICADHO strongly condemns the Telecoms Law as a direct attack on the freedom of expression and privacy of every individual in Cambodia. This repressive and disproportionate legislative assault, masquerading as industrial regulation, violates Cambodia's obligations under the Cambodian Constitution and international law and must be repealed.
For more information, please contact:
▪ Mr. Am Sam Ath, LICADHO Technical Coordinator, mon1@licadho-cambodia.org, +855 (0)12 327 770
▪ Ms. Naly Pilorge, LICADHO Director, director@licadho-cambodia.org, +855 (0)12 803 650
PDF format: Download full statement in English - Download full statement in Khmer
MP3 format: Listen to audio version in Khmer
30%
20%
20%
30%