Latest Documents
Report
Freedom of Expression in Cambodia: The Illusion of Democracy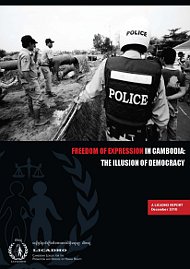 In the six-month period covered in this report, LICADHO documented nearly 50 cases involving violations of expressive rights in Cambodia. These cases follow patterns, and their similarities are not coincidental. They have the markings of a systematic crackdown.
The targets range from community leaders to union representatives to opposition politicians, but anyone who speaks out against the interests of the elite is at risk. As the government has consolidated power, it is growing increasingly intolerant of criticism, more topics are becoming taboo, and the space for dissent is shrinking. The end result is that Cambodians are being prevented from participating in their own democracy.
Click here to reach additional website supplement to the report.

Released in December 2010
Report
Attacks & Threats Against Human Rights Defenders in Cambodia 2008 - 2009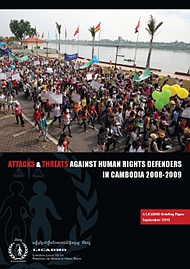 Since 2007, the human rights abuses and violence encountered by human rights defenders in Cambodia have continued unchecked. Respect for the rights of human rights defenders has continued to deteriorate with dramatic setbacks in press freedom, misuse of the justice system to silence government critics, and the imposition of harsh new restrictions on peaceful protests.
LICADHO has continued to monitor the situation closely in order to provide a report that analyzes the current challenges faced by human rights defenders in Cambodia on a daily basis. Investigations have confirmed that Cambodia remains a dangerous place for human rights defenders.
In 2008 and 2009 representatives of communities engaged in land disputes were threatened with violence, spurious legal action or imprisonment; trades union leaders were assaulted, arrested and persecuted for legitimate trade union activity; and journalists and human rights workers at NGOs were threatened, arrested and obstructed in carrying out their work. The Cambodian government continues to pursue repressive tactics, terrorizing human rights defenders and undermining their ability to defend peacefully the rights of others.
While threats and attacks against human rights defenders have continued - and in some instances increased - since 2007, a number of disturbing trends have emerged.

Released in September 2010
Report
Beyond Capacity: Cambodia's Exploding Prison Population & Correctional Center 4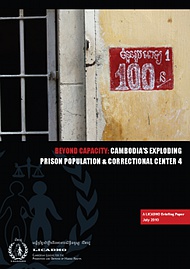 Cambodia's prison population is in the midst of an unprecedented population boom. Just six years ago, the 18 prisons monitored by LICADHO were at roughly 100% of their collective capacity1. Since then, the population has exploded, growing at an average rate of 14% per year. Prison capacity has also increased, but not nearly enough to keep pace with growth.
The General Department of Prisons (GDP) reported in March 2010 that the entire prison system held 13,325 inmates - 167% of the system's 8,000-inmate capacity. The 18 prisons LICADHO monitors, meanwhile, were filled to 175% of capacity as of June 2010. As of December 2009, one third of all Cambodian prisoners - over 4,000 - were in pretrial status.

Released in July 2010
Report
A review of the conditions of mothers, pregnant women and young children living in ten Cambodian prisons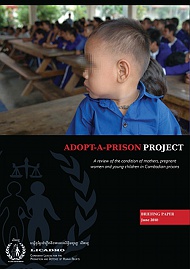 In June 2009, LICADHO together with Horizons commenced a national survey of women living with their children in Cambodian prisons. The purpose of the survey was to identify the key problems faced by women and children during their incarceration, particularly in relation to food, clothing, health and hygiene; the extent to which services provided through the Adopt-A-Prison Project has helped to address these problems; and assess the need for educational and recreational programs for children living in prison.

Released in June 2010
Report
Land Grabbing and Poverty in Cambodia: The Myth of Development 2009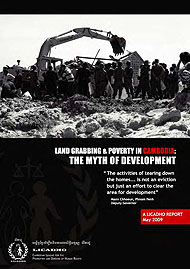 In recent years it has become a tragic cliche to say that Cambodia is suffering from an "epidemic" of land-grabbing by the rich and powerful - an epidemic which is resulting in the loss of residence and livelihoods by the poor and vulnerable on a massive scale.
In the 13 provinces in which LICADHO works - roughly half the country - more than a quarter of a million people have been affected by land-grabbing and forced evictions since 2003.

Released in June 2009
Report
Prison Conditions In Cambodia 2008: Women In Prison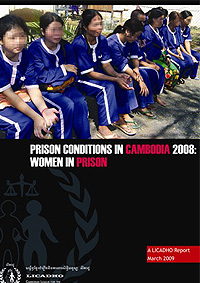 This report aims to profile female prisoners and their experiences in the prison system and to provide an insight into the crimes they committed and the conditions they live in. Each case study is based on true accounts from prisoners, where names and details have been changed to protect the identity of the prisoners. This report also provides supplementary statistical information for relevant issues collected over the period 2007 and 2008.

Released in March 2009
Report
Attacks & Threats Against Human Rights Defenders in Cambodia 2007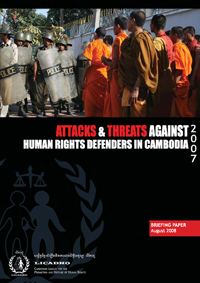 Cambodia is a dangerous place for human rights defenders. During 2007, the Cambodian League for the Promotion and Defense of Human Rights (LICADHO) recorded more cases than ever before of threats and attacks against activists attempting to peacefully defend the rights of others.
Throughout 2007, the patterns of threats and attacks against human rights defenders observed in previous years have continued and intensified. Representatives of communities engaged in disputes over land and housing were targeted with threats, unwarranted criminal charges, and in some cases imprisonment. Trade union leaders were assaulted, arrested and prosecuted for their legitimate union activity; one such leader was murdered. Human rights NGO workers continued to be threatened and obstructed in carrying out their work, whilst private citizens legitimately assisting asylum seekers were harassed and imprisoned.

Released in September 2008
Report
Child Workers in Brick Factories: Causes and Consequences A Research Study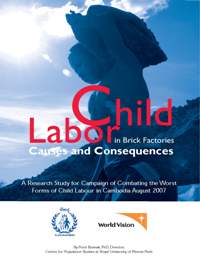 As part of the campaign against the worst forms of child labor for the wellbeing of Cambodian children, LICADHO and World Vision Cambodia have commissioned the research team, led by Dr. Poch Bunnak, to conduct a study on children working in brick factories. The study was conducted in July 2007 to identify the causes and consequences of child labor in brick factories in Battambang and Sang Ke districts, the surrounding areas of Battambang
provincial city.
Data were collected using interviewer-completed questionnaires from three main sources (132 child workers, 43 parents, and 15 brick factory owners or managers) from 26 brick factories. It is estimated that between 400 and 500 children work daily in these brick factories during the high labour-demand season.

Released in May 2008
Report
Reading Between the Lines: How Politics, Money & Fear Control Cambodia's Media Report 2008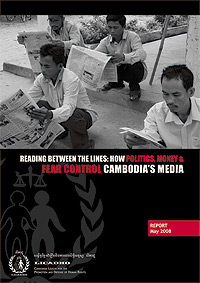 Cambodia's news media is often described as one of the freest in the region, with no official censorship and a "flourishing press".
But if we look beyond just the quantity of newspapers and magazines, and listen to journalists and editors describe their working environment, we find a media closely controlled by politics, money and fear.
Almost all Cambodia's media is aligned to a political party, with the vast majority favoring the ruling Cambodian People's Party (CPP). The situation varies depending on the media - television is totally owned or controlled by the government or CPP, radio has a few opposition-aligned stations and some important independent voices, while most newspapers act as mouthpieces for one party or another, with the exception of the foreign-language press.

Released in May 2008
Report
Prison Conditions in Cambodia 2007: The Story of a Mother and Child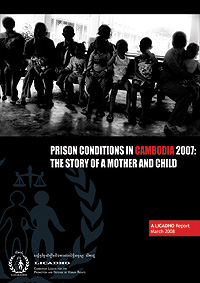 As of February 2008, there are 562 women living in 18 out of Cambodia's 26 prisons. Of these women, 4 were pregnant and 43 women brought their children to live with them in prison or had given birth to children while in prison, for a total of 50 children living with their mothers in prison.
Life in Cambodian prisons is a harsh reality for any individual. Limited access to food and clean water, overcrowding of prison cells, routine denial of quality medical services and violence towards prisoners from prison officials and other inmates is a part of everyday life. Life in prison becomes even more difficult when you are pregnant, or if you bring your children to live with you in prison.

Released in March 2008