Tag
Kem Ley
Photo Album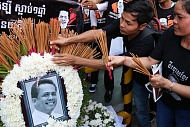 Events Commemorating the One-Year Anniversary of Kem Ley's Murder
July 11, 2017
This photo album covers the events that took place in Cambodia on 9 and 10 July 2017 to commemorate the killing of political analyst Kem Ley. Cambodians abroad also paid their respects to Kem Ley, with tributes taking place in Australia and Thailand. On 10 July 2016, Kem Ley was shot twice, in his chest and his head, at the Caltex petrol station in central Phnom Penh. The gunman Oeuth Ang was convicted and sentenced to life imprisonment in March 2017, however justice has yet to be served due to numerous concerns about the adequacy of the criminal process in both the investigation and the trial.
Document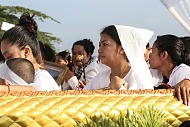 Joint Open Letter: Request to Create a Commission of Inquiry into the killing of Kem Ley
July 10, 2017
Ahead of the one-year anniversary of the killing of Kem Ley, we, the undersigned, reiterate our concerns regarding the apparent lack of progress in investigating this case, as well as the inadequate investigation and trial of Oeuth Ang, the only person yet convicted or charged in relation to Kem Ley's death. In light of the inadequacy of the investigation, we urge the Royal Government of Cambodia ("RGC") to establish an independent and impartial Commission of Inquiry, in line with international standards, to continue the investigation.
Statement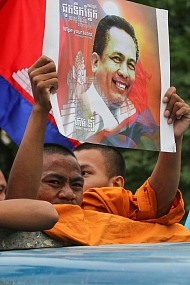 A Call for Justice: Civil Society Demands Independent Inquiry in Kem Ley Murder Case
July 8, 2017
One year after the murder of Kem Ley, we, the undersigned civil society groups, believe that justice has not yet been served for the late political analyst and the family, friends and colleagues he left behind.
The well-known political analyst and anti-corruption campaigner was shot dead at point blank range on 10 July 2016 while drinking coffee in a Phnom Penh petrol station. There has been no transparency in the murder investigation, and there are still many unanswered questions in the case.
Statement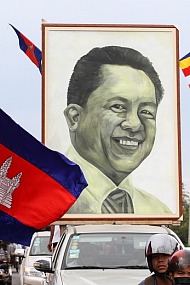 After Conviction, Civil Society Demands Independent Inquiry into Murder of Kem Ley
March 23, 2017
Three weeks after a four-hour trial hearing, the Phnom Penh Municipal Court today convicted Oeuth Ang – otherwise known as 'Chuob Samlab' – of the premeditated murder of prominent political analyst Dr. Kem Ley as well as illegal possession of a weapon under Articles 200 and 490 of Cambodia's Criminal Code. Presiding judge Leang Samnat sentenced Oeuth Ang to life imprisonment.
Despite compelling evidence that Oeuth Ang was the gunman who shot and killed Dr. Kem Ley, the lack of transparency in the investigation of Dr. Kem Ley's death, the brevity of the trial proceedings, and the failure to fully investigate motive, potential accomplices and the circumstances of Oeuth Ang's arrest, raise serious concerns about the adequacy of this criminal process. In light of the inadequacies in the investigation into Dr. Kem Ley's death, as well as in the trial proceedings, we, the undersigned civil society organizations, call for the establishment of an independent Commission of Inquiry into the circumstances of his murder, in accordance with international best practices.
Flash News
Four Youths Detained as Documentary Screening Shut Down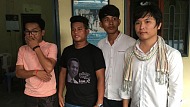 March 12, 2017 Four youths were arrested and detained for three hours today after police and para-police shut down a private screening of an Al Jazeera documentary on the murder of political analyst Kem Ley.
The documentary screening was due to be held in the private office of the Khmer Student Intelligent League Association (KSILA), an organisation of youth activists and analysts. There were about 15 people waiting to watch the documentary when about 50 armed police and para-police surrounded the office and arrested the four youths. Moung Sony, Soung Neakpoan, Vorn Channout and Heng Samnang - all members of KSILA - were released at about 6pm, only after signing an agreement promising not to screen the film again without permission from authorities.
Related Material:
Photo Album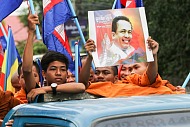 Dr. Kem Ley's 100 Day Funeral Procession
October 17, 2016
On Sunday, 16 October, thousands of people joined a 90-kilometre funeral procession, from Phnom Penh to Takeo, to mark 100 days since the assassination of political analyst Dr. Kem Ley. He was shot dead in a busy Caltex petrol station cafe in central Phnom Penh on 10 July 2016. Over the past three months since he was murdered, there has still been no independent and credible investigation into his murder.
The procession started from Wat Chas, a pagoda in Phnom Penh, where over the previous two days thousands of people had travelled to pay respect.
Statement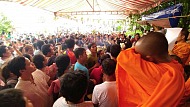 Cambodian Civil Society Condemns Outrageous Murder of Political Analyst Kem Ley
July 11, 2016
We, the undersigned civil society groups, are outraged at the brutal murder of political analyst and grassroots organiser Kem Ley yesterday morning, and call for a prompt, thorough and independent inquiry into his death.