Topic
Expression & Assembly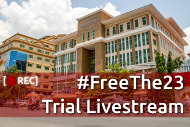 Livestream
"Free the 23" Trial – Day four
May 21, 2014
The trial of 23 workers and human rights activists continues today at the Phnom Penh Court. The trial has now reached its fourth day and proceedings are scheduled to start at 8am.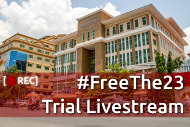 Livestream
"Free the 23" Trial – Day three
May 19, 2014
Tomorrow morning, the trial of 23 workers and human rights activists will resume at the Phnom Penh Court. The trial has now reached its third day and proceedings are scheduled to start at 8am.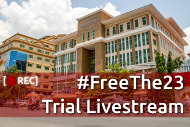 Livestream
"Free the 23" Trial – Day two
May 6, 2014
The trial of 25 workers and human rights activists resumes today. The first day of the hearings on April 25 came to an abrupt end mid-afternoon when prison guards interrupted proceedings to transport those who had not been released on bail back to CC1 prison. The hearings are scheduled to resume at 8am.
Livestream
International Workers Day 2014
May 1, 2014
Today's planned union gatherings in Phnom Penh to mark International Workers' Day look set to face severe restrictions by authorities. LICADHO will be livestreaming developments as they happen.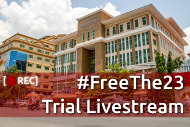 Livestream
"Free the 23" Trial – Day one
April 24, 2014
On 25 April 2014, the trials of the 23 men arrested during the government's suppression of labor strikes in early January will take place at the Phnom Penh Municipal Court. The hearing of two further individuals, who were arrested during violent clashes between garment workers and armed forces on 12 November 2013 will also take place at the Municipal Court.
LICADHO will be livestreaming events as they happen from inside and outside the court.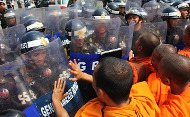 Article
Year 2013 in Review: A shrinking space for assembly and expression in Cambodia
March 19, 2014

If 2012 was the most violent year ever documented in terms of authorities using lethal force against individual human rights defenders (HRDs), 2013 saw the Cambodian authorities turn that force towards public protests.
Livestream
Workers Forum at Freedom Park
March 8, 2014
Today, March 8, 2014, factory workers, unions, and other members of civil society are planning to gather at the Freedom Park for a public forum on minimum wage and Women's Right. Follow our livestream as events unfold.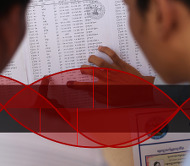 Audio Book
Turned Away: Fraud, Irregularities, and Intimidation during the 2013 National Assembly Elections
February 12, 2014

This audio book compiles key observations from 173 staff and partners who visited over 100 polling stations. There are 19,009 polling stations in Cambodia. As such, this is not intended to be a comprehensive analysis of election day irregularities, but instead offers a snapshot revealing the need for further investigation.
The findings and recommendations were first published in August 2013 in a written briefing paper.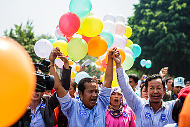 Article
On Global Day of Action, Cambodians Release Balloons to Sky in Solidarity with 23 Arrestees
February 10, 2014
Cambodians nationwide and people across the globe demonstrated unity today with the 23 workers and rights defenders arrested in last month's violent clampdown on striking garment workers, where at least four died and 38 were hospitalized, 25 of which suffered from bullet wounds.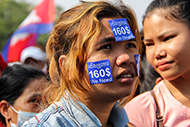 Article
When Freedom Meets Oppression: Timeline of Recent Events
February 9, 2014
LICADHO has compiled a timeline summarizing the series of event leading to and following the January 2-3-4, 2014, lethal clampdown on labour and political demonstrations in Cambodia's capital.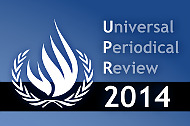 Documents
Submissions to the UN's Universal Periodic Review for Cambodia
January 28, 2014
Today, the United Nations will conduct a Universal Periodical Review (UPR) of Cambodia to look into some of the key human rights issues affecting the country, from systematic attacks against human rights defenders to labour trafficking and obstacles against basic freedoms such as right to assembly and expression. LICADHO, by itself and with partners, has contributed to this process by submitting a number of documents.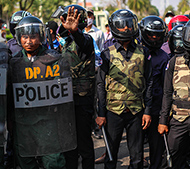 Statement
Latest Crackdown on Peaceful Dissent Further Perpetuates Impunity and Fuels Tensions
January 28, 2014

The Asian Forum for Human Rights and Development (FORUM-ASIA), a Bangkok-based regional human rights NGO representing 47 member organisations from 16 countries across Asia, registered its strongest condemnation of the Cambodian government's violent suppression of demonstrators, rights observers and media personnel at a mass rally held in Phnom Penh on 26 January 2014 which left at least 8 people injured.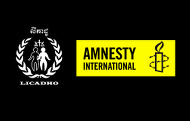 Statement
Universal Periodic Review: Address Cambodia's Human Rights Crisis
January 26, 2014

Ahead of the UN Universal Periodic Review (UPR) hearing for Cambodia on 28 January 2014, the Cambodian League for the Promotion and Defense of Human Rights (LICADHO) and Amnesty International call on UN member states to address the country's current human rights crisis.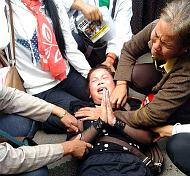 Statement
Cambodia: Harassment, Arrest, and Detention of Human Rights Defenders Continue
January 22, 2014

FIDH and the OMCT, within the framework of the Observatory for the Protection of Human Rights Defenders, the Cambodian Human Rights and Development Association (ADHOC), the Cambodian League for the Promotion and Defense of Human Rights (LICADHO), and the Cambodian Center for Human Rights (CCHR) express their concern over the Cambodian authorities' ongoing harassment, arbitrary arrest, and detention of human rights defenders.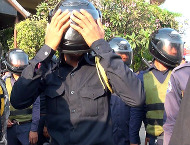 Video
When Prayers Meet Supression: Calling for the Release of the 23
January 21, 2014

On the evening of January 19, 2014, civil society groups gathered nearby the Royal Palace to call for the release of the 23 workers and rights defenders arrested earlier this month, and for an increase in the minimum wage. Security guards and police interfered with the peaceful assembly and one association leader was detained overnight.