Topic
Expression & Assembly
Statement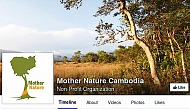 Civil Society Groups Condemn Use of Visa Denial to Curb Activism
February 17, 2015
We, the undersigned civil society groups, condemn the recent decision to deny a visa renewal for prominent environmental activist Alejandro Gonzalez-Davidson. Mr Gonzalez-Davidson has been at the forefront of a campaign by local Non-Governmental Organization (NGO), Mother Nature, to halt the controversial development of a hydroelectric dam in Areng valley, Koh Kong province.
Statement
Civil Society Organizations Call on the Government and Political Parties to Respect Freedom of Expression
February 5, 2015
We, the undersigned civil society organizations, wish to express serious concern regarding the potential introduction of new measures banning staff of civil society organizations from giving media interviews or making statements deemed to have "insulted" political parties during election periods. Such restrictions would amount to violations of the right to freedom of expression.
Statement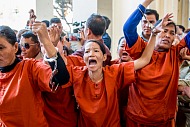 Civil Society Groups Condemn the Ongoing Detention of 11 Activists
January 26, 2015
We the undersigned civil society groups condemn the indefensible verdicts issued this morning by the Court of Appeal in the cases of ten land activists and one monk.
Statement
Veng Sreng Anniversary: Still no Justice for the Dead, Missing and Injured
January 1, 2015
One year on from the state violence of early January 2014 which led to the deaths of at least four men and the hospitalization of dozens, the disappearance of a teenage boy and the wrongful imprisonment of 23 union leaders, activists and workers, we the undersigned civil society organizations condemn the lack of progress made in investigating these human rights violations and in punishing those responsible.
Statement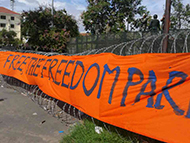 LICADHO Condemns Politically Motivated Allegations Against CNRP Officials and Supporters
December 22, 2014
Eleven officials and supporters of the opposition Cambodia National Rescue Party (CNRP) have recently been summonsed to appear for trial at the Phnom Penh Municipal Court on December 25, 2014, to answer charges of either leading or participating in an "insurrectionary movement." LICADHO strongly condemns the continued criminal proceedings on these politically motivated allegations and takes this opportunity to release a detailed timeline of events since July 15, 2014, showing the course of criminal proceedings against opposition party members and supporters alongside political negotiations between the ruling Cambodia People's Party (CPP) and the opposition CNRP.
Briefing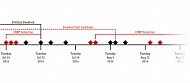 Freedom Park Violence, CNRP Arrests, and Political Deal: Timeline of Events July – November 2014
December 22, 2014
The violence that erupted at Freedom Park on July 15, 2014, led to a series of politically orchestrated events at the hand of the ruling Cambodian People's Party (CPP). The arrests of various officials from the Cambodia National Rescue Party (CNRP), including elected Members of Parliament (MPs), alongside ongoing political negotiations offers clear evidence that the judiciary is firmly within the hands of the CPP, once again raising serious concerns about the legitimacy and independence of Cambodia's legal system.
Photo Album
Marching for International Human Rights Day 2014
December 15, 2014
To celebrate International Human Rights Day (IHRD) this year, 600 monks marched alongside land activists, associations, unions, rural and urban residents, and NGOs, on six national roads towards Phnom Penh from December 5 to December 10. This year's IHRD theme was "Respecting Human Rights Leads to Peace!" For the first time, indigenous communities in Ratanakiri province participated in IHRD by organizing their own march on National Road 7, which began on December 4.
Photo Album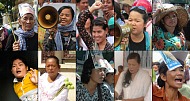 Free the 19: Spotlight on the Boeung Kak 10
December 8, 2014
On November 10 and 11, 10 Boeung Kak land rights activists were arrested while staging peaceful protests in Phnom Penh. By November 12, all had been sentenced to a year in prison. The imprisonment of the women occured during a wave of arrests which targeted not only land rights activists but also opposition party members and activist monks. Nineteen of those arrested remain in detention.
This photo album focuses on the 10 female Boeung Kak activists whose struggle for a just resolution to their land dispute has now lasted seven years. For five of them, this is their second prison term.
Statement
LICADHO Calls for the Release of the 19 Men and Women Wrongfully Imprisoned in Prey Sar's CC1 and CC2 Prisons
December 8, 2014
On Wednesday, Cambodia will celebrate International Human Rights Day. LICADHO takes this opportunity to recall attention to the 19 men and women who have been wrongfully imprisoned following a recent spate of arrests in Phnom Penh. LICADHO condemns these imprisonments and the continued abuse of the judicial system by the ruling party and well-connected individuals.
Statement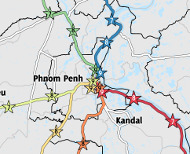 Monks to Lead International Human Rights Day March
December 2, 2014
Over 600 human rights activists, led by monks, will march along six national roads towards Phnom Penh between December 5 and December 10, 2014, to celebrate the 66th International Human Rights Day (IHRD). Joining them will be participants from communities affected by land disputes, associations, networks, unions and NGOs, as well as villagers from rural and urban communities along the designated routes.
Livestream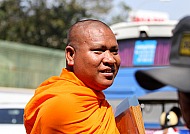 Trial of Cambodian "Multi-media Monk" Venerable Sovath
November 24, 2014
Renowned human rights defender Venerable Loun Sovath will appear before the Phnom Penh Municipal Court in a flawed and protracted judicial process aiming to silence him. He has been charged with "incitement to commit a felony" for joining and supporting demonstrations by victims of land disputes throughout Cambodia.
Report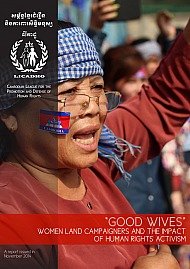 "Good Wives": Women Land Campaigners and the Impact of Human Rights Activism
November 23, 2014
To mark the start of the global campaign, 16 Days of Activism against Gender Violence, LICADHO has published a report exploring how the lives of women campaigners are changed by their activism. It reveals the high price women pay, suffering not only serious economic and emotional impacts but also often domestic violence and family breakdown.
Statement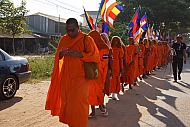 Groundless Charges against Venerable Loun Sovath Need to be Dropped
November 23, 2014
We, the 16 endorsing non-governmental organizations, urge the Cambodian authorities to drop the charges against renowned human rights defender Venerable Luon Sovath. He is facing trial on 25 November 2014 in a flawed and protracted judicial process that clearly aims to silence him. Venerable Sovath is internationally known as the "multi-media monk," and his efforts to voice the human rights abuses against vulnerable communities and human rights defenders in Cambodia have been recognized globally.
Video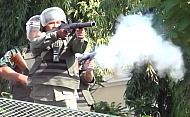 Freedom of Assembly in Cambodia
November 21, 2014
Sunday is International Day to End Impunity. 'Freedom of Assembly in Cambodia' is a 3.5 minute music video made up of footage from the past 14 months showing both state-sponsored abuses committed with impunity, and the resilience of Cambodian activists in the face of oppression.
Photo Album
Four Supporters of Boeung Kak 7 Arrested Outside Phnom Penh Court
November 12, 2014
On the morning of Tuesday, November 11, approximately 50 representatives from several land communities gathered outside the Phnom Penh Municipal Court to protest the detention of seven Boeung Kak Lake activists who had been arrested the day before while protesting outside Phnom Penh City Hall against the alleged failure of city authorities to deal with the issue of flooding around the site of the former lake.
Over 100 riot police and security guards violently broke up the protest in front of the court and arrested three additional land activists and one monk.