Topic
Expression & Assembly
Photo Album
Marching for International Human Rights Day 2014
December 15, 2014
To celebrate International Human Rights Day (IHRD) this year, 600 monks marched alongside land activists, associations, unions, rural and urban residents, and NGOs, on six national roads towards Phnom Penh from December 5 to December 10. This year's IHRD theme was "Respecting Human Rights Leads to Peace!" For the first time, indigenous communities in Ratanakiri province participated in IHRD by organizing their own march on National Road 7, which began on December 4.
Photo Album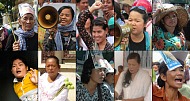 Free the 19: Spotlight on the Boeung Kak 10
December 8, 2014
On November 10 and 11, 10 Boeung Kak land rights activists were arrested while staging peaceful protests in Phnom Penh. By November 12, all had been sentenced to a year in prison. The imprisonment of the women occured during a wave of arrests which targeted not only land rights activists but also opposition party members and activist monks. Nineteen of those arrested remain in detention.
This photo album focuses on the 10 female Boeung Kak activists whose struggle for a just resolution to their land dispute has now lasted seven years. For five of them, this is their second prison term.
Statement
LICADHO Calls for the Release of the 19 Men and Women Wrongfully Imprisoned in Prey Sar's CC1 and CC2 Prisons
December 8, 2014
On Wednesday, Cambodia will celebrate International Human Rights Day. LICADHO takes this opportunity to recall attention to the 19 men and women who have been wrongfully imprisoned following a recent spate of arrests in Phnom Penh. LICADHO condemns these imprisonments and the continued abuse of the judicial system by the ruling party and well-connected individuals.
Statement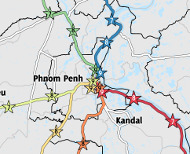 Monks to Lead International Human Rights Day March
December 2, 2014
Over 600 human rights activists, led by monks, will march along six national roads towards Phnom Penh between December 5 and December 10, 2014, to celebrate the 66th International Human Rights Day (IHRD). Joining them will be participants from communities affected by land disputes, associations, networks, unions and NGOs, as well as villagers from rural and urban communities along the designated routes.
Livestream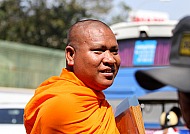 Trial of Cambodian "Multi-media Monk" Venerable Sovath
November 24, 2014
Renowned human rights defender Venerable Loun Sovath will appear before the Phnom Penh Municipal Court in a flawed and protracted judicial process aiming to silence him. He has been charged with "incitement to commit a felony" for joining and supporting demonstrations by victims of land disputes throughout Cambodia.
Report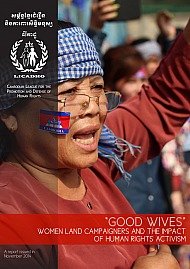 "Good Wives": Women Land Campaigners and the Impact of Human Rights Activism
November 23, 2014
To mark the start of the global campaign, 16 Days of Activism against Gender Violence, LICADHO has published a report exploring how the lives of women campaigners are changed by their activism. It reveals the high price women pay, suffering not only serious economic and emotional impacts but also often domestic violence and family breakdown.
Statement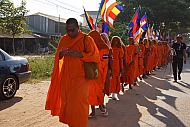 Groundless Charges against Venerable Loun Sovath Need to be Dropped
November 23, 2014
We, the 16 endorsing non-governmental organizations, urge the Cambodian authorities to drop the charges against renowned human rights defender Venerable Luon Sovath. He is facing trial on 25 November 2014 in a flawed and protracted judicial process that clearly aims to silence him. Venerable Sovath is internationally known as the "multi-media monk," and his efforts to voice the human rights abuses against vulnerable communities and human rights defenders in Cambodia have been recognized globally.
Video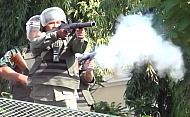 Freedom of Assembly in Cambodia
November 21, 2014
Sunday is International Day to End Impunity. 'Freedom of Assembly in Cambodia' is a 3.5 minute music video made up of footage from the past 14 months showing both state-sponsored abuses committed with impunity, and the resilience of Cambodian activists in the face of oppression.
Photo Album
Four Supporters of Boeung Kak 7 Arrested Outside Phnom Penh Court
November 12, 2014
On the morning of Tuesday, November 11, approximately 50 representatives from several land communities gathered outside the Phnom Penh Municipal Court to protest the detention of seven Boeung Kak Lake activists who had been arrested the day before while protesting outside Phnom Penh City Hall against the alleged failure of city authorities to deal with the issue of flooding around the site of the former lake.
Over 100 riot police and security guards violently broke up the protest in front of the court and arrested three additional land activists and one monk.
Statement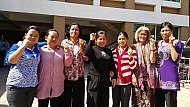 Civil Society Groups Condemn Arrest and Detention of the Boeung Kak Lake Seven
November 12, 2014
We, the undersigned civil society groups, condemn the arrest, detention, and conviction of the seven Boeung Kak Lake community representatives following protests outside Phnom Penh City Hall on the morning of November 10, 2014.
Video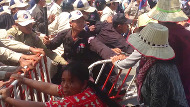 Yet Another Violent Dispersal of Land Protesters near the Prime Minister's Home
October 21, 2014
On October 20, 2014, security guards in Phnom Penh were once again captured senselessly beating peaceful land protesters. About 80 villagers from Preah Vihear province had come to Phnom Penh to ask for assistance from national institutions, to help resolve their land dispute which has affected over 200 families. However, shortly after noon, the villagers were violently dispersed by the guards while military police and police officers stood by near the Prime Minister's home.
The violence left a total of 18 people injured. Several of them, including an 18 year-old boy, suffered head wounds.
Statement
Oddar Meanchey Authorities' Continued Illegal Conduct Towards Equitable Cambodia's Staff
October 16, 2014
We, the undersigned civil society groups, condemn the actions of the Oddar Meanchey authorities who have, since September 2014, been engaged in the obstruction, harassment, intimidation, and assault of rights workers. Most recently, a four-person team from Equitable Cambodia ("EC") was in the province to conduct field research on the impacts of forced evictions resulting from economic land concessions granted for the development of sugarcane plantations. The plantations are owned by the Mitr Phol Group, one of Coca-Cola's top three global suppliers. Research data collected will be provided to the National Human Rights Commission of Thailand ("NHRCT"), which is investigating Mitr Phol's operations in Cambodia.
Photo Album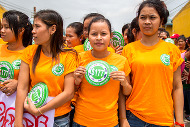 Workers Kickstart $177 Minimum Wage Campaign Under Watchful Gaze of Military
September 17, 2014
At approximately 11am, labour unions in and around Phnom Penh launched the $177 minimum wage campaign in front of garment factories as workers were going on their lunch break. In the Canadia Industrial Park alone, over a thousand workers gathered next to factories to demand a humane minimum wage. Military soldiers were stationed along Veng Sreng road and inside Canadia Industrial Park to intimidate workers.
Statement
Civil Society Groups Condemn the Groundless Detention of Equitable Cambodia Staff
September 12, 2014
We the undersigned condemn the continued intimidation and harassment of human rights defenders in Cambodia. We call upon the competent authorities to investigate those responsible for ordering the groundless detention of Equitable Cambodia Staff Meg Fukuzawa and Lida Sok.
Photo Album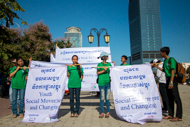 International Youth Day 2014
August 12, 2014
On August 12 International Youth Day, LICADHO is releasing profiles of youths who are part of our Child Protection Groups (CPGs) network, and actively promote child rights in their respective communities. LICADHO works with 73 CPGs, six of which represent youth and comprise 81 members across four target areas: Phnom Penh/Kandal, Preah Sihanouk, Koh Kong, and Siem Reap. This year, some youth CPG members from Phnom Penh/Kandal participated in International Youth Day celebrations in Phnom Penh organized by other youth networks. The theme was, "Youth Social Movement and Change." The group marched from Freedom Park to the National Assembly where youth CPG members submitted a statement calling on the government to promote child rights