Topic
Land
Video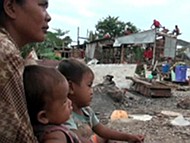 Phnom Penh's Group 78 Eviction
July 17, 2009
The small community know as Group 78 located in the riverside area of Phnom Penh have live on their land since 1983. Over the years, Group 78 families were served with a number of eviction notices by local authorities while witnessing two violent forced eviction that took place in the same area, namely Dey Krahorm and Sambok Chap. The 3-years-long coercion campaign of Group 78 residents to leave their homes and land, culminating in this morning's final eviction of the area.
At 4 am this morning [July 17, 2009], dozens of armed police took up positions around Group 78 in order to enforce a municipal order that they dismantle their homes or be forcibly removed. This followed 53 families yesterday "agreeing" to the authorities' demand that they accept an offer of $8,000 compensation or their homes would be forcibly destroyed. Negotiations this morning with the remaining 7 families who had not "agreed" led to a final offer to them of up to $20,000 in compensation which they all accepted, except for one family whose home was destroyed against their will.
As the sun rose on Friday July 17, 2009, dawn bore witness to the heart wrenching sight of the homes of the Group 78 community being dismantled piece by piece.
Briefing
HIV/AIDS Families Evicted from Borei Keila
June 30, 2009
The eviction of 31 families affected by HIV/AIDS from the inner-city community of Borei Keila in the Cambodian capital, Phnom Penh, raises serious discrimination, health and other human rights issues. Twenty of the families were banished to a de facto AIDS colony created by the government on the city outskirts, where they were given grossly sub-standard housing, on June 18. Three days later, the remaining 11 families were also evicted, sent to stay in rental houses while they wait to see whether the authorities will honor a dubious verbal promise of permanent new housing for them at Borei Keila in three months time.
This briefing paper discusses the history of the HIV/AIDS community at Borei Keila and their eviction and forced relocation in June 2009.
Photo Album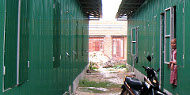 Tuol Sambo a Cambodian AIDS Colony
June 23, 2009
The Cambodian government has created a de facto AIDS colony by relocating a group of HIV/AIDS-affected families, evicted from their homes at Borei Keila in central Phnom Penh, to live in sub-standard housing at Tuol Sambo village on the city outskirts.
Statement
2009 LICADHO Report: The Myth of Development How Land-Grabbing is Impoverishing Cambodians
June 6, 2009
Cambodia's epidemic of land-grabbing - often committed in the name of so-called "development" - is fueling poverty and jeopardizing the government's claimed development goals. LICADHO's latest report entitled Land-grabbing and Poverty in Cambodia: The Myth of Development, concludes that: "The Cambodian government's policies and practices on land management have failed. Rather than contributing positively to the development of the country, they are swelling the ranks of the landless, the unemployed and the poverty-stricken".
Report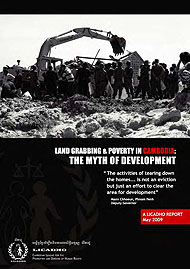 Land Grabbing and Poverty in Cambodia: The Myth of Development 2009
June 6, 2009
In recent years it has become a tragic cliche to say that Cambodia is suffering from an "epidemic" of land-grabbing by the rich and powerful - an epidemic which is resulting in the loss of residence and livelihoods by the poor and vulnerable on a massive scale.
In the 13 provinces in which LICADHO works - roughly half the country - more than a quarter of a million people have been affected by land-grabbing and forced evictions since 2003.
Video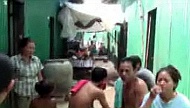 Forced Eviction Coming at Borei Keila
April 30, 2009
Over 30 families living with HIV/AIDS in the "green shed" at the Borei Keila social land concession are facing the prospect of eviction. The families living in the temporary "green shed" have been waiting for new apartments to be allocated to them for the past 2 years, but they are now faced with the prospect of being evicted to the Toul Sambo relocation site 20km outside of Phnom Penh. At Toul Sambo there is inadeuqate housing, no clean water and is far from any markets, schools, employment opportunities and most importantly medical facilities.
Learn more about Borei Keila from our partner WITNESS.
Article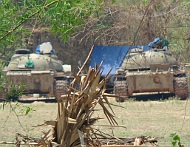 Cambodian Army Occupies Villagers' Farmland With Tanks
April 2, 2009
In November 2008, villagers in Preah Neth Preah commune lost farmland which they had used for 30 years when armed soldiers and tanks occupied the land. What was once peaceful fertile farmland is now home to military tanks, which has frightened and impoverished the local people.
Statement
Government must take action over Chi Kreng violence in Siem Reap
March 27, 2009
LICADHO today called upon the Royal Cambodian Government to take urgent action in response to the unjustified violence by authorities against villagers involved in a land dispute in Chi Kreng district of Siem Reap province last weekend.
"This was extremely serious violence against villagers committed by government armed forces, and it demands a strong response by the government," said LICADHO president Kek Galabru. "The police and other officials who committed this violence must be punished, and there must be a fair resolution to this land dispute."
Four villagers were wounded when members of a joint force - including police, military police, border police and soldiers - opened fire on a crowd of farmers in Anlong Samnor commune on Sunday, March 22.
Statement
Impact of evictions on women highlighted on International Women's Day
March 6, 2009
Women and children are suffering immensely from Cambodia's epidemic of evictions, LICADHO said today, International Women's Day. "Sadly, there is nothing special about this day for the many Cambodian women who are struggling to feed their families because they have been evicted from their homes or are living in fear of eviction," said LICADHO president Kek Galabru. "It is just another day of hardship and suffering."
Article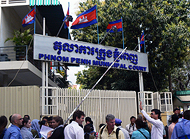 Victims of the Dey Krahorm Eviction Continue to be Targeted by Authorities
March 2, 2009
On 24 January, 2009 hundreds of families were forcibly evicted from Dey Krahorm in the heart of Phnom Penh. In the month following the eviction, residents struggled with the poor living conditions at the Damnak Trayeoung relocation site while others mounted protests to demand proper compensation for their stolen land and destroyed houses. However, for three former Dey Krahrom residents the repercussions of their struggle to save their land now includes criminal convictions.
Video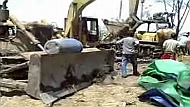 Land Crisis in Cambodia: Kratie Province
February 19, 2009
750 ethnic minority families in Kratie Province, Cambodia are embroiled in a land dispute over farming land, that the provincial authorities say they have leased to a private company for a rubber plantation. In October 2008 the bulldozers came into clear the land and the villagers were there to stop them.
(Music courtesy of the Messengers Band)
Article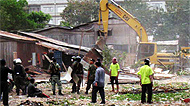 Nightmare at Dey Krahorm: Forced Eviction in the Heart of Phnom Penh
February 8, 2009
In the early morning hours of Saturday January 24, 2009 approximately 500 demolition workers escorted by 300 mixed police in full riot gear surrounded the community of Dey Krahorm. Their mission, to forcibly evict the approximately 400 families that were living on the disputed land in the heart of Phnom Penh.
At 6am the police armed with electric and steel batons, wooden sticks, tear gas, water cannons and guns moved towards the remaining Dey Khrahorm families who had erected barricades and stood defiantly in front of their houses. The police were able to brake through the villagers' lines and disburse them with the use of tear gas, water cannons and rubber projectiles.
Statement
Dey Krahorm Eviction: Adequate compensation & humanitarian action needed
January 30, 2009
LICADHO once more calls upon the government and the 7NG company to urgently ensure adequate compensation for all the families who were brutally evicted from Dey Krahorm on January 24.
LICADHO is deeply concerned that 7NG continues to refuse to provide cash compensation to an estimated 144 evicted house owners, insisting that instead it will only provide some (and not all) of them with apartments at the Damnak Trayeoung relocation site outside of Phnom Penh city. 7NG has imposed a deadline of January 31 for 85 of the house owners to register to accept apartments or they will receive nothing at all.
"7NG needs to get serious about providing adequate compensation to these evicted home owners, instead of imposing arbitrary deadlines and issuing threats that these people will receive nothing," said LICADHO director Naly Pilorge. "It is long overdue that 7NG starts to do the right thing, instead of continuing its thuggish behavior.
Video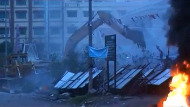 Violent Eviction at Dey Krahorm
January 27, 2009
This video is a compilation of footage captured by human rights monitors on January 24, 2009 during the violent eviction at Dey Krahorm. Video footage courtesy of Platapus, LICADHO, LICADHO Canada, Bridges Across Borders, and Karl Bille.
Photo Album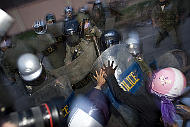 Razing Dey Krahorm: The Death of a Village
January 25, 2009
On Saturday, January 24, 2009, hundreds of police and military police helped a private company into forcefully evicting Dey Krahorm community in central Phnom Penh.