Topic
Judiciary & Rule of Law
Statement
Civil Society Condemns Conviction of Human Rights Defenders Involved in Kampong Chhnang Land Dispute, Cambodia
January 27, 2011
We, the undersigned members of civil society, deeply regret the conviction on defamation charges of community representative Reach Seima and ADHOC staff member Sam Chankea, following their work to help the victims of a land-grab in Kampong Chhnang province. The verdict is a setback for freedom of expression, and represents yet another instance where the Cambodian judiciary has been misused to punish a human rights defender who dared to publicly demand justice for victims of human rights abuses.

Sam Chankea, ADHOC's Kampong Chhnang provincial coordinator, was convicted and sentenced by the court on January 25, 2011. The court ordered him to pay a 1 million riel fine and an additional 3 million riel in compensation to the plaintiff, the K.D.C. International Company. Last week, the same provincial court also sentenced community representative Reach Seima, who was a victim of land grabbing by the same company. He was also convicted of defamation and sentenced to pay a 2 million riel of fine and an additional 8 million riel of compensation. He faces 6 months in prison if he cannot pay.
Statement
Crackdown on Freedom of Expression: Man Sent to Jail after Sharing Website Material
December 20, 2010
The Cambodian League for the Promotion and Defense of Human Rights (LICADHO) condemns the groundless conviction of United Nations' World Food Program national staff Seng Kunnaka by the Phnom Penh court on Sunday morning, December 20, 2010.

Seng Kunnaka was arrested on Friday before noon by the Russei Keo district police. The arrest occured after Kunnaka printed and shared material found on the website ki-media, an online blog dedicated to aggregating news articles and opinions on Cambodia including material critical of its government.
Statement
New Penal Code a Setback for Freedom of Expression Issues
December 9, 2010
In summer 2010, UN High Commissioner for Human Rights Navi Pillay provoked strong condemnation from the Cambodian government when she criticized the judiciary's and ling of cases involving opposition politicians Mu Sochua and Sam Rainsy.

As of Dec. 10, 2010, the same criticism could make her a criminal in Cambodia.

Under Article 523 of the Penal Code, which comes into effect tomorrow, any person who criticizes a "judicial act or decision" aiming to "endanger Cambodian institutions" can be sentenced to up to six months imprisonment and 1 million riel fine.

The provision is one among several problematic provisions highlighted by LICADHO in a brief analysis of new penal code sections which may potentially affect freedom of expression in Cambodia. The nalysis is being released to mark the official enactment of the code, which coincidentally falls on International Human Rights Day.
Briefing Paper
Draft Law on Associations & NGOs: Cambodian Civil Society under Threat
December 4, 2010
The recently-released draft Law on Associations and Non-Governmental Organizations confirms long-standing fears that the government's desire for such a law is in order to control, rather than promote and strengthen, civil society. The draft law - which falls far short of meeting international standards for laws on the non-profit sector - constitutes the most serious threat to civil society in Cambodia in years. While this threat may appear to be most acute for human rights defenders, it has serious negative implications for community development and democratic participation on a broader scale.

Upon cursory examination, the draft law might appear to be positive in that it omits some draconian provisions which had been mooted by the government in the past. However, the law remains - in letter and in spirit - extremely pernicious to civil society.
Statement
Intimidation and Legal Threats Against Union Workers and Leaders Must Cease
September 21, 2010
We, the undersigned organizations, are deeply disappointed with the government's actions to intimidate and threaten workers and union members who have joined the four-day-garment strike from September 13-16, 2010.

The government's response to this entirely legal - and long-declared - strike has included attacks on protesters, legal threats against organizers, and the court-sponsored retaliation against union members. This must stop immediately if the two sides are to reach an agreement during upcoming talks on September 27.

Thousands of workers from the Coalition of Cambodian Apparel Workers Democratic Unions (C-CAWDU), the National Independent Federation of Textile Unions of Cambodia (NIFTUC) and 13 other unions took part in a peaceful strike to demand an increase in the current wage to meet minimum living standards.
Statement
LICADHO Staff Convicted of Disinformation after Show Trial
September 2, 2010
The Cambodian League for the Promotion and Defense of Human Rights (LICADHO) condemns the conviction on disinformation charges of LICADHO employee Mr. Leang Sokchouen. This politically-motivated decision has no basis in fact or law, and underscores the dire state of Cambodia's judiciary. The disproportionate two-year prison sentence also sends a disturbing message to members of Cambodian civil society.

Sokchouen was accused of distributing anti-government fliers in Takeo Province on January 4, 2010. Sokchouen was a longtime acquaintance of co-defendant Tach Khong Phoung, but consistently testified that he had no knowledge on the flier incident. The so-called evidence provided by the police against Sokchouen consisted of a simple list of phone numbers claiming Sokchouen and Tach Khong Phoung had called each other.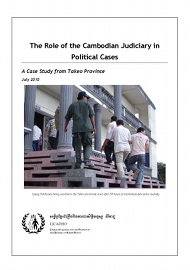 Briefing Paper
The Role of the Cambodian Judiciary in Political Cases
September 2, 2010
On Saturday, May 29, 2010, at 6:15 a.m., Mr. Leang Sokchouen, an employee of LICADHO, was arrested at his home in Phnom Penh's Sen Sok district by police officers from the Internal Security Department of the Ministry of Interior. Subsequent to his arrest, Mr. Sokchouen was transferred to the Headquarters of the National Police Commissioner in Phnom Penh, where he was held incommunicado for more than 33 hours, despite repeated requests by family and his lawyer to be able to access him.

Cambodia is State party to the International Covenant on Civil and Political Rights (ICCPR). Article 9 (1) of the ICCPR reads as follows:

"Everyone has the right to liberty and security of person. No one shall be subjected to arbitrary arrest or detention. No one shall be deprived of his liberty except on such grounds and in accordance with such procedure as established by law."

The Human Rights Committee, the treaty body which is tasked with monitoring the State parties'' performance under the ICCPR, has stated that deprivations of liberty must in all cases be carried out in accordance with domestic legislation (principle of legality). More importantly, the Committee has held that deprivations of liberty must not be arbitrary, clarifying that "arbitrariness is not to be equated with against the law, but must be interpreted more broadly to include elements of inappropriateness, injustice, lack of predictability and due process of law."

Leang Sokchouen's arrest and remand in custody by the Cambodian judiciary bears all the hallmarks of inappropriateness, injustice, lack of predictability and due process outlined by the Human Rights Committee. These violations are characteristic of political systems that fail to genuinely implement basic principles of the rule of law.
Statement
Civil Society Condemn Judicial Tactics Used Against Community Representatives in Kompong Speu
March 25, 2010
We, the undersigned civil society organizations, condemn the Kompong Speu Provincial Court's decision yesterday to arrest and detain two community representatives involved in the ongoing Omlaing Commune land dispute. The bogus charges against the two community representatives constitute yet another instance of Cambodia's rich and powerful using the judicial system as a tool of enrichment and weapon of intimidation. We also condemn the response of mixed police forces to the villagers who came to the provincial court to show their support.

Omlaing Commune Council member You Thou and community leader Khem Vuthy were arrested on charges that they incited villagers to burn two temporary shelters used by construction workers belonging to Ly Yong Phat's Phnom Penh Sugar Company. The two representatives also stand accused of colluding to set the structures on fire.
Statement
Joint Statement by Coalition of Cambodian Civil Society Organizations on Draft Anti-Corruption Law
March 11, 2010
Although the Coalition of Cambodian Civil Society Organizations (hereafter "the Coalition"),comprised of more than 200 local NGOs and Associations, only received a copy of the current Draft of the Anti-Corruption Law "hereafter "the Draft" at the last minute, the Coalition have made a concerted effort to provide several key comments on the Draft in its previous joint statement issued on March 09, 2010 on the eve of the National Assembly Session convened to debate the Law.

The joint and several efforts of the Coalition are aimed at ensuring that the proposed law is good and that it is able to adequately serve Cambodian society and the people well into the new decade through various radio talk shows, press conferences, and the submission of a letter attached to our previous joint statement, requested that the parliamentary debate and adoption of the draft law be deferred until a later date to allow for more time and scope for public input into the discussion now before the National Assembly.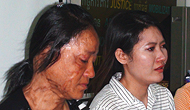 Article
Acid Attacks in Cambodia Continue to go Unchecked
January 29, 2010
Acid attacks have become an increasingly common form of violence in Cambodia in recent years. This particularly vicious method of attack is generally directed against women, often by their own husbands, or the wives of their lovers, with the most common motive being jealousy or revenge for perceived infidelities. There are, however, countless other motives for such attacks, with male and female perpetrators and victims. The attacks are almost always premeditated, as the perpetrators must take the time to acquire caustic acids. Unfortunately, these chemicals are typically inexpensive and readily available on the open market. Acid is very popular weapon given that it almost invisible to the police and the public.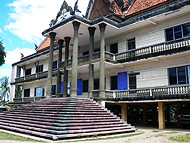 Article
Cambodian Teacher Convicted of Defamation in Land Dispute with School Principal
December 8, 2009
The Prey Veng provincial court has found Neak Loeung Secondary School teacher Chin Rithy guilty of defaming the school's principal following a land dispute. The November 11, 2009, decision imposed a fine of 5 million riels (USD$1250) and ordered Chin Rithy to pay 5 million riel in compensation to the principal, Youen Sovuthy.

The defamation charge stemmed from a complaint filed by Chin Rithy to the Provincial Education Department on April 30, 2009, accusing Yoeun Sovuthy of selling school land to fellow teacher Pang Samet. Chin Rithy is director of the Prey Veng Cambodian Independent Teachers Association (CITA), a group which also disputed the land sale.

The 3-hour trial was held on November 5, 2009, and was attended by 15 CITA members, including CITA president, Rong Chhun, and other NGOs supporting Chin Rithy.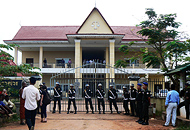 Article
Cambodian Villagers Sentenced to a Year in Prison in Long-Standing Land Dispute
November 27, 2009
On October 27, 2009, the Siem Reap provincial court convicted Chan Norn and Chang Savoeun of assault and robbery, sentencing the two men to one year imprisonment each and ordering each to pay compensation of 3,000,000 riel (USD$750) to complainants Chey Sovann and Em Sothea. The complaint had stemmed from a long-standing land dispute which turned ugly on March 22, 2009, when police opened fire on a group of protesting villagers, resulting in four villagers being shot. The court acquitted seven other villagers who were facing the same charges.

The trial of the nine villagers, which had been held a week earlier on October 20, 2009, was heavily guarded. Initially 20 military police had been guarding the court; however, after over 120 villagers and supporters came to observe the trial, reinforcements were called in. Shortly after the hearing began at 8am, approximately 150 military police armed with guns, shields and electric batons arrived and surrounded the court compound, ensuring that none of the supporters were able to enter the court and observe the hearing. As the supporters waited outside the court, compound police harassed several villagers, accusing them of forming a demonstration to disturb the hearing and continually demanded that they leave.
Statement
Another Blow to Cambodia's Faltering Democracy: Lifting of SRP President Parlimentary Immunity
November 16, 2009
We, the undersigned members of Cambodian civil society, condemn the lifting of parliamentary immunity from Sam Rainsy Party (SRP) President Sam Rainsy by the National Assembly on November 16, 2009. The Assembly's action is yet another blow to Cambodia's faltering democracy, and continues the government's disturbing trend of using the courts to intimidate and weaken political opponents.

Rainsy is the third SRP member to be stripped of parliamentary immunity - the second time this year only - in the past five months. Fellow SRP Parliamentarians Mu Sochua and Ho Vann were stripped of their immunity by the National Assembly on June 22, 2009. The latter was acquitted by the Phnom Penh court on September 22, 2009; yet, the National Assembly has failed to restore his parliamentary immunity back.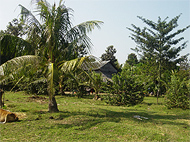 Article
Cambodian Village Chief Jailed in Land Dispute with Private Company
September 29, 2009
On August 27, 2009, the Phnom Penh municipal court sentenced Toch Ly, a village chief from Kompong Chhnang, to 16 months imprisonment after she was found guilty of forging thumbprints in an ongoing land dispute. She was also ordered to pay a fine of 1 million riel (USD$250) and compensation of 5 million riel (USD$1250) to the private company KDC International. Toch Ly was accused of forging a thumbprinted document in which 77 families denied that they sold their land to KDC International. The company is owned by Chea Kheng, the wife of Suy Sem, the Minister of Industry, Mines and Energy. Despite testimony from community members supporting the authenticity of the document, the court ruled that some of thumbprints did not belong to the people named on the document, but were instead made by their relatives.
Statement
Impunity at Work: Acid Attack Case Verdict Shames Cambodian Judiciary
September 2, 2009
The Cambodian League for Promotion and Defense of Human Rights (LICADHO) and the Cambodian Center for Human Rights (CCHR) jointly condemn the decision by the Phnom Penh Municipal Court to acquit former National Military Police Deputy Chief of Staff General Chea Ratha and her accomplices accused of an acid attack on Ya Soknim. The August 31 verdict, issued by judges Sin Visal, Din Sivuthy and Sem Sakola came after several inexplicable delays in the case over the past months.

Human rights activists believe the attack on Ya Soknim, that left her severely mutilated, was an act of revenge against her and her niece, the TV celebrity In Solyda, who has been estranged from Chea Ratha since early 2008.