Topic
Judiciary & Rule of Law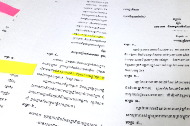 Briefing Paper
Draft Law On Associations & NGOs: Comments on the Fourth Draft
December 15, 2011
On Dec. 12, 2011, the Royal Cambodian Government released the fourth draft of its proposed Law on Associations and Non-Governmental Organizations (LANGO). The release comes almost exactly one year after the first draft was introduced in mid-December 2010.
The contents of the three earlier drafts provoked extensive criticism from local and international civil society organizations, donor governments, and legal analysts. Twice previously the government has acknowledged these criticisms and promised to come up with a better draft. Twice previously they have failed.
With the fourth draft, they have failed again.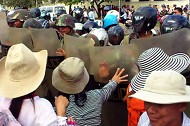 Statement
Criminal Charges Against Activists Won't Solve Boeung Kak Lake Crisis
November 29, 2011
We, the undersigned civil society organizations, deeply regret the Phnom Penh authorities' decision to bring criminal charges against four Boeung Kak Lake residents following their participation in a protest on Nov. 28.
We do, however, commend Investigating Judge Chhay Virak's decision to release the accused under court supervision today.
The four female activists - Tep Vanny, Bo Chhorvy, Heng Mom and Kong Chantha - appeared before the Phnom Penh Municipal Court today, and were charged with insult and obstruction of public officials, respectively, under articles 502 and 504 of the new penal code. If tried and found guilty, they face up to one year in prison and fines of up to 2 million riel.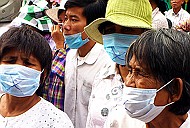 Report
The Delusion of Progress: Cambodia's Legislative Assault on Freedom of Expression
October 26, 2011
Since 2008, the Cambodian government has embarked upon a furious campaign to propose and enact a wide range of new laws. While this new legislation is typically touted as evidence of Cambodia's progress toward the rule of law, a new LICADHO report has found that in many cases, it actually marks the opposite.
In the report, "The Delusion of Progress: Cambodia's Legislative Assault on Expressive Rights," LICADHO analyzes five key laws proposed or enacted since 2008: the Penal Code, the Anti-Corruption Law, the Law on Associations and NGOs, the Law on Peaceful Assembly, and the Law on Unions of Enterprises. Overall, the analysis reveals several disturbing trends: Legislation is littered with improper restrictions on freedom of expression, provisions are misapplied, and vast sections are deliberately drafted to be used as weapons against those who speak out against the political and financial elite.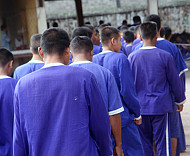 Briefing Paper
Comments and Legislative Recommendations on the Draft Law on Prisons
October 19, 2011
A draft prison law which is set to go before the National Assembly is a positive step for Cambodia's prison system, but falls short of fully protecting prisoners' rights in several key respects.
The draft law's shortcomings are detailed in a new briefing paper from the Cambodian League for the Promotion and Defense of Human Rights (LICADHO). The paper also highlights a handful of the law's positive provisions.
Statement
District and Provincial Authorities are not Above the Law
September 9, 2011
CCHR, LICADHO and CLEC condemn efforts on the part of Kampong Thom province and Sandan district officials to impose conditions on human rights activities above and beyond that provided for in law. Such conditions have no basis in law and any attempts to impose such conditions are in flagrant disregard of the human rights of the people of Kampong Thom province as well as others who travel to that province to participate in activities in the promotion and protection of human rights.
On the afternoon of 7 September 2011, representatives from CCHR, LICADHO and CLEC as well as the United Nations Office of the High Commissioner for Human Rights (UN OHCHR) Cambodia attended a meeting with district officials in Sandan district, Kampong Thom province. The meeting was called after a training event organized by CCHR and the Natural Resource Protection Group (NRPG) was disrupted by officials accompanied by armed police.
Statement
"We Are All STT": Civil Society and Private Sector Groups Condemn Government's Arbitrary Suspension of Local NGO
August 21, 2011
We, representatives of the undersigned members of civil society and private sector groups, support national development that is equitable, inclusive, and sustainable. We believe national development should contribute not only to the growth of commerce and industry but also to the welfare of the wider population. Civil society actors, both local and foreign, play a vital role in this development through monitoring, community development, poverty alleviation, humanitarianism, research, and advocacy. In promoting equitable development and good governance, we also have a right and a responsibility to speak out when development projects have harmful effects.
We condemn the suspension of STT in the strongest possible terms. The suspension of STT is completely arbitrary and a violation of the constitutional right to freedom of expression and association, and an assault on human rights defenders. We demand its immediate reversal. We regard this act to silence STT as an act of oppression against us all. The use of a vague administrative technicality to suspend an organization is an alarmingly clear sign of how the Cambodian government intends to use the Law on Associations and Non Governmental Organizations (LANGO) to curb the activities of all associations and NGOs that advocate for the rights of marginalized groups within Cambodian society.
Briefing Paper
Draft Law On Associations & NGOs: Comments on the Third Draft
August 1, 2011
On July 29, 2011, the government released a third draft of its widely criticized Law on Associations and on-Governmental Organizations (NGO Law), once again claiming that the newest draft addresses the litany of concerns that have been raised by civil society. One needs look no further than the first chapter of the law, however, to discredit the government's reassurances. Registration is still mandatory, meaning Cambodians cannot exercise their fundamental rights of assembly, expression and association without navigating complex registration procedures and securing the blessing of government officials, who would be given absolute power to create or dissolve civil society groups.
The majority of LICADHO's comments in its briefing papers discussing the first and second drafts of the law are still relevant. As with the second draft, the remaining changes in the third draft are almost entirely cosmetic. The third draft does, however, make one significant improvement in that it expressly mentions a right to appeal a denial of registration. This welcome addition is not without its own issues - namely the lack of a timeline and legal standards for assessing an appeal - but it is an important reflection of the impact that advocacy efforts have had to date.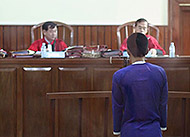 Statement
Appeals Court Upholds Groundless Conviction of LICADHO Staff
July 14, 2011
The Cambodian League for the Promotion and Defense of Human Rights (LICADHO) strongly denounces the Appeals Court's decision to uphold Leang Sokchouen's two-year prison sentence and to change the conviction using legal provisions that were non-existent at the time of the alleged offense.
On August 30, 2010, the Takeo provincial court sentenced Sokchouen to two years in prison on charges of disinformation. The prosecution did not present any in-court witness testimonies or credible evidence. The trial judge only relied on written statements by four dubious witness statements from police officers, ignoring in-court testimony in favor of Sokchouen's innocence.
On Thursday, July 14, 2011, the Appeals Court judge Pol Sam Oeun issued a verdict upholding the lower court's verdict against Sokchouen after a two-hour long trial that took place on June 30, 2011, which failed to present any evidence of Sokchouen's guilt.
Article
Cambodia: Withdraw Flawed Draft NGO and Association Law; Revised Draft Does Not Address Rights Concerns
April 7, 2011
Bangkok - Cambodia's draft law regulating associations and nongovernmental organizations (NGOs) should be abandoned because it will undermine rather than promote civil society in the country, Human Rights Watch, Amnesty International, Forum-Asia, Global Witness, Southeast Asia Press Alliance, Frontline Defenders, and the International Federation for Human Rights (FIDH) and World Organisation Against Torture (OMCT) within the framework of the Observatory for the Protection of Human Rights Defenders said today. On April 6, a total of 62 international organizations working in Cambodia called upon the country's international donors to make strong public and private statements opposing passage of a law that poses the most significant threat to the country's civil society in many years.
Briefing Paper
Comments on the Second Draft Law on Associations and Non-Governmental Organizations of the Kingdom of Cambodia
April 5, 2011
The International Center for Not-for-Profit Law (ICNL) is an international organization that provides technical assistance, research, and education to support the development of appropriate laws and regulatory systems for civil society in countries around the world. ICNL has worked on civil society law reform projects in over one hundred countries; in Asia, ICNL has worked in China, Timor-Leste, Indonesia, Lao P.D.R., Mongolia and Vietnam. ICNL has worked with the United Nations Development Programme, United Nations Volunteers, the Community of Democracies Working Group on Enabling and Protecting Civil Society, the European Union, the Organization for Security and Cooperation in Europe, the United States Agency for International Development, New Zealand AID, the Swedish International Development Agency, human rights groups, private foundations, and scores of in-country colleagues.
Document
International Non-Governmental Organizations: Concerns Regarding Draft Law on Associations and Non-Governmental Organizations
April 1, 2011
Recognizing the importance that the Royal Government of Cambodia (RGC) has placed on strengthening institutions of governance and implementing reforms aimed at ensuring sustainable development and long-term poverty reduction; and the commitment to strong cooperation among all ministries and agencies, development partners, the private sector, civil society organizations, and other relevant stakeholders embodied in key policy documents such as the "National Strategic Development Plan" and the "Rectangular Strategy"; the INGO community has been a dedicated partner in Cambodia's development efforts for decades. As the 2009 National Strategic Development Plan Update notes, "Civil society is an important partner and many NGOs, both national and international, play an active and vigilant role in social and economic development efforts as well as in promotion of democracy and human rights."
Statement
Second Draft of NGO Law Falls Short on Fundamental Rights
March 31, 2011
Phnom Penh - The second draft of the proposed Association & NGO law (NGO Law) is not significantly different from the first draft, and remains the most serious threat to civil society in Cambodia today, according to a new briefing paper from LICADHO.
The first draft of the law, released on Dec. 15, 2010, was widely condemned by civil society and international observers as an assault on Cambodians' right to freedom of association, assembly and expression. The second draft, released by the Ministry of Interior on March 24, does nothing to assuage these fears.
Registration is still mandatory for all NGOs and Associations (Article 6). Nonregistered groups are banned from operating. Key provisions are vague and open to arbitrary interpretation. And in many circumstances, the government has carte blanche to shut organizations down without appeal (Article 18 was removed from second draft).
Briefing Paper
Draft Law on Associations & NGOs: An Updated Analysis of The Second Draft
March 31, 2011
The recently-released draft Law on Associations and Non-Governmental Organizations confirms long-standing fears that the government's desire for such a law is in order to control, rather than promote and strengthen, civil society. The draft law - which falls far short of meeting international standards for laws on the nonprofit sector - constitutes the most serious threat to civil society in Cambodia in years. While this threat may appear to be most acute for human rights defenders, it has serious negative implications for community development and democratic participation on a broader scale.
Upon cursory examination, the draft law might appear to be positive in that it omits some draconian provisions which had been mooted by the government in the past. However, the law remains - in letter and in spirit - extremely pernicious to civil society.
Statement
Civil Society Welcomes Release of Thach Saveth
March 2, 2011
We, the undersigned civil society organizations, commend the Supreme Court's decision today to release Thach Saveth, who was wrongly convicted of murdering union leader Ros Sovannareth in 2004.
The Supreme Court overturned Thach Saveth's conviction and ordered him released on bail pending a reinvestigation of the case. Thach Saveth was originally convicted in February 2005 and sentenced to 15 years in prison. His conviction was then upheld by the appeal court in February 2009.
Statement
Civil Society Condemns Conviction of Human Rights Defenders Involved in Kampong Chhnang Land Dispute, Cambodia
January 27, 2011
We, the undersigned members of civil society, deeply regret the conviction on defamation charges of community representative Reach Seima and ADHOC staff member Sam Chankea, following their work to help the victims of a land-grab in Kampong Chhnang province. The verdict is a setback for freedom of expression, and represents yet another instance where the Cambodian judiciary has been misused to punish a human rights defender who dared to publicly demand justice for victims of human rights abuses.
Sam Chankea, ADHOC's Kampong Chhnang provincial coordinator, was convicted and sentenced by the court on January 25, 2011. The court ordered him to pay a 1 million riel fine and an additional 3 million riel in compensation to the plaintiff, the K.D.C. International Company. Last week, the same provincial court also sentenced community representative Reach Seima, who was a victim of land grabbing by the same company. He was also convicted of defamation and sentenced to pay a 2 million riel of fine and an additional 8 million riel of compensation. He faces 6 months in prison if he cannot pay.