Video
Forcible Arrest of Venerable Loun Sovath while Supporting 13 Detained Land Activists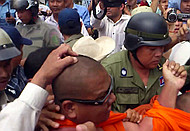 Enlarge this picture
Venerable Loun Sovath's head is pushed forward while authorities force him into a land cruiser.
May 24, 2012 Venerable Loun Sovath was forcibly taken away by religious authorities while the monk was supporting a peaceful gathering of Boeung Kak lake villagers in front of the Phnom Penh court. Venerable Sovath was driven to Wat Botum, where he was questioned over his activism by religious leaders.
The group had gathered to support 13 lake representatives who - hours after the monk's removal - were unjustly given prison sentences of 2 and a half years each, some suspended.