Tag
Boeung Kak Lake
Flash News
Supreme Court Upholds Tep Vanny Conviction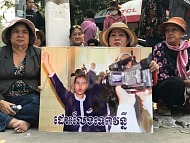 February 7, 2018 The conviction of land rights activist Tep Vanny over her participation in a peaceful protest was upheld by the Supreme Court this morning as supporters gathered outside.
No plaintiffs or prosecution witnesses were present at the hearing, preventing cross-examination as was the case at the first instance trial and Appeal Court hearings. Witnesses for the defence, who were present in the courtroom, were not permitted to testify.
At a protest in Phnom Penh on 13 March 2013 – over the jailing of another activist – para-police beat and injured several members of the Boeung Kak Lake community. Nonetheless, Tep Vanny was convicted by Phnom Penh Municipal Court on 23 February 2017 for "intentional violence with aggravating circumstances", despite a lack of credible evidence.
Vanny's defence sought to overturn the two years and six months' sentence as well as fines and compensation to two para-police plaintiffs amounting to 14 million riel ($3,500). Since her arrest on 15 August 2016 (her pre-trial detention officially began four days later), Tep Vanny has spent 541 days behind bars.
The verdict today relates just one of three historic cases which were re-activated in August 2016 while Vanny was awaiting trial on separate charges over a Black Monday protest for the release of five human rights defenders.
Related Material:
Statement
On the First Anniversary of the Grossly Unjust Imprisonment of Land Activist and Human Rights Defender Tep Vanny, CSOs Call for Her Release
August 15, 2017
Tep Vanny, one of Cambodia's most prominent land activists and human rights defenders, will have spent one year in prison on 15 August for defending her community and exercising her human rights. We, the undersigned, condemn her arbitrary imprisonment. We call for her convictions to be overturned, for all ongoing politically motivated and unsubstantiated charges against her to be dropped, and for her immediate release from prison.
Statement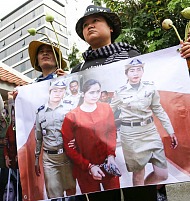 Civil Society Calls for Justice for Tep Vanny at Appeal Court
July 27, 2017
We, the undersigned, call on the Court of Appeal to overturn the unjust conviction of Ms. Tep Vanny on charges of intentional violence with aggravating circumstances based on her peaceful activism at a 2013 protest, for which she received a draconian sentence of two years and six months' imprisonment on 23 February 2017. The Court of Appeal will hear Ms. Tep Vanny's appeal against conviction tomorrow. On 15 August 2017, Ms. Tep Vanny will have spent one year in detention; her imprisonment is a clear attempt to silence one of Cambodia's most fearless and outspoken defenders of human rights ahead of the national elections in July 2018.
Statement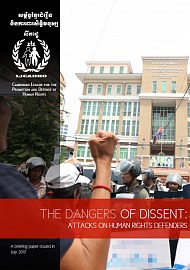 The Dangers of Dissent: Attacks on Cambodia's Human Rights Defenders
July 3, 2017
As Cambodia's human rights situation continues to backslide, exposing and speaking out against state-perpetrated abuses is ever more crucial. In the last two years, however, human rights defenders and other critical or independent voices have been among the main victims of Cambodia's fractious political situation.
In this latest in a series of briefing papers, LICADHO sets out threats facing those who stand up for human rights in today's Cambodia. Long-standing tactics used to silence human rights defenders – judicial harassment by a politicized court system; state-sponsored violence; and intolerance of peaceful protest – have been reinforced by new incapacitating laws and targeted digital surveillance. Although the examples presented in this paper are by no means exhaustive, taken together they provide a snapshot into the kinds of abuses that human rights defenders have been routinely subjected to in Cambodia over the last two years.
Statement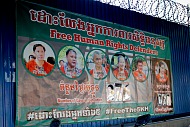 Cambodian and International CSOs Condemn Removal of Banners Calling for the Release of Human Rights Defenders
May 9, 2017
We, the undersigned Cambodian and international civil society organizations, condemn the removal by district and commune police authorities of banners calling for the release of six human rights defenders. Banners were removed from the offices of the Cambodian Human Rights and Development Association (ADHOC), the Cambodian League for the Promotion and Defense of Human Rights (LICADHO) and Mother Nature in Koh Kong's Smach Meanchey commune on 2 May 2017, as well as from three residences in Koh Kong province's Srae Ambel district on 3 May 2017.
Statement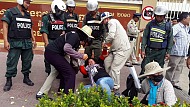 Tep Vanny Convicted Again as Para-Police Attack Supporters
February 23, 2017
We, the undersigned civil society groups, condemn today's unjust conviction and sentencing of Tep Vanny and the latest outrageous violence perpetrated by para-police against her supporters outside Phnom Penh Municipal Court.
Statement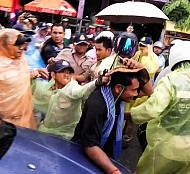 Human Rights Defenders Summonsed as 'Suspects' after Being Beaten by Para-Police
February 7, 2017
Two human rights defenders have been summonsed as suspects in relation to violence that occurred when para-police blocked a peaceful World Habitat Day march in October 2016. During the altercation, both men – LICADHO's Monitoring Manager Am Sam Ath, who was monitoring the event at the time, and Boeung Kak Lake community representative Chan Puthisak, who was documenting the march – were badly beaten by para-police in targeted attacks against them.
Statement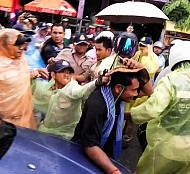 World Habitat Day Marred by Brutal Beatings of Human Rights Defenders
October 10, 2016
We, the undersigned civil society groups, are outraged by this morning's unjustified use of violence by district para-police officers during a march to peacefully celebrate World Habitat Day, and we strongly condemn this reprehensible attack.
Statement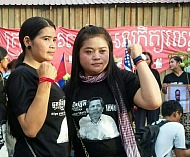 Civil Society Calls for Immediate Release of Boeung Kak Lake Activists
August 18, 2016
We, the undersigned civil society groups, demand the immediate release of two Boeung Kak Lake activists – Ms. Tep Vanny and Ms. Bov Sophea – who were charged and sent to provisional detention in Prey Sar's CC2 prison on 17 August 2016, in relation to their involvement in the "Black Monday" campaign. We also call on authorities to drop the spurious incitement charges against them, and allow for peaceful assemblies, such as those in support of the Black Monday campaign, as protected under Cambodian and international law.
Photo Album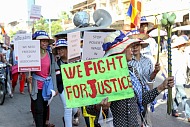 Thousands Demand Justice for Human Rights Day Celebrations
December 17, 2015
To celebrate International Human Rights Day (IHRD), about 10,000 people from rural and urban communities participated in 20 marches and events across the country from December 6 to December 10. These were organized by the informal network Friends of December 10th, which includes youth, land communities, associations, farmers, monks, and NGOs. On December 10, groups peacefully marched from various locations in Phnom Penh toward the Ministry of Justice to demand that the government resolve Cambodia's land conflict epidemic; reform the judicial system and release human rights defenders and activists; raise the minimum wage and respect labour rights; end state-sponsored violence; and respect freedoms of expression, association and peaceful assembly. This year's IHRD theme was 'Justice'.
Photo Album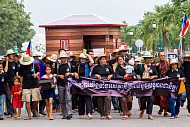 Communities from Across Cambodia Celebrate World Habitat Day in Phnom Penh
October 5, 2015
This morning, over 1,400 community members, monks and grassroots groups from across Cambodia gathered in Phnom Penh to celebrate the 30th World Habitat Day and to call on authorities to respect Cambodian people's right to housing.
Statement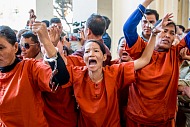 Civil Society Groups Condemn the Ongoing Detention of 11 Activists
January 26, 2015
We the undersigned civil society groups condemn the indefensible verdicts issued this morning by the Court of Appeal in the cases of ten land activists and one monk.
Photo Album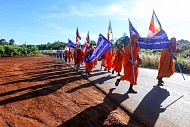 Marching for International Human Rights Day 2014
December 15, 2014
To celebrate International Human Rights Day (IHRD) this year, 600 monks marched alongside land activists, associations, unions, rural and urban residents, and NGOs, on six national roads towards Phnom Penh from December 5 to December 10. This year's IHRD theme was "Respecting Human Rights Leads to Peace!" For the first time, indigenous communities in Ratanakiri province participated in IHRD by organizing their own march on National Road 7, which began on December 4.
Photo Album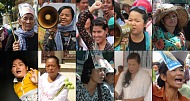 Free the 19: Spotlight on the Boeung Kak 10
December 8, 2014
On November 10 and 11, 10 Boeung Kak land rights activists were arrested while staging peaceful protests in Phnom Penh. By November 12, all had been sentenced to a year in prison. The imprisonment of the women occured during a wave of arrests which targeted not only land rights activists but also opposition party members and activist monks. Nineteen of those arrested remain in detention.
This photo album focuses on the 10 female Boeung Kak activists whose struggle for a just resolution to their land dispute has now lasted seven years. For five of them, this is their second prison term.
Statement
LICADHO Calls for the Release of the 19 Men and Women Wrongfully Imprisoned in Prey Sar's CC1 and CC2 Prisons
December 8, 2014
On Wednesday, Cambodia will celebrate International Human Rights Day. LICADHO takes this opportunity to recall attention to the 19 men and women who have been wrongfully imprisoned following a recent spate of arrests in Phnom Penh. LICADHO condemns these imprisonments and the continued abuse of the judicial system by the ruling party and well-connected individuals.