Tag
Borei Keila
Video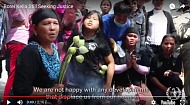 Borei Keila community calls for justice on 6th anniversary of forced eviction
January 2, 2018
Borei Keila community in Phnom Penh marks the sixth anniversary of the violent destruction of their homes and forced eviction on 3 January 2012 to make way for a high rise housing development. The community is still seeking fair compensation and re-location on the site of their former homes.
Flash News
Court of Appeal Upholds Tep Vanny Conviction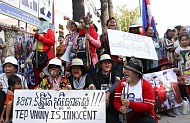 August 8, 2017 This morning the Court of Appeal upheld the conviction and sentence of land rights activist Tep Vanny on a years-old charge which was reactivated following her participation in the peaceful "Black Monday" campaign last year. Today's verdict follows an appeal hearing on 27 July in which no plaintiffs were present, preventing cross-examination and – as in the first instance trial in February – no credible evidence was presented by the prosecution.
The appeal attempted to overturn her conviction by the Phnom Penh Municipal Court on 23 February 2017 for "intentional violence with aggravating circumstances" in a trial which fell far short of acceptable legal standards. The case itself relates to a 2013 protest in Phnom Penh – over the jailing of another activist – where para-police brutally beat and injured Vanny and other protesters.
Today's verdict upholds Tep Vanny's two years and six months' sentence as well as fines and compensation to the plaintiffs amounting to 14 million riel ($3,500). Since her arrest on 15 August 2016, Tep Vanny has spent 358 days in detention.
Related Material:
Statement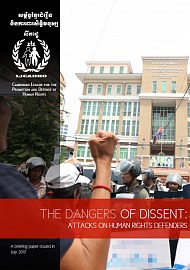 The Dangers of Dissent: Attacks on Cambodia's Human Rights Defenders
July 3, 2017
As Cambodia's human rights situation continues to backslide, exposing and speaking out against state-perpetrated abuses is ever more crucial. In the last two years, however, human rights defenders and other critical or independent voices have been among the main victims of Cambodia's fractious political situation.
In this latest in a series of briefing papers, LICADHO sets out threats facing those who stand up for human rights in today's Cambodia. Long-standing tactics used to silence human rights defenders – judicial harassment by a politicized court system; state-sponsored violence; and intolerance of peaceful protest – have been reinforced by new incapacitating laws and targeted digital surveillance. Although the examples presented in this paper are by no means exhaustive, taken together they provide a snapshot into the kinds of abuses that human rights defenders have been routinely subjected to in Cambodia over the last two years.
Photo Album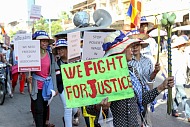 Thousands Demand Justice for Human Rights Day Celebrations
December 17, 2015
To celebrate International Human Rights Day (IHRD), about 10,000 people from rural and urban communities participated in 20 marches and events across the country from December 6 to December 10. These were organized by the informal network Friends of December 10th, which includes youth, land communities, associations, farmers, monks, and NGOs. On December 10, groups peacefully marched from various locations in Phnom Penh toward the Ministry of Justice to demand that the government resolve Cambodia's land conflict epidemic; reform the judicial system and release human rights defenders and activists; raise the minimum wage and respect labour rights; end state-sponsored violence; and respect freedoms of expression, association and peaceful assembly. This year's IHRD theme was 'Justice'.
Photo Album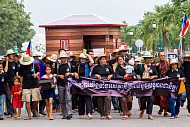 Communities from Across Cambodia Celebrate World Habitat Day in Phnom Penh
October 5, 2015
This morning, over 1,400 community members, monks and grassroots groups from across Cambodia gathered in Phnom Penh to celebrate the 30th World Habitat Day and to call on authorities to respect Cambodian people's right to housing.
Photo Album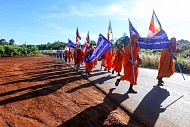 Marching for International Human Rights Day 2014
December 15, 2014
To celebrate International Human Rights Day (IHRD) this year, 600 monks marched alongside land activists, associations, unions, rural and urban residents, and NGOs, on six national roads towards Phnom Penh from December 5 to December 10. This year's IHRD theme was "Respecting Human Rights Leads to Peace!" For the first time, indigenous communities in Ratanakiri province participated in IHRD by organizing their own march on National Road 7, which began on December 4.
Report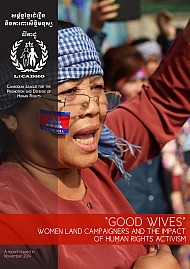 "Good Wives": Women Land Campaigners and the Impact of Human Rights Activism
November 23, 2014
To mark the start of the global campaign, 16 Days of Activism against Gender Violence, LICADHO has published a report exploring how the lives of women campaigners are changed by their activism. It reveals the high price women pay, suffering not only serious economic and emotional impacts but also often domestic violence and family breakdown.
Video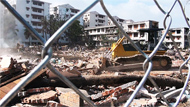 Borei Keila Evictees: Justice Overdue
October 6, 2014
Today as communities all over the world stand in solidarity for World Habitat Day, some 600 community members gathered at the National Assembly to demand 'development for all' and an end to forced evictions across Cambodia. This video highlights the ongoing land dispute between the Borei Keila community in Phnom Penh and local development company, Phanimex.
Video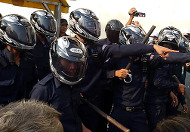 Youth Beaten Bloody during Borei Keila Occupation Clampdown
February 14, 2014
At about 7am this morning, the road leading to Borei Keila was blocked and riot police, military police and security guards were deployed to remove the families from the building. Six people were seriously injured in the ensuing clashes, including one 7-month-pregnant woman.
Video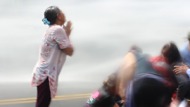 Water Cannons Used against Peaceful Land Protesters in Cambodia's Capital
May 30, 2013
This morning near Phnom Penh city hall, authorities called in three fire trucks, which used high-pressure water from their hoses to disperse peaceful protesters from the Boeung Kak, Borei Keila and airport communities. Firefighters also targeted some community members who came to rescue colleagues who had fallen down due to the impact of the water. This video was taken at the scene.
Statement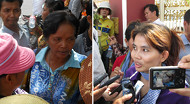 Two Days, Two Unjustified Pre-Trial Detention Order
September 6, 2012
In the past three days, the Phnom Penh Municipal Court has ordered the unjustified pre-trial detention of two female land rights advocates in unrelated cases. These two incidents are the latest in a long string of incidents in which the courts have been wielded as a weapon to silence victimized communities.
The two arrested activists have long been struggling to advocate on behalf of powerless residents involved in land disputes with some of Cambodia's most well-connected and powerful business tycoons.
Video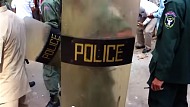 Borei Keila: Broken Promises in Cambodia
January 12, 2012
On January 3, 2012, the well-connected Phan Imex Corporation proceeded, with the help of armed state forces, to destroy the homes of some 300 Borei Keila families. This forced eviction was in violation of a legal agreement between the corporation and the Borei Keila residents that entitled all families living in the area to obtain on-site apartments.
Statement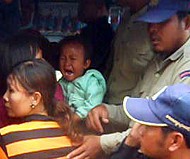 Detained Borei Keila Residents Must Be Released from Prey Speu Center
January 12, 2012
We, the ten undersigned civil society organizations, call for the immediate release of Borei Keila residents detained yesterday and since unlawfully detained at the Prey Speu Social Affairs Center. We also call for the permanent closure of the Prey Speu center, which has been proven time and again to be nothing more than an extra-judicial detention facility.
Statement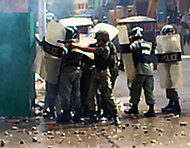 Civil Society Groups Condemn Violent Eviction of Borei Keila Residents
January 3, 2012
HRTF, CYN, IDEA, BABC, CLEC, BKLW, ACRP, CCFC, FADP, PLCN and LICADHO strongly condemns today's violent destruction of the homes of some 300 families living in Phnom Penh's Borei Keila settlement.
The destruction of these homes marks yet another sad turn for a development that was once promoted as a model alternative to the eviction and off-site relocation of the Phnom Penh's urban poor.
Briefing
HIV/AIDS Families Evicted from Borei Keila
June 30, 2009
The eviction of 31 families affected by HIV/AIDS from the inner-city community of Borei Keila in the Cambodian capital, Phnom Penh, raises serious discrimination, health and other human rights issues. Twenty of the families were banished to a de facto AIDS colony created by the government on the city outskirts, where they were given grossly sub-standard housing, on June 18. Three days later, the remaining 11 families were also evicted, sent to stay in rental houses while they wait to see whether the authorities will honor a dubious verbal promise of permanent new housing for them at Borei Keila in three months time.
This briefing paper discusses the history of the HIV/AIDS community at Borei Keila and their eviction and forced relocation in June 2009.