Tag
Mother Nature
Flash News
Mother Nature Activists Convicted by Koh Kong court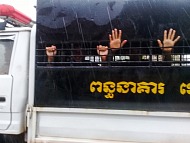 January 26, 2018 Koh Kong provincial court convicted two Mother Nature activists today on the charge of violating privacy and incitement and sentenced both to one year in prison with seven months suspended. They were also fined 1,000,000 riels each (US$250).
Dem Kundy and Hun Vannak were convicted under article 302 (unauthorised recording of a person's image) and article 495 (incitement to commit a felony) of the Criminal Code.
The sentences, announced by Judge Keo Sokha, came just a day after their trial where the defence argued that there was insufficient evidence to convict them of incitement or invading the privacy of the LYP Group which brought the complaint.
Shortly before their arrest on 12 September 2017, the environmental activists had filmed cargo ships suspected of transporting illegally dredged sand. They recorded the footage from a boat in open waters. For a recording to be a violation of privacy under Cambodian law it must include a person's image, taken without permission while on private property.
Kundy and Vannak are recognised by Amnesty International as Prisoners of Conscience. As they have been held in pre-trial detention since their arrest, the pair are expected to be released within weeks.
Related Material:
Statement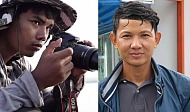 CSOs Call for Immediate Release of Mother Nature Activists
November 14, 2017
We, the undersigned Cambodian and international civil society organisations (CSOs), call for the immediate release of Hun Vannak and Doem Kundy, environmental activists affiliated with the recently deregistered NGO, Mother Nature Cambodia (MNC), who have been wrongfully detained for over two months on spurious charges. We are deeply concerned by the arbitrary nature of their arrest and pre-trial detention, which appears to be an attempt to stifle and punish their legitimate work as environmental human rights defenders.
Document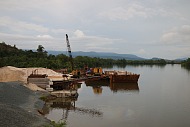 Joint Open Letter: Seeking Clarification Regarding Sand Exports
October 31, 2016
We, the undersigned civil society organizations, write to His Excellency Mr. Suy Sem, the Minister of Mines and Energy, to request clarification regarding sand exported overseas by Cambodia from 2007 to 2015. A Ministry spokesman has been quoted as saying that Cambodia's global sand exports amounted to just over 17 million tons between 2007 and 2015. However, the only official export data issued to date by the Cambodian government in relation to sand exports, from the Ministry of Commerce, only discloses sand exports to Singapore for the same period, totaling about 2.8 million tons. The Cambodian government is yet to explain to which other countries it is exporting sand to, or at what price this sand is being sold for.
Statement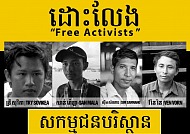 CSOs Declare Support for Mother Nature and Condemn Crackdown Against the Organization
February 15, 2016
In response to the latest unjust charges brought against three further members of the environmental NGO Mother Nature, we, the undersigned civil society organizations (CSOs), declare our support for Mother Nature, and condemn the Royal Government of Cambodia (RGC)'s crackdown on the organization and Cambodian civil society in general.
Photo Album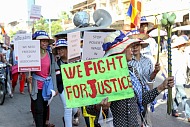 Thousands Demand Justice for Human Rights Day Celebrations
December 17, 2015
To celebrate International Human Rights Day (IHRD), about 10,000 people from rural and urban communities participated in 20 marches and events across the country from December 6 to December 10. These were organized by the informal network Friends of December 10th, which includes youth, land communities, associations, farmers, monks, and NGOs. On December 10, groups peacefully marched from various locations in Phnom Penh toward the Ministry of Justice to demand that the government resolve Cambodia's land conflict epidemic; reform the judicial system and release human rights defenders and activists; raise the minimum wage and respect labour rights; end state-sponsored violence; and respect freedoms of expression, association and peaceful assembly. This year's IHRD theme was 'Justice'.
Statement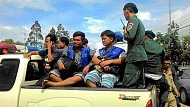 ADHOC, CLEC and LICADHO Call for the Immediate Release of 17 Activists and Observers in Koh Kong
September 2, 2015
ADHOC, LICADHO and CLEC are outraged by the detention of 17 protestors, NGO staff and media workers in Koh Kong's provincial police station and call for their immediate release. The 17 were detained in the midst of a gathering calling for a solution to Chi Khor Krom community's land conflict. The gathering involved 50 youths and land activists who had also participated in daily peaceful protests against the arrest and imprisonment of three activists from NGO Mother Nature since August 19.
Statement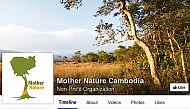 Civil Society Groups Condemn Use of Visa Denial to Curb Activism
February 17, 2015
We, the undersigned civil society groups, condemn the recent decision to deny a visa renewal for prominent environmental activist Alejandro Gonzalez-Davidson. Mr Gonzalez-Davidson has been at the forefront of a campaign by local Non-Governmental Organization (NGO), Mother Nature, to halt the controversial development of a hydroelectric dam in Areng valley, Koh Kong province.