Tag
Sugar Concessions
Flash News
Koh Kong Farmers Protest Sugar Concession Land Grabbing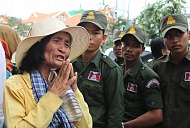 August 22, 2017 This morning more than 100 farmers from Chi Kor Krom community in Koh Kong protested outside the Ministry of Land Management, demanding that the government resolve a land conflict affecting at least 15 families. Police and para police pushed the protesters from the roadside, hurting two female members of the community and smashing the group's megaphone.
In 2010, the affected community lost their farmland to an Economic Land Concession (ELC) held by the Heng Huy Agriculture Group which cleared it for sugar production. The community has struggled to find a solution for seven years, repeatedly presenting their case at the local and national level. More than 120 members of the community travelled to Phnom Penh on 2 February 2017 and spent several months petitioning authorities.
Returning five days ago, the community met with a representative of Prime Minister Hun Sen's cabinet who pledged to find a solution. After several hours protesting outside the land ministry today, a spokesman informed the group that their case was still being examined.
Despite repeated government assurances that the land conflict would be resolved, the community is still waiting for action to be taken and plans to remain in the capital to appeal for a solution.
Article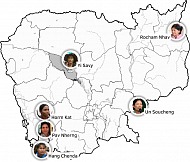 Cambodian Women on the Front Line: Six Stories of Resistance
March 13, 2015
To celebrate International Women's Day 2015 LICADHO, together with the Highlanders Association of Cambodia, organised a forum in Ban Lung, Ratanakiri for people affected by land grabbing. The forum was attended by over 100 representatives from eight different indigenous communities from within Ratanakiri and by land rights activists from other provinces around the country. The theme of the forum was the effect of land conflicts on women and the majority of the participants were women. The participants shared their experiences and ideas and many performed songs they had written telling the stories of their land disputes. We profile six of the women who attended the forum. Their stories illustrate the many hardships faced by women affected by land disputes as well as their remarkable spirit and resilience.
Statement
Oddar Meanchey Authorities' Continued Illegal Conduct Towards Equitable Cambodia's Staff
October 16, 2014
We, the undersigned civil society groups, condemn the actions of the Oddar Meanchey authorities who have, since September 2014, been engaged in the obstruction, harassment, intimidation, and assault of rights workers. Most recently, a four-person team from Equitable Cambodia ("EC") was in the province to conduct field research on the impacts of forced evictions resulting from economic land concessions granted for the development of sugarcane plantations. The plantations are owned by the Mitr Phol Group, one of Coca-Cola's top three global suppliers. Research data collected will be provided to the National Human Rights Commission of Thailand ("NHRCT"), which is investigating Mitr Phol's operations in Cambodia.
Statement
Civil Society Groups Condemn the Groundless Detention of Equitable Cambodia Staff
September 12, 2014
We the undersigned condemn the continued intimidation and harassment of human rights defenders in Cambodia. We call upon the competent authorities to investigate those responsible for ordering the groundless detention of Equitable Cambodia Staff Meg Fukuzawa and Lida Sok.
Statement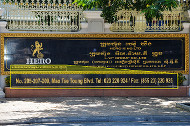 Response to Phnom Penh Sugar Company's Allegations Against Equitable Cambodia Executive Director Eang Vuthy
August 21, 2014
On August 18, 2014, the Phnom Penh Sugar Co. Ltd., took out advertisements in several major Cambodian newspapers accusing Equitable Cambodia's Executive Director, Mr. Eang Vuthy, of making false and misleading statements about Oknha Ly Yong Phat, and causing "irreparable damage" to the Senator's reputation as well as that of his business, Phnom Penh Sugar.
While the Senator may currently have no involvement in the management or ownership of Khon Kaen Sugar Company's in Koh Kong province or Mitr Pohl Sugar Company's in Oddar Meanchey province, there is strong evidence that Ly Yong Phat was involved with each of these companies and with the forcible eviction of thousands of villagers.
Statement
Child Labor on Sugar Plantations in Cambodia is Well Documented
July 23, 2013
The Guardian newspaper recently ran a damning expose of child labor on the KSL Group sugar plantations in Cambodia that supply the sugar giant Tate & Lyle Sugars. Rather than acting quickly to address the abuses, the companies seem to have resorted to a strategy of denial and legal bullying in an attempt to defend their tarnished reputations.
Statement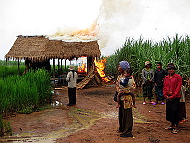 Cambodian NGOs allege serious abuses linked to Thai sugar giant, Mitr Phol Sugar Corporation
May 31, 2013
Two Cambodian NGOs, LICADHO and Equitable Cambodia filed a petition on behalf of 602 complainants about serious human rights violations linked to large sugar concessions held by Thai sugar giant, Mitr Phol Sugar Corporation.
Article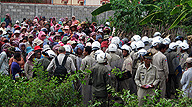 Eviction and Land Grabbing Surges Across Cambodia
April 2, 2010
The use of military police by government-affiliated companies and individuals to forcibly evict villagers featured prominently in land grabbing cases in first quarter of 2010, leaving over 2,500 families at risk of losing their homes or livelihood.
LICADHO received 23 complaints of land grabbing between January and March 2010, ten of which involved the violent eviction of individuals following the grant of economic land concessions by government ministers to relatives or elites, and their affiliated companies.
Video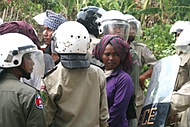 Villagers Unite to Release Community Representatives in Land Dispute
April 2, 2010
On 26 March 2010, more than 600 - entangled in a land dispute with Okhna Ly Yong Phat's sugar plantation - villagers gathered on National Road 4, blocking the road for almost two hours, and demanded the release of their two representatives, Khem Vuth and You Tho, who had been arrested two days earlier. This led to heavy traffic congestion and prompted the deputy provincial governor, court officials and provincial police commissioner to talk with villagers. After lengthy negotiations, the villagers agreed to move and discuss the matter at the provincial court.
On 29 March 2010 Mr. You and Mr. Vuthy were released on bail and placed under surveillance.
Statement
Civil Society Condemn Judicial Tactics Used Against Community Representatives in Kompong Speu
March 25, 2010
We, the undersigned civil society organizations, condemn the Kompong Speu Provincial Court's decision yesterday to arrest and detain two community representatives involved in the ongoing Omlaing Commune land dispute. The bogus charges against the two community representatives constitute yet another instance of Cambodia's rich and powerful using the judicial system as a tool of enrichment and weapon of intimidation. We also condemn the response of mixed police forces to the villagers who came to the provincial court to show their support.
Omlaing Commune Council member You Thou and community leader Khem Vuthy were arrested on charges that they incited villagers to burn two temporary shelters used by construction workers belonging to Ly Yong Phat's Phnom Penh Sugar Company. The two representatives also stand accused of colluding to set the structures on fire.
Article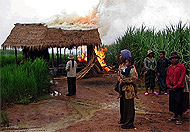 Police and Military Burn and Bulldoze Houses During Land Eviction in Cambodia's Northwest
November 19, 2009
On October 9, 2009, homes belonging to over 100 families from Bos village in Oddar Meanchey's Konkriel commune, were burned and bulldozed down by a contingent of approximately 150 police, military police, and hired demolition workers. The forced eviction was part of a long standing land dispute between the evicted residents and the Angkor Sugar Company. The Company is owned by Ly Yong Phat, a member of the ruling Cambodian People's Party and a State Senator who claims ownership over the disputed land.
Forestry Administration officials and RCAF troops from Battalion 42 set up roadblocks at the entrances to the village barring human rights workers and the media from entering the village to observe the eviction.
Briefing
Mitr Pol Sugar: Timeline of a Forced Eviction in Oddar Meanchey
October 12, 2009
This briefing paper lays the historical timeline of a community in Konkriel commune, Samraong district, Oddar Meanchey, from its initial settlement in 1998 until its forced eviction in October 2009.
Photo Album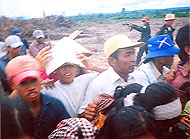 Sre Ambel Land Dispute
March 6, 2007
Sre Ambel community lives under threat of losing their land over concession granted to a Thai Khon Kaen Sugar (KSL) company and CPP Senator Ly Yong Phat.