Topic
Expression & Assembly
Statement
CSOs call for outright rejection of draft amendments to the Constitution and Criminal Code, amid legislative assault on Cambodian peoples' rights and freedoms
February 21, 2018
We, the undersigned organizations and communities, express our grave concern regarding the Royal Government of Cambodia's proposed amendments to the Constitution of the Kingdom of Cambodia, as well as the proposed introduction of a lèse-majesté offense to Cambodia's Criminal Code. These proposed amendments constitute a severe threat to human rights and fundamental freedoms, and are clearly designed to further criminalize any individual or entity that dares to express legitimate dissent. We are deeply concerned by this cynical attempt to deny the Cambodian people the fundamental freedoms to which they are entitled, and call for the outright rejection of these proposed amendments.
Flash News
Communities Celebrate International Human Rights Day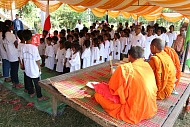 December 10, 2017 More than 3,000 Cambodians have been gathering around the country in over a dozen, mainly rural, locations to celebrate the 69th International Human Rights Day - despite ongoing government restrictions on civil society.
Communities and civil society organisations spoke out about land grabbing, natural resource protection and minority rights in a series of events since Friday.
Despite the current climate of fear, communities, grassroots groups and trade unions demonstrated solidarity in private and public events. Several faced restrictions from local and provincial authorities, including not being allowed to march.
International Human Rights Day is celebrated every year to mark the signing of the Universal Declaration of Human Rights, adopted by the United Nations on 10 December 1948.
Related Material:
Statement
On the First Anniversary of the Grossly Unjust Imprisonment of Land Activist and Human Rights Defender Tep Vanny, CSOs Call for Her Release
August 15, 2017
Tep Vanny, one of Cambodia's most prominent land activists and human rights defenders, will have spent one year in prison on 15 August for defending her community and exercising her human rights. We, the undersigned, condemn her arbitrary imprisonment. We call for her convictions to be overturned, for all ongoing politically motivated and unsubstantiated charges against her to be dropped, and for her immediate release from prison.
Statement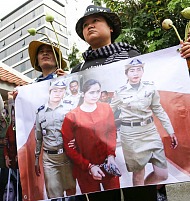 Civil Society Calls for Justice for Tep Vanny at Appeal Court
July 27, 2017
We, the undersigned, call on the Court of Appeal to overturn the unjust conviction of Ms. Tep Vanny on charges of intentional violence with aggravating circumstances based on her peaceful activism at a 2013 protest, for which she received a draconian sentence of two years and six months' imprisonment on 23 February 2017. The Court of Appeal will hear Ms. Tep Vanny's appeal against conviction tomorrow. On 15 August 2017, Ms. Tep Vanny will have spent one year in detention; her imprisonment is a clear attempt to silence one of Cambodia's most fearless and outspoken defenders of human rights ahead of the national elections in July 2018.
Statement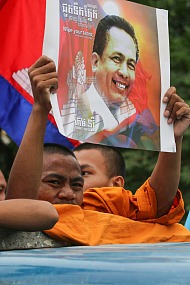 A Call for Justice: Civil Society Demands Independent Inquiry in Kem Ley Murder Case
July 8, 2017
One year after the murder of Kem Ley, we, the undersigned civil society groups, believe that justice has not yet been served for the late political analyst and the family, friends and colleagues he left behind.
The well-known political analyst and anti-corruption campaigner was shot dead at point blank range on 10 July 2016 while drinking coffee in a Phnom Penh petrol station. There has been no transparency in the murder investigation, and there are still many unanswered questions in the case.
Statement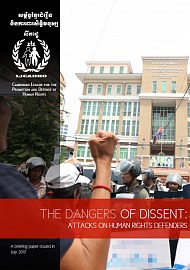 The Dangers of Dissent: Attacks on Cambodia's Human Rights Defenders
July 3, 2017
As Cambodia's human rights situation continues to backslide, exposing and speaking out against state-perpetrated abuses is ever more crucial. In the last two years, however, human rights defenders and other critical or independent voices have been among the main victims of Cambodia's fractious political situation.
In this latest in a series of briefing papers, LICADHO sets out threats facing those who stand up for human rights in today's Cambodia. Long-standing tactics used to silence human rights defenders – judicial harassment by a politicized court system; state-sponsored violence; and intolerance of peaceful protest – have been reinforced by new incapacitating laws and targeted digital surveillance. Although the examples presented in this paper are by no means exhaustive, taken together they provide a snapshot into the kinds of abuses that human rights defenders have been routinely subjected to in Cambodia over the last two years.
Statement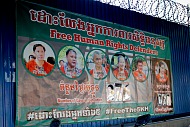 Cambodian and International CSOs Condemn Removal of Banners Calling for the Release of Human Rights Defenders
May 9, 2017
We, the undersigned Cambodian and international civil society organizations, condemn the removal by district and commune police authorities of banners calling for the release of six human rights defenders. Banners were removed from the offices of the Cambodian Human Rights and Development Association (ADHOC), the Cambodian League for the Promotion and Defense of Human Rights (LICADHO) and Mother Nature in Koh Kong's Smach Meanchey commune on 2 May 2017, as well as from three residences in Koh Kong province's Srae Ambel district on 3 May 2017.
Photo Album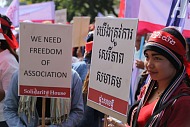 International Labour Day 2017 in Cambodia
May 2, 2017
The photo album covers the 2017 International Labour Day celebration in Phnom Penh. More than 1,500 workers and activists gathered in central Phnom Penh, facing barricades and mixed police armed with shields, batons and other weapons. After two hours of negotiations, the group of workers stood their ground and rallied for labour rights, freedom of association, the living wage and better working conditions.
Statement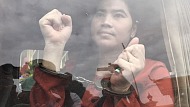 International and Cambodian Civil Society Condemns Continued Arbitrary Detention, Calls for an End to Judicial Harassment and Violence against Human Rights Defenders
March 5, 2017
We, the undersigned international and Cambodian civil society organizations, strongly condemn the brazen attacks carried out against Cambodian human rights defenders over recent weeks, in what appears to be a deliberate strategy by the Cambodian authorities to punish and deter any expression of dissent ahead of the upcoming commune and national elections, scheduled for June 2017 and July 2018 respectively.
Statement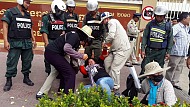 Tep Vanny Convicted Again as Para-Police Attack Supporters
February 23, 2017
We, the undersigned civil society groups, condemn today's unjust conviction and sentencing of Tep Vanny and the latest outrageous violence perpetrated by para-police against her supporters outside Phnom Penh Municipal Court.
Statement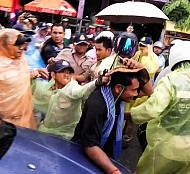 Human Rights Defenders Summonsed as 'Suspects' after Being Beaten by Para-Police
February 7, 2017
Two human rights defenders have been summonsed as suspects in relation to violence that occurred when para-police blocked a peaceful World Habitat Day march in October 2016. During the altercation, both men – LICADHO's Monitoring Manager Am Sam Ath, who was monitoring the event at the time, and Boeung Kak Lake community representative Chan Puthisak, who was documenting the march – were badly beaten by para-police in targeted attacks against them.
Statement
CSOs Call for the Immediate Implementation of the Decision of the UN Working Group on Arbitrary Detention
January 21, 2017
Two months after the UN Working Group on Arbitrary Detention's (WGAD) ruled that the ongoing detention of ADHOC staff members Lim Mony, Ny Sokha, Nay Vanda, and Yi Soksan, and NEC Deputy Secretary-General, Ny Chakrya is arbitrary, we, the undersigned civil society organizations, reiterate our call upon the Cambodian authorities to implement the decision of the WGAD and immediately release them. Nearly nine months after the five were first detained, Cambodia has taken no action to cease or remedy its unlawful treatment of the five, and remains in a continuing state of non-compliance with its binding legal obligations under the International Covenant on Civil and Political Rights (ICCPR). Our organizations condemn in the strongest terms the failure of the Cambodian authorities to implement the recommendations of the WGAD.
Statement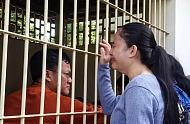 In Landmark Decision, UN Body Declares the Detention of Five Human Rights Defenders Arbitrary
December 18, 2016
FIDH, OMCT, CCHR, ADHOC and LICADHO welcome the recent Opinion adopted by the United Nations Working Group on Arbitrary Detention (WGAD) that recognises the arbitrary nature of the detention of human rights defenders Ny Chakrya, Ny Sokha, Yi Soksan, Nay Vanda, and Lim Mony. Our organisations call upon the Cambodian authorities to implement the Opinion of the WGAD by releasing the five human rights defenders immediately and providing them appropriate compensation.
Statement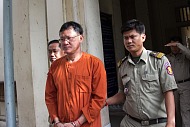 Civil Society Condemns Upholding of Conviction of Human Rights Defender Ny Chakrya
December 15, 2016
We, the undersigned civil society groups, condemn in the strongest terms the upholding of the unjustified conviction of the former Head of the Human Rights and Monitoring Section of the Cambodian Human Rights and Development Association (ADHOC) and current Deputy Secretary-General of the National Election Committee (NEC), Mr. Ny Chakrya, in a verdict handed down by the Court of Appeal today.
Photo Album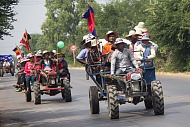 Justice 2016: Celebrating International Human Rights Day Across Cambodia
December 13, 2016
Over 11,000 people across Cambodia joined together in a series of events to celebrate International Human Rights Day 2016. Celebrations organised by Friends of December 10 across the country saw thousands speak on issues such as free and fair elections, land rights, a living wage for workers, a free and fair judiciary and an end to attacks on fundamental freedoms.