Topic
Prisons
Flash News
Supporters Petition for Tep Vanny's Release After One Year in Prison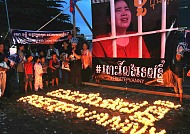 August 15, 2017 Supporters of land activist and human rights defender, Tep Vanny, have marked the one year anniversary of her unjust detention by calling for international help to secure her release.
A group from Boeung Kak Lake community delivered petitions to embassies and international organisations, starting Monday at the United Nations Office of the High Commissioner for Human Rights (OHCHR) and at six embassies of the Association of Southeast Asian Nations (ASEAN). They continued Tuesday at nine others, including the US, Japan, Germany and the European Union.
Tep Vanny was arrested a year ago and charged during a peaceful protest supporting five jailed human rights defenders who are now released on bail. She was subsequently convicted of "insulting a public official" and sentenced to six days in prison. While she was imprisoned, three long dormant cases related to other peaceful protests were re-opened in politically-motivated trials which fell far short of acceptable legal standards. She is currently serving a 30 month sentence. A further six month sentence is awaiting a final appeal decision and she is on trial on a third re-activated charge.
Representatives from Boeung Kak Lake will hold a candlelight vigil in the community along with NGOs and other civil society groups on Tuesday evening from 5pm to mark the anniversary and to call again on Cambodian authorities to release her.
Their call has been supported in a joint media statement endorsed by 65 national and international civil society organisations as well as in other joint statements and advocacy initiatives from international and regional NGOs.
Related Material:
Statement
On the First Anniversary of the Grossly Unjust Imprisonment of Land Activist and Human Rights Defender Tep Vanny, CSOs Call for Her Release
August 15, 2017
Tep Vanny, one of Cambodia's most prominent land activists and human rights defenders, will have spent one year in prison on 15 August for defending her community and exercising her human rights. We, the undersigned, condemn her arbitrary imprisonment. We call for her convictions to be overturned, for all ongoing politically motivated and unsubstantiated charges against her to be dropped, and for her immediate release from prison.
Statement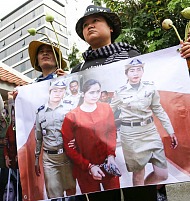 Civil Society Calls for Justice for Tep Vanny at Appeal Court
July 27, 2017
We, the undersigned, call on the Court of Appeal to overturn the unjust conviction of Ms. Tep Vanny on charges of intentional violence with aggravating circumstances based on her peaceful activism at a 2013 protest, for which she received a draconian sentence of two years and six months' imprisonment on 23 February 2017. The Court of Appeal will hear Ms. Tep Vanny's appeal against conviction tomorrow. On 15 August 2017, Ms. Tep Vanny will have spent one year in detention; her imprisonment is a clear attempt to silence one of Cambodia's most fearless and outspoken defenders of human rights ahead of the national elections in July 2018.
Statement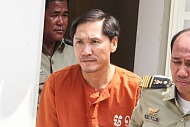 CSOs Condemn Discriminatory Denial of Medical Care to Detainees
June 28, 2017
We, the undersigned, condemn the discriminatory and arbitrary denial of medical care to three of the five '#Freethe5KH' detainees at Phnom Penh's CC1 (Prey Sar) prison facility. Mr. Ny Sokha, Mr. Nay Vanda, and Mr. Yi Soksan have finally been granted access to doctors from the Cambodian League for the Promotion and Defense of Human Rights (LICADHO), after such access had been arbitrarily restricted since April 2017. All three detainees experienced a serious deterioration in their health while the restrictions were in place. They have now been held in pre-trial detention for 426 days, along with their colleague at the Cambodian Human Rights and Development Association (ADHOC), Ms. Lim Mony, and Deputy Secretary General of the National Election Committee and former ADHOC staff member, Mr. Ny Chakrya.
Photo Album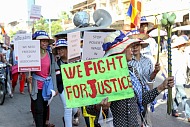 Thousands Demand Justice for Human Rights Day Celebrations
December 17, 2015
To celebrate International Human Rights Day (IHRD), about 10,000 people from rural and urban communities participated in 20 marches and events across the country from December 6 to December 10. These were organized by the informal network Friends of December 10th, which includes youth, land communities, associations, farmers, monks, and NGOs. On December 10, groups peacefully marched from various locations in Phnom Penh toward the Ministry of Justice to demand that the government resolve Cambodia's land conflict epidemic; reform the judicial system and release human rights defenders and activists; raise the minimum wage and respect labour rights; end state-sponsored violence; and respect freedoms of expression, association and peaceful assembly. This year's IHRD theme was 'Justice'.
Statement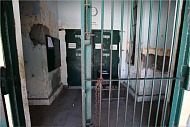 LICADHO Cancels IHRD Prison Activities for the First Time in 20 Years Due to Prohibitive Restrictions
December 6, 2015
LICADHO will not be able to conduct activities planned in 18 prisons for International Human Rights Day (IHRD) on December 10, 2015 due to prohibitive written conditions set by the General Department of Prisons (GDP).
Statement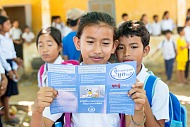 LICADHO Urges Government to Support Child Rights and to Protect Youth in Prisons
May 31, 2015
LICADHO's Children's Rights Office (CRO), in partnership with the Child Protection Group (CPG) network, will celebrate International Children's Day 2015 in several locations. On 28 May, early celebrations took place in Dangkor Middle School, Phnom Penh. On 1 June, the official date of International Children's Day, celebrations will take place in the morning (8:30am-11:00am) at Sangkat Norkor Thom, Siem Reap, Sal Mohorsrop Theater, Koh Kong, and at Build Bright University in Sihanoukville, Preah Sihanouk. At these locations, the CRO and CPGs will organize public forums and interactive theatre performances concerning child rights, and help distribute social assistance packages to the families of vulnerable children and youth. Approximately 2,350 people are expected to attend the celebrations.
Report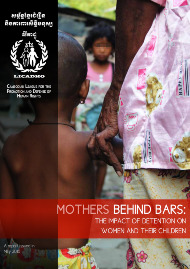 Mothers Behind Bars: The Impact of Detention on Women and their Children
May 26, 2015
Today, LICADHO releases its report "Mothers Behind Bars: The Impact of Detention on Women and their Children" which seeks to raise awareness of the harmful, and sometimes devastating, impact a mother's imprisonment can have on her children.
The report finds that authorities, in particular judges and prosecutors, can dramatically improve the lives of many children by properly complying with existing legal procedures to reduce the number of mothers who are detained unnecessarily.
Statement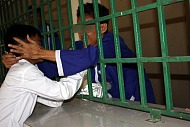 Long-term Solutions Necessary for the Welfare of Children whose Mothers Face Imprisonment
March 18, 2015
Following the recent release of 22 women from prison, LICADHO welcomes news that the Ministries of Justice and Interior will discuss longer term solutions to ensuring the welfare of children whose mothers face prison sentences.
LICADHO has recently conducted detailed research into the arrest and sentencing of mothers with dependent children and has found that the welfare of the child is rarely taken into account when a mother is sent to pre-trial detention or at sentencing. Many women interviewed told LICADHO that judges did not even ask them if they had children or not before sending them to prison.
Statement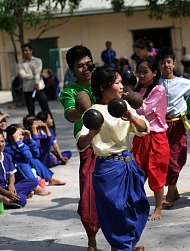 LICADHO Cancels its Long-Time International Women's Day Activities in Prisons due to Government Restrictions
March 5, 2015
It is with deep regret that LICADHO announces it will not conduct annual activities in Cambodian prisons this year for International Women's Day, which will be celebrated on March 8.
For over 15 years LICADHO has visited Cambodian prisons on International Women's Day (IWD) to provide care packages to female prisoners, female guards and to the children living in prison with their mothers. In the past 10 years, LICADHO has also coordinated special entertainment in prisons including speeches, games, traditional dancing and shows performed by the prisoners themselves. The activities have been well received by the prisoners and used to be supported by the prison authorities.
Statement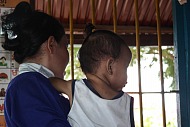 Release of Imprisoned Mothers and Pregnant Women Will Provide Some Relief but Does Not Address Underlying Issues
March 2, 2015
Late last week a committee headed by the Ministry of Justice announced that 16 incarcerated women, including 15 women with children and one pregnant woman, will be released before International Women's Day on March 8, 2015. The committee also stated that the government plans to release pregnant women and women with children every year.
Report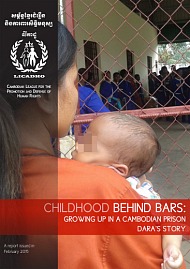 Childhood Behind Bars - Growing up in a Cambodian Prison – Dara's Story
February 15, 2015
As of November 2014 there were 40 children between the ages of one month and almost four years living with their mothers in the Cambodian prisons monitored by LICADHO. Approximately half of them were born in prison and have never experienced life beyond the prison walls. Whilst there have been few detailed studies assessing the long-term impact of prison life on a child's development, it is clear that for some children early life behind bars can have devastating physical and psychological consequences and life in Cambodian prisons is no exception.
Report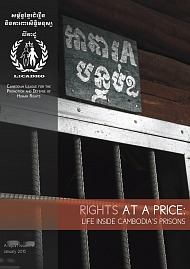 Rights at a Price: Life Inside Cambodia's Prisons
January 20, 2015
Ahead of the appeal hearing this week for 10 land activists and one monk, all wrongfully convicted and imprisoned following unfair trials, LICADHO is publishing a new report about the current state of Cambodian prisons and the human rights implications for those held in them.
The report "Rights at a Price: Life inside Cambodia's Prisons" details the ongoing, systematic abuse, discrimination, exploitation and corruption within Cambodia's prison system and notes that despite steps towards reform, many challenges remain, including prison overcrowding, poor infrastructure, lack of appeal transportation, weak implementation of the law and lack of knowledge amongst prison officials.
Statement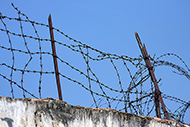 LICADHO Calls for Immediate Family Access to all Three CNRP Youth Leaders Currently Detained in Prey Sar's CC1 Prison
August 20, 2014
LICADHO calls for immediate family access to all three CNRP youth leaders currently detained in Prey Sar's CC1 prison. Khin Chamreun, Neang Sokhun and San Kimheng have now been in pre-trial detention for 18 days and have not been permitted any family visits.
Report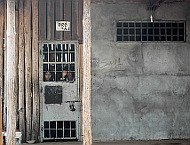 Torture and Ill-Treatment: Testimony from Inside Cambodia's Police Stations and Prisons
June 26, 2014
On June 26, International Day in Support of Victims of Torture, LICADHO releases new testimony and analysis of torture and ill-treatment in Cambodia's police stations and prisons, including the abuse of females and juveniles and those experiencing mental health problems.