Latest Documents
Report
On Stony Ground: A Look into Social Land Concessions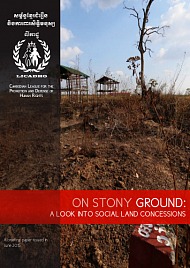 In March 2003, the Cambodian government unveiled a potentially progressive policy with the aim of transferring land to landless and poor Cambodians – Social Land Concessions (SLCs). However, some of the first SLCs were implemented with a total disregard for the legal framework and failed miserably. The Land Allocation for Social and Economic Development (LASED) project was meant to prove that SLCs could contribute to reducing rural poverty by transferring land to landless Cambodians for residential and farming purposes.
Released in June 2015
Briefing Paper
New Draft Law on Associations and NGOs Reaffirms Culture of Control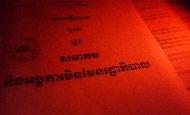 The draft Law on Associations and Non-Governmental Organizations (LANGO) obtained in June 2015 will establish mandatory registration for all domestic and international associations and non-governmental organizations (NGOs), criminalizing all activities by unregistered membership organizations. The requirement to register appears all encompassing and could be interpreted to apply to all organizations from grassroots groups and community based organisations up to major international organizations. Mandatory registration could have a particularly severe impact on the freedom of association of grassroots groups and community based organizations.
This memo is a specific breakdown of the key provisions within the approved draft law that have worsened since the December 2011 draft, and the potential impacts on groups operating in Cambodia.
Released in June 2015
Report
Mothers Behind Bars: The Impact of Detention on Women and their Children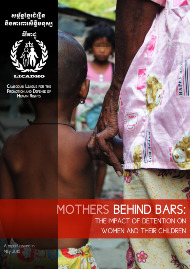 In recent years considerable resources have been spent on developing guidelines on the implementation of non-custodial sentencing alternatives in Cambodia, yet such alternatives are rarely considered, even for obvious priority groups such as pregnant women and mothers with young children.
Similarly, judges are required to consider the personal circumstances of a suspect before ordering pre-trial detention, including whether they are pregnant or have young children. However, in practice, Cambodia's criminal justice system is focused almost entirely on incarceration for pre-trial detainees.
With the publication of this report, LICADHO aims to increase awareness of the situation of children of prisoners in Cambodia and remind judges and prosecutors of their responsibility to properly comply with existing legal procedures in order to reduce unnecessary, harmful detention.
Released in May 2015
Report
Going Offline? The Threat to Cambodia's Newfound Internet Freedoms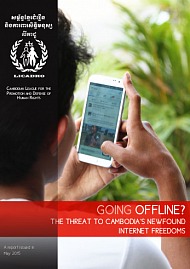 Cambodia is now experiencing a boom in web connectivity driven by the increasing availability of cheap web-enabled smartphones and extensive mobile networks. As a result, citizens have been empowered by the ability of bloggers, monks, community activists, and opposition politicians to circumvent government media controls and disseminate information about important issues such as land-grabs, police violence, impunity, corruption, and deforestation, to name but a few.
On World Information Society Day, LICADHO releases its report "Going Offline? The Threat to Cambodia's Newfound Internet Freedoms," describing the vital importance of the Internet for freedom of expression in Cambodia and the imminent threat that this last bastion for independent voices now faces.
Released in May 2015
Report
Shadow Report for the UN Human Rights Committee's Consideration of the Second Report of Cambodia
As Cambodia prepares for the Human Rights Committee to consider the country's second State Party Report, we must first note the political environment that currently exists. Corruption remains rampant and violence against government critics is systematic. The nation's politically influenced justice system continues to prosecute more government opponents, while State actors and well-connected individuals continue to enjoy impunity. Activists and journalists have been murdered and the authorities have consistently failed to properly investigate these crimes and bring the perpetrators to justice.
The government's use of the criminal justice system to carry out its political agenda has become increasingly brazen and the system of justice applied to land rights, land concessions, and land confiscation is blatantly skewed. In addition, human rights defenders are targeted for harassment, threats, unjustified criminal charges and violence.
Released in March 2015
Report
Childhood Behind Bars: Growing up in a Cambodian Prison – Dara's Story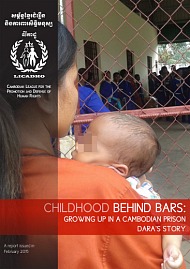 As of November 2014 there were 40 children between the ages of one month and almost four years living with their mothers in the Cambodian prisons monitored by LICADHO. Approximately half of them were born in prison and have never experienced life beyond the prison walls. Whilst there have been few detailed studies assessing the long-term impact of prison life on a child's development, it is clear that for some children early life behind bars can have devastating physical and psychological consequences and life in Cambodian prisons is no exception.
This report is the second in a series of case studies issued by LICADHO which endeavor to bridge the gap in knowledge about young children in Cambodian prisons. The first report detailed the experiences of one boy, Sokun, who lived with his incarcerated mother in Phnom Penh's Correctional Center 2 (CC2) prison until he was six years and ten months old. The report concluded that for Sokun, the positive opportunity to bond with his mother may have outweighed some of the negative experiences of prison life, but that Cambodian authorities should have done much more to ensure special measures were in place to protect him from other harmful impacts.
Released in February 2015
Report
Rights at a Price: Life Inside Cambodia's Prisons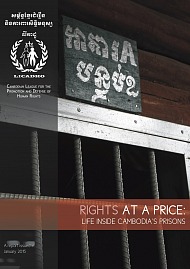 Ahead of the appeal hearing this week for 10 land activists and one monk, all wrongfully convicted and imprisoned following unfair trials, LICADHO is publishing a new report about the current state of Cambodian prisons and the human rights implications for those held in them.
The report "Rights at a Price: Life inside Cambodia's Prisons" details the ongoing, systematic abuse, discrimination, exploitation and corruption within Cambodia's prison system and notes that despite steps towards reform, many challenges remain, including prison overcrowding, poor infrastructure, lack of appeal transportation, weak implementation of the law and lack of knowledge amongst prison officials.
Released in January 2015
Briefing Paper
Freedom Park Violence, CNRP Arrests, and Political Deal: Timeline of Events July – November 2014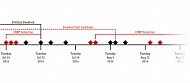 The violence that erupted at Freedom Park on July 15, 2014, led to a series of politically orchestrated events at the hand of the ruling Cambodian People's Party (CPP). The arrests of various officials from the Cambodia National Rescue Party (CNRP), including elected Members of Parliament (MPs), alongside ongoing political negotiations offers clear evidence that the judiciary is firmly within the hands of the CPP, once again raising serious concerns about the legitimacy and independence of Cambodia's legal system.
Released in December 2014
Report
"Good Wives": Women Land Campaigners and the Impact of Human Rights Activism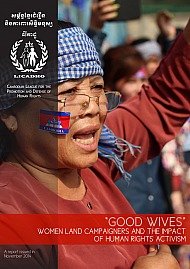 During the last decade tens of thousands of Cambodians have been forcibly removed from their homes or their farmland and many more threatened with displacement. In the majority of cases, the Cambodian authorities are involved in the disputes, through the granting of land concessions or the use of state forces to intimidate people, remove them from their land and destroy homes.
In response, many affected communities have organized themselves to resist eviction or to seek proper redress for what they have lost. Cambodian women have been at the forefront of these campaigns with many becoming effective community leaders and human rights advocates.
Released in November 2014
Briefing Paper
Legal Analysis of Cambodia's Draft Law on Unions of Enterprises
The government has once again decided to push forward with a flawed Law on Unions of Enterprises (Trade Union Law) draft that could severely undermine freedom of association in Cambodia. The law has been years in the making and saw several improvements after consultations in the past. However, the overall quality of the current draft obtained in May 2014 has taken a dramatic turn for the worse and the government has still not been able to articulate a persuasive reason for its passage.
Released in September 2014