Latest Human Rights News
Follow us on facebook or on twitter
Flash News
Protestors gather to mark 23rd anniversary of Paris Peace Agreements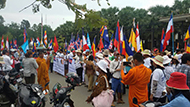 October 23, 2014 This morning over 1,000 peaceful protestors and monks gathered in Phnom Penh to mark the 23rd anniversary of the Paris Peace Agreements.

In recognition of France's role as host and co-president of the peace talks, the protesters began the morning with a forum outside the French embassy during which they asked signatories of the treaty for support. The protesters marched to the embassies of the USA and UK to deliver petitions as a reminder of the Paris Peace Agreements, criticizing Cambodian elections and on-going land disputes in Cambodia, calling for the establishment of a committee to investigate and review the implementation of the Paris Peace Agreements.

The protesters continued to the Australian and Russian embassies before making their way to the National Assembly. This afternoon the march will proceed to the UN offices, Japanese, Indonesian and Chinese embassies.

The march defied a limitation placed by the Phnom Penh municipality on today's events which gave permission for only ten representatives to deliver the petitions.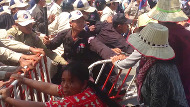 Video
Yet Another Violent Dispersal of Land Protesters near the Prime Minister's Home
October 21, 2014

On October 20, 2014, security guards in Phnom Penh were once again captured senselessly beating peaceful land protesters. About 80 villagers from Preah Vihear province had come to Phnom Penh to ask for assistance from national institutions, to help resolve their land dispute which has affected over 200 families. However, shortly after noon, the villagers were violently dispersed by the guards while military police and police officers stood by near the Prime Minister's home.

The violence left a total of 18 people injured. Several of them, including an 18 year-old boy, suffered head wounds.
Statement
Oddar Meanchey Authorities' Continued Illegal Conduct Towards Equitable Cambodia's Staff
October 16, 2014

We, the undersigned civil society groups, condemn the actions of the Oddar Meanchey authorities who have, since September 2014, been engaged in the obstruction, harassment, intimidation, and assault of rights workers. Most recently, a four-person team from Equitable Cambodia ("EC") was in the province to conduct field research on the impacts of forced evictions resulting from economic land concessions granted for the development of sugarcane plantations. The plantations are owned by the Mitr Phol Group, one of Coca-Cola's top three global suppliers. Research data collected will be provided to the National Human Rights Commission of Thailand ("NHRCT"), which is investigating Mitr Phol's operations in Cambodia.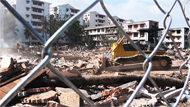 Video
Borei Keila Evictees: Justice Overdue
October 6, 2014

Today as communities all over the world stand in solidarity for World Habitat Day, some 600 community members gathered at the National Assembly to demand 'development for all' and an end to forced evictions across Cambodia. This video highlights the ongoing land dispute between the Borei Keila community in Phnom Penh and local development company, Phanimex.
Briefing Paper
Legal Analysis of Cambodia's Draft Law on Unions of Enterprises
September 18, 2014
Today, CLEC and LICADHO release a legal analysis of the latest draft of the Law on Unions of Enterprises (Trade Union Law) obtained at the end of May, this year. As unions yesterday began a nationwide campaign for a $177 per month minimum wage, the draft Trade Union Law underlines the government's intent to interfere with and infringe upon union formation and activities.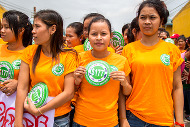 Photo Album
Workers Kickstart $177 Minimum Wage Campaign Under Watchful Gaze of Military
September 17, 2014
At approximately 11am, labour unions in and around Phnom Penh launched the $177 minimum wage campaign in front of garment factories as workers were going on their lunch break. In the Canadia Industrial Park alone, over a thousand workers gathered next to factories to demand a humane minimum wage. Military soldiers were stationed along Veng Sreng road and inside Canadia Industrial Park to intimidate workers.
Statement
Civil Society Groups Condemn the Groundless Detention of Equitable Cambodia Staff
September 12, 2014

We the undersigned condemn the continued intimidation and harassment of human rights defenders in Cambodia. We call upon the competent authorities to investigate those responsible for ordering the groundless detention of Equitable Cambodia Staff Meg Fukuzawa and Lida Sok.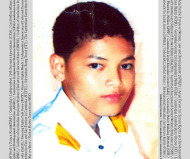 Statement
Rights groups call for an end to enforced disappearances in ASEAN
August 30, 2014

Today, on the occasion of International Day of the Victims of Enforced Disappearances, we, the undersigned organizations, urge ASEAN member states to end acts of enforced disappearances in Southeast Asia.

Cases of enforced disappearances continue to occur in the region. Victims include human rights defenders as well as ordinary citizens. Enforced disappearances also continue to target vulnerable groups, such as children. Three new cases of enforced disappearance that took place over the past year clearly illustrate this worrying pattern.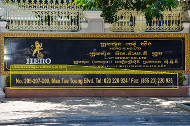 Statement
Response to Phnom Penh Sugar Company's Allegations Against Equitable Cambodia Executive Director Eang Vuthy
August 21, 2014

On August 18, 2014, the Phnom Penh Sugar Co. Ltd., took out advertisements in several major Cambodian newspapers accusing Equitable Cambodia's Executive Director, Mr. Eang Vuthy, of making false and misleading statements about Oknha Ly Yong Phat, and causing "irreparable damage" to the Senator's reputation as well as that of his business, Phnom Penh Sugar.

While the Senator may currently have no involvement in the management or ownership of Khon Kaen Sugar Company's in Koh Kong province or Mitr Pohl Sugar Company's in Oddar Meanchey province, there is strong evidence that Ly Yong Phat was involved with each of these companies and with the forcible eviction of thousands of villagers.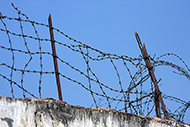 Statement
LICADHO Calls for Immediate Family Access to all Three CNRP Youth Leaders Currently Detained in Prey Sar's CC1 Prison
August 20, 2014

LICADHO calls for immediate family access to all three CNRP youth leaders currently detained in Prey Sar's CC1 prison. Khin Chamreun, Neang Sokhun and San Kimheng have now been in pre-trial detention for 18 days and have not been permitted any family visits.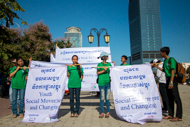 Photo Album
International Youth Day 2014
August 12, 2014
On August 12 International Youth Day, LICADHO is releasing profiles of youths who are part of our Child Protection Groups (CPGs) network, and actively promote child rights in their respective communities. LICADHO works with 73 CPGs, six of which represent youth and comprise 81 members across four target areas: Phnom Penh/Kandal, Preah Sihanouk, Koh Kong, and Siem Reap. This year, some youth CPG members from Phnom Penh/Kandal participated in International Youth Day celebrations in Phnom Penh organized by other youth networks. The theme was, "Youth Social Movement and Change." The group marched from Freedom Park to the National Assembly where youth CPG members submitted a statement calling on the government to promote child rights
Statement
LICADHO Condemns the Violent Crackdown of a Peaceful March by Lor Peang Villagers
August 12, 2014

LICADHO condemns the violent dispersal of more than 50 villagers from Lor Peang community who had begun their 60km-long peaceful march from Kampong Chhnang province to Phnom Penh, calling for a resolution to their long-standing land dispute. Amid the violent dispersal, three villagers – including the husband of the main Lor Peang community representative Um Sophy – were arrested and sent to the provincial court.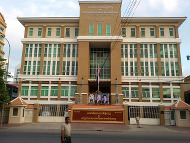 Statement
Abuse of the Court to Suit Political Agenda Must Cease and Charges against CNRP Members Should be Dropped
August 7, 2014

We, the undersigned organizations, condemn the flagrant abuse of the Cambodian legal system and the trumped up charges that have been used to manipulate the outcome of political negotiations between the Cambodia National Rescue Party (CNRP) and the Cambodian People's Party (CPP), following the latest arrests of three CNRP youth members, and urges all charges to be dropped.
Report
Submission to the Human Rights Committee's Task Force for the Adoption of the List of Issues on Cambodia
July 23, 2014
This week, as 8 opposition party members have been provisionally released from prison but remain accused of spurious charges for leading an insurrection and inciting violence, the Human Rights Committee's Task Force meets to adopt the issues that will be considered by the Human Rights Committee in March 2015 when it assesses Cambodia's compliance with the International Covenant on Civil and Political Rights (ICCPR) for the first time since 1998.

In order to help inform the Task Force's decision, LICADHO and partner FIDH submitted a joint report in April 2014 detailing serious and persistent violations of rights guaranteed under the ICCPR, including: the right to life; the freedoms of expression and assembly; the right to fair trial; and the prohibitions against torture and arbitrary detention.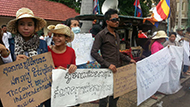 Livestream
CNRP President Returns Amid Threat of Further Arrests
July 18, 2014
Tomorrow morning at 9 am, Cambodia National Rescue Party (CNRP) President, Sam Rainsy is scheduled to arrive at Phnom Penh airport after a short trip to France. During the last week, seven CNRP MPs elect and one grassroots activist have been charged with a number of offences and sent to pre-trial detention following violent clashes between district security guards and CNRP supporters that took place at Freedom Park on July 15. The CNRP has asked its supporters to attend the airport to meet the party President. Follow LICADHO's Livestream as events unfold.
Statement
Seven Opposition MPs Detained Amid Ongoing Restrictions on Peaceful Assembly
July 18, 2014

The Cambodian government must release all seven Members of Parliament (MPs) and one official of Cambodia's main opposition party, the Cambodia National Rescue Party (CNRP), and immediately lift the ban on public gatherings of more than 10 people, FIDH and its member organizations the Cambodian Human Rights and Development Association (ADHOC) and the Cambodian League for the Promotion and Defense of Human Rights (LICADHO) said today.
Statement
Civil Society Groups Condemn Baseless Charges and Call for an End to Violence and Repression
July 17, 2014

We the undersigned civil society groups condemn the unfounded charges against seven Cambodia National Rescue Party (CNRP) MPs-elect and one CNRP grassroots leader. We call for their immediate and unconditional release and for all charges to be dropped.

All eight were arrested in connection with the violence of July 15 in Freedom Park and charged under Cambodia's Criminal Code articles 28 and 218 (instigating aggravated, intentional violence), 495 (inciting others to commit a felony) and 459 (leading an insurrectional movement). The latter charge carries a sentence of up to 30 years' imprisonment.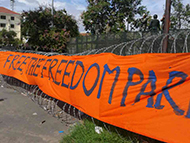 Livestream
The day after Freedom Park violence: Five MPs at Court
July 16, 2014
After violent clashes between security guards and Cambodia National Rescue Party (CNRP) supporters at Freedom Park yesterday, 5 CNRP lawmakers-elect have been brought to the Phnom Penh Municipal Court for questioning. The court is heavily barricaded but CNRP supporters are gathering at the barricades. The CNRP are also holding a press conference this morning in response to yesterday's events. Follow events as they unfold.