About Us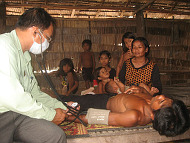 LICADHO Monitor and Medical staff on the field
LICADHO is a national Cambodian human rights organization. Since its establishment in 1992, LICADHO has been at the forefront of efforts to protect civil and political and economic and social rights in Cambodia and to promote respect for them by the Cambodian government and institutions. Building on its past achievements, LICADHO continues to be an advocate for the Cambodian people and a monitor of the government through wide ranging human rights programs from its main office in Phnom Penh and 12 provincial offices.

LICADHO pursues its activities through two programs.

Monitoring and Protection Program:
Promotion and Advocacy Program: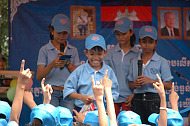 Children's Right training session
Information and Education: advocates raise awareness to specific target groups, support protection networks at the grassroots level and advocate for social and legal changes with women and youths.
Public Advocacy and Outreach: human rights cases are compiled into a central electronic database, so that accurate information can be easily accessed and analyzed, and produced into periodic public reports (written, audio and visual).
In addition, LICADHO conducts advocacy at the national level to bring about reforms, and works with other local and international NGOs to influence the government. LICADHO regularly produces comprehensive reports and briefing papers, and is one of the main sources of information on human rights in Cambodia.
LICADHO's History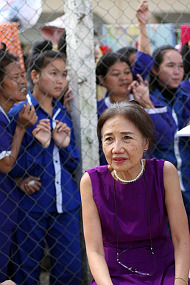 LICADHO President Dr. Kek Galabru (Pung Chhiv Kek)
Since its establishment in 1992 LICADHO's activities have evolved to meet the demands of the existing human rights situation in Cambodia. LICADHO's primary activities of monitoring, intervention, documentation and advocacy aim to render government officials accountable and to promote transparent and fair systems in civil society.

In response to the needs of its clients LICADHO's offices provide a safe avenue for people to seek immediate relief and assistance through various in-house services, referrals and emergency assistance programs. In particular, LICADHO has developed its provision of in-house lawyers over the last three years to assist clients who increasingly require legal representation. Similarly in response to the need for emergency relief LICADHO is increasingly providing medical assistance, vaccinations, shelter, food and clothing to victims of human rights - in particular victims of land grabbing which is becoming more prevalent in Cambodia in both size and frequency.

In the context of diminishing political freedoms and the fragmentation of the opposition, communities are becoming more empowered and active. In such an environment, one of the most effective roles an NGO can play in advancing rights and justice is to support communities' own advocacy efforts by assisting them to become more effective and visible, thus building their capacity to defend their own rights. In practice, this has meant working in partnership with community groups and networks, creating space for them to contribute and share ideas and allowing them to push the human rights agenda forward.

LICADHO continues its proven record of community-level capacity building by identifying key individuals in the communities (community activists, women, children, local authorities, village chiefs etc) who are supported in a strategic manner within a framework for cooperative action. In this way, strategic alliances and stable partnerships are formed.

Impact of Past Project Activities:
Sustained monitoring, investigation and lobbying in the Born Samnang and Sok Sam Oeun wrongful conviction case contributed to their release on bail in January 2009.
Material and food assistance, intervention and advocacy support was provided to the victims of land evictions in particular Dey Krahorm, Borei Keila and Group 78 - all high profile evictions in the center of Phnom Penh which gave families some relief and enabled others time to lobby and negotiate for adequate compensation.
LICADHO's medical services in prisons are an essential humanitarian service that fills a vital gap in the state's prison services that will remain woefully inadequate for years to come.
The convictions in child rape cases can be attributed to sufficient evidence and witnesses being available through LICADHO's intervention and assistance in the cases.
Government officials in project areas are increasingly attending advocacy events and training and expressing their intention to support and be involved in activities, as they understand that the activities are helpful to achieving the aims required under their own roles and responsibilities within their communities.
The database listing of perpetrators is continually been updated from current cases and also from past cases. Monitors can now identify repeat offenders from the comprehensive database listing and case information on past offences can then be used as evidence against perpetrators who are taken to court.
More human rights violations are being filmed by LICADHO and community activists which aids in the ability to document violations and dissemination information about the human rights situation in Cambodia. Furthermore community activists feel empowered as they are able to document their own cases and put onto film their thoughts and opinions.
LICADHO's Origin
While Cambodia's civil war was raging in the 1980s, Dr. Kek Galabru (Pung Chhiv Kek), a Cambodian living abroad, arranged negotiations between Prime Minister Hun Sen and then-deposed King Norodom Sihanouk. The negotiations eventually led to the signing of the Paris Peace Accords in 1991, which mandated a United Nations mission to Cambodia to supervise elections and resolve the long-standing conflict.

In the wake of the peace agreement, Dr. Galabru and other Cambodians living overseas returned to Cambodia and contemplated how they could help alleviate the suffering Cambodians faced due to years of war and poverty. The result was the founding of the Cambodian League for the Promotion and Defense of Human Rights (known by its French acronym LICADHO) in 1992. LICADHO was one of the first human rights organizations established in the new civil society made possible by the UN mission - the former socialist regime did not allow such independent non-government organizations (NGOs) at the national level.

LICADHO started out by conducting voter education campaigns for the elections held in 1993 and monitoring the pre-election environment. Subsequently, it began to address serious human rights abuses occurring in the country, with initial activities focused on monitoring rights violations, providing human rights training, and providing medical care to prisoners and victims of human rights violations. The NGO expanded in 1994 with the addition of the Women's Rights and Children's Rights offices.
LICADHO Canada
LICADHO works in close partnership with LICADHO Canada, an independent non-governmental organization registered in British Columbia, Canada(2006).

LICADHO Canada started its office in Phnom Penh in December 2006 with a primary focus to raise money for LICADHO. By 2007, LICADHO Canada dramatically shifted its objectives to focus on communities under threat of forced eviction. At the time, this issue was a major violation of human rights and has become, since then, one of Cambodia's most pressing human rights situations.

LICADHO Canada works primarily with LICADHO's Monitoring and Protection Program and LICADHO's Advocacy, Documentation and Resource Office (ADRO). In conjunction with ADRO, LICADHO Canada produces videos and photo albums for advocacy purposes at the international level, and helps to coordinate footage taken by community activists for the Flip Camera Project.

While providing protective accompaniment for vulnerable persons, LICADHO Canada also works with the LICADHO Human Rights Monitoring Office in cases of human rights violations that need to be investigated, and contacts the LICADHO Legal Office, Social Work Office and Medical Office when victims of human rights abuses are in need of support.