Tag
Free the 19
The material below covers the cases of 19 men and women arrested and wrongfully imprisoned between September 29 and November 18, 2014. The 19 are a diverse group of activists made up of monks, opposition party members and long-term land rights campaigners.
Statement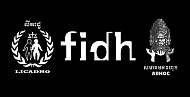 Cambodia: EU must demand an end to persecution of opposition during human rights dialogue
April 29, 2016
The European Union (EU) must use the upcoming human rights dialogue with Cambodia to demand that authorities stop the harassment, arbitrary arrest, and imprisonment of opposition MPs, members, and their supporters, FIDH and its member organizations, the Cambodian Human Rights and Development Association (ADHOC) and the Cambodian League for the Promotion and Defense of Human Rights (LICADHO), said today. This year's EU-Cambodia human rights dialogue is scheduled to take place from 2 to 4 May in Phnom Penh.
Flash News
Five CNRP and three defrocked monks released following political negotiations
April 13, 2015 This afternoon, eight more of the Free the 19 activists were released from detention in Prey Sar's CC1 prison.
Three defrocked monks – Venerable Seung Hai, Venerable Khith Vannak, and Venerable Sang Kosal – and five CNRP members and supporters – Meach Sovannara, Sum Puthy, Tep Narin, Ke Khim, and Ouk Pich Samnang – were released on bail. All eight were arrested between September and November last year and face a variety of charges. The cases against all those released remain open.
The five CNRP members and supporters will be required to post bail by April 20. Meach Sovannara bail was set at 10 million riel while Sum Puthy, Tep Narin, Ke Khim, and Ouk Pich Samnang have been requested to post 3 million riel each.
Today's bail decisions follow the release on Saturday of 10 Boeung Kak land rights activists who were granted a royal pardon having spent five months in prison for the offence of obstructing public traffic.
All 18 releases result from the latest round of political negotiations between leaders of the ruling CPP and opposition CNRP.
The last of the Free the 19 activists, Ly Seav Minh, remains in pre-trial detention facing charges of violence against the possessor of immoveable property and a potential two years in prison and $6,250 in fines. She and her family are involved in a long-running land dispute with the well-connected tycoon Khun Sear.
Related Material:
Article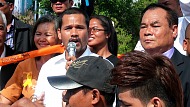 Spotlight on The 19: The Freedom Park "Insurrectionists"
February 24, 2015
The trial of 11 Cambodia National Rescue Party (CNRP) members and supporters was due to be held yesterday at 8 am at the Phnom Penh Municipal Court. Last Thursday, and at very short notice, lawyers for the 11 were informed that the hearing had been postponed. All have been charged with offences they are alleged to have committed during violence which took place at Freedom Park on July 15, 2014. This is the third time there has been a delay in hearing the criminal case against them. Five of the 11 - Meach Sovannara, Sum Puthy, Tep Narin, Ouk Pich Samnang, and Ke Khim - are among the group of 'Free the 19' detainees currently imprisoned in Prey Sar's Correctional Center 1 and Correctional Center 2 .
Article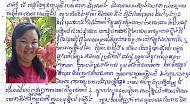 Spotlight on the 19: Ly Seav Minh
January 28, 2015
Ly Seav Minh is 23 years old and lives with her mother, father and brother in Toul Kork district, Phnom Penh. The family has lived on the land for 35 years and despite possessing evidence of their lengthy occupation of the land, they have been involved in a long-running land dispute with the municipality and the Khun Sea Company, to which the municipality sold the land in 2010. Originally six other families were involved in the dispute but all have now accepted compensation payments and moved away after facing consistent intimidation from the company.
Statement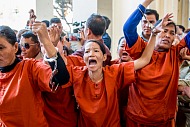 Civil Society Groups Condemn the Ongoing Detention of 11 Activists
January 26, 2015
We the undersigned civil society groups condemn the indefensible verdicts issued this morning by the Court of Appeal in the cases of ten land activists and one monk.
Photo Album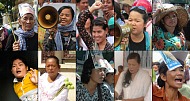 Free the 19: Spotlight on the Boeung Kak 10
December 8, 2014
On November 10 and 11, 10 Boeung Kak land rights activists were arrested while staging peaceful protests in Phnom Penh. By November 12, all had been sentenced to a year in prison. The imprisonment of the women occured during a wave of arrests which targeted not only land rights activists but also opposition party members and activist monks. Nineteen of those arrested remain in detention.
This photo album focuses on the 10 female Boeung Kak activists whose struggle for a just resolution to their land dispute has now lasted seven years. For five of them, this is their second prison term.
Statement
LICADHO Calls for the Release of the 19 Men and Women Wrongfully Imprisoned in Prey Sar's CC1 and CC2 Prisons
December 8, 2014
On Wednesday, Cambodia will celebrate International Human Rights Day. LICADHO takes this opportunity to recall attention to the 19 men and women who have been wrongfully imprisoned following a recent spate of arrests in Phnom Penh. LICADHO condemns these imprisonments and the continued abuse of the judicial system by the ruling party and well-connected individuals.
Statement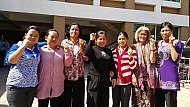 Civil Society Groups Condemn Arrest and Detention of the Boeung Kak Lake Seven
November 12, 2014
We, the undersigned civil society groups, condemn the arrest, detention, and conviction of the seven Boeung Kak Lake community representatives following protests outside Phnom Penh City Hall on the morning of November 10, 2014.