Tag
Labour Issues
Statement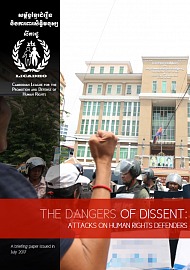 The Dangers of Dissent: Attacks on Cambodia's Human Rights Defenders
July 3, 2017
As Cambodia's human rights situation continues to backslide, exposing and speaking out against state-perpetrated abuses is ever more crucial. In the last two years, however, human rights defenders and other critical or independent voices have been among the main victims of Cambodia's fractious political situation.
In this latest in a series of briefing papers, LICADHO sets out threats facing those who stand up for human rights in today's Cambodia. Long-standing tactics used to silence human rights defenders – judicial harassment by a politicized court system; state-sponsored violence; and intolerance of peaceful protest – have been reinforced by new incapacitating laws and targeted digital surveillance. Although the examples presented in this paper are by no means exhaustive, taken together they provide a snapshot into the kinds of abuses that human rights defenders have been routinely subjected to in Cambodia over the last two years.
Photo Album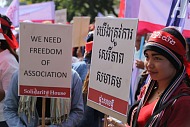 International Labour Day 2017 in Cambodia
May 2, 2017
The photo album covers the 2017 International Labour Day celebration in Phnom Penh. More than 1,500 workers and activists gathered in central Phnom Penh, facing barricades and mixed police armed with shields, batons and other weapons. After two hours of negotiations, the group of workers stood their ground and rallied for labour rights, freedom of association, the living wage and better working conditions.
Flash News
⁠⁠⁠Workers Gather in Capital to Celebrate International Labour Day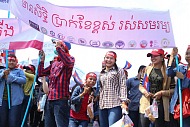 May 1, 2017 This morning a mixed group of over 1500 trade unionists, workers, farmers, tuk tuk drivers and youths rallied in central Phnom Penh to celebrate International Labour Day and call for respect for workers' rights, freedom of association, freedom of expression and the living wage.
The peaceful gathering was met with heavy deployments of para-police and riot police carrying batons and tear gas guns. The rally was obstructed by barricades and cordons of mixed forces for over two hours before eventually being permitted to march a short distance towards the National Assembly before again being blocked and prevented from marching the final 200 metres.
Representatives of the gathered groups delivered speeches in which they publicly stated their demands before submitting a petition to a representative of the National Assembly. Earlier in the rally, the authorities attempted to prevent speakers from using microphones. Many participants wore red headbands and emblazoned with the slogan "Our Rights" while others carried banners demanding respect for their rights.
Related Material:
Statement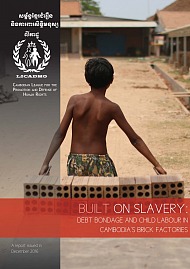 Built on Slavery: Debt Bondage and Child Labour in Cambodia's Brick Factories
December 2, 2016
On the International Day for the Abolition of Slavery, LICADHO publishes its report "Built on Slavery: Debt Bondage and Child Labour in Cambodia's Brick Factories" which presents evidence of the widespread use of contemporary forms of slavery in Cambodia's brick manufacturing industry. It finds that despite the existence of comprehensive and long-standing legislation criminalizing the use of debt bondage and prohibiting child labour, competent authorities are making no efforts to eradicate them and are in fact enabling their survival.
Photo Album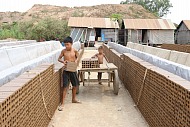 Built on Slavery: Debt Bondage and Child Labour in Cambodia's Brick Factories
December 2, 2016
To accompany publication of the report "Built on Slavery: Debt Bondage and Child Labour in Cambodia's Brick Factories" LICADHO is releasing this photo album which shows the different elements of the brick-making process and the living and working conditions of the adults and children who make the bricks.
Statement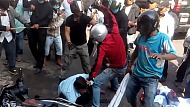 Boycott of Capitol Tours Following Brutal Suppression of Trade Union Activity Grows as 50 Civil Society Groups Declare Support
February 23, 2016
In response to the brutal attack on protesting workers on February 6, 2016, we, the undersigned trade unions, community representatives and civil society organizations (CSOs), declare our strong support for the ongoing boycott of Capitol Co. Ltd, also known as Capitol Tours, and call upon the general public to join the boycott in solidarity with the wrongfully dismissed Capitol employees, and the wider Cambodian trade union movement. Capitol Tours has relentlessly violated the labor rights and fundamental freedoms of its employees and we wish to unreservedly condemn the company's actions.
Statement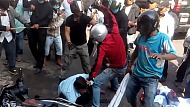 Civil Society Strongly Condemns Violence Against Demonstrating Bus Drivers
February 6, 2016
We, the undersigned civil society groups, strongly condemn this morning's violence by members of the Cambodia for Confederation Development Association (CCDA) against protesting bus drivers and their supporters, as well as the woefully inadequate police response, call for the release of two men arbitrarily arrested and demand an investigation into the violence.
Photo Album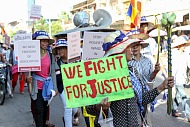 Thousands Demand Justice for Human Rights Day Celebrations
December 17, 2015
To celebrate International Human Rights Day (IHRD), about 10,000 people from rural and urban communities participated in 20 marches and events across the country from December 6 to December 10. These were organized by the informal network Friends of December 10th, which includes youth, land communities, associations, farmers, monks, and NGOs. On December 10, groups peacefully marched from various locations in Phnom Penh toward the Ministry of Justice to demand that the government resolve Cambodia's land conflict epidemic; reform the judicial system and release human rights defenders and activists; raise the minimum wage and respect labour rights; end state-sponsored violence; and respect freedoms of expression, association and peaceful assembly. This year's IHRD theme was 'Justice'.
Video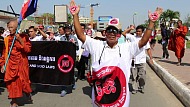 Say No! We Don't Need These Laws
July 4, 2015
The CPP, Cambodia's ruling party, has announced its intention to hold an extraordinary session of the National Assembly on July 10th, during which members of parliament will vote on whether to pass the Law on Associations and NGOs (LANGO). For the past three months Cambodian civil society has been voicing its opposition to the law and between June 28 and 30, numerous grassroots groups, networks and NGOs conducted a spirited 3-day campaign to protest against the LANGO and also the draft Trade Union Law. Both laws have been widely criticised in Cambodia and abroad for the threat they represent to Cambodian civil society. This music video shows some of the campaign events at which activists and civil society members sang and danced to a classic Cambodian pop song "I Don't Accept It". The lyrics were specially rewritten by Cambodian youths and Boeung Kak activists to express their rejection of the laws and to assert their right to gather and express themselves freely.
Photo Album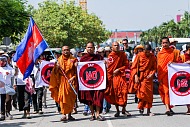 Cambodian Civil Society Intensifies Public Campaign Against Repressive Laws
July 2, 2015
From June 28-30, various sectors of Cambodian civil society conducted a spirited 3-day campaign to protest against two draft laws, the Law on Associations and NGOs (LANGO) and the Trade Union Law (TUL). On the third day, authorities used force to prevent hundreds of members of civil society from peacefully marching toward the National Assembly from four locations.
Photo Album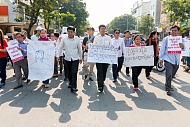 Peaceful 2015 International Labour Day Celebrations in Phnom Penh
May 5, 2015
On the morning of May 1, 2015, in celebration of International Labour Day, marches and rallies were held at three sites around Phnom Penh to request a living wage of $177, greater respect for workers' rights and freedom of expression, and for the government to drop draft legislation on unions, associations and non governmental organizations (NGOs).
Photo Album
Marching for International Human Rights Day 2014
December 15, 2014
To celebrate International Human Rights Day (IHRD) this year, 600 monks marched alongside land activists, associations, unions, rural and urban residents, and NGOs, on six national roads towards Phnom Penh from December 5 to December 10. This year's IHRD theme was "Respecting Human Rights Leads to Peace!" For the first time, indigenous communities in Ratanakiri province participated in IHRD by organizing their own march on National Road 7, which began on December 4.
Briefing Paper
Legal Analysis of Cambodia's Draft Law on Unions of Enterprises
September 18, 2014
Today, CLEC and LICADHO release a legal analysis of the latest draft of the Law on Unions of Enterprises (Trade Union Law) obtained at the end of May, this year. As unions yesterday began a nationwide campaign for a $177 per month minimum wage, the draft Trade Union Law underlines the government's intent to interfere with and infringe upon union formation and activities.
Photo Album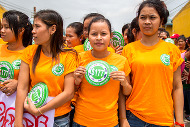 Workers Kickstart $177 Minimum Wage Campaign Under Watchful Gaze of Military
September 17, 2014
At approximately 11am, labour unions in and around Phnom Penh launched the $177 minimum wage campaign in front of garment factories as workers were going on their lunch break. In the Canadia Industrial Park alone, over a thousand workers gathered next to factories to demand a humane minimum wage. Military soldiers were stationed along Veng Sreng road and inside Canadia Industrial Park to intimidate workers.
Livestream
International Workers Day 2014
May 1, 2014
Today's planned union gatherings in Phnom Penh to mark International Workers' Day look set to face severe restrictions by authorities. LICADHO will be livestreaming developments as they happen.