Topic
Expression & Assembly
Photo Album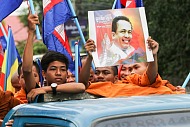 Dr. Kem Ley's 100 Day Funeral Procession
October 17, 2016
On Sunday, 16 October, thousands of people joined a 90-kilometre funeral procession, from Phnom Penh to Takeo, to mark 100 days since the assassination of political analyst Dr. Kem Ley. He was shot dead in a busy Caltex petrol station cafe in central Phnom Penh on 10 July 2016. Over the past three months since he was murdered, there has still been no independent and credible investigation into his murder.
The procession started from Wat Chas, a pagoda in Phnom Penh, where over the previous two days thousands of people had travelled to pay respect.
Statement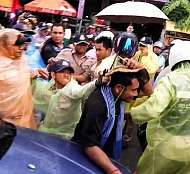 World Habitat Day Marred by Brutal Beatings of Human Rights Defenders
October 10, 2016
We, the undersigned civil society groups, are outraged by this morning's unjustified use of violence by district para-police officers during a march to peacefully celebrate World Habitat Day, and we strongly condemn this reprehensible attack.
Flash News
Opposition MP Convicted, Sentenced on Incitement Charges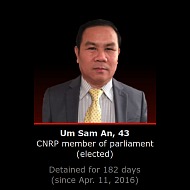 October 10, 2016 This afternoon, the Phnom Penh Municipal Court sentenced opposition CNRP MP Um Sam An to two years and six months' imprisonment with a four million riel ($1,000) fine after convicting him of incitement to commit a felony and incitement to commit discrimination under Articles 495 and 496 of the Cambodian Criminal Code.
During the trial hearing, Um Sam An and his lawyers made repeated complaints that the trial amounted to a violation of his constitutional rights to parliamentary immunity and freedom of expression before leaving the court in protest. Trial judge Heng Sokna completed the hearing in their absence.
The case relates to online expression and Facebook posts made by Um Sam An over one year ago in relation to the ongoing political dispute between the ruling party and the opposition over Cambodia's border with Vietnam. The authorities interpreted the continued existence of the Facebook posts one year later as evidence of a "flagrant offence" – bypassing Um Sam An's parliamentary immunity.
Related Material:
Statement
Civil Society Condemns Conviction of Human Rights Defender Ny Chakrya
September 22, 2016
We, the undersigned civil society organisations, condemn in the strongest terms today's unjustified conviction of former Head of the Human Rights and Monitoring Section of the Cambodian Human Rights and Development Association ADHOC) and deputy secretary-general of the National Election Committee (NEC), Mr. Ny Chakrya, by the Phnom Penh Municipal Court. After a four and a half hour trial, Judge Khy Chhay deliberated for a mere 15 minutes before deciding to convict Mr. Ny Chakrya on charges of defamation, malicious denunciation, and publication of commentaries intended to unlawfully coerce judicial authorities, under Articles 305, 311 and 522 respectively of the Cambodian Criminal Code. Mr. Ny Chakrya was sentenced to six months in prison and given a fine of six million Riel (approximately $1,500).
Statement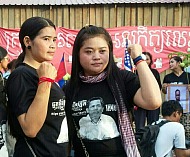 Civil Society Calls for Immediate Release of Boeung Kak Lake Activists
August 18, 2016
We, the undersigned civil society groups, demand the immediate release of two Boeung Kak Lake activists – Ms. Tep Vanny and Ms. Bov Sophea – who were charged and sent to provisional detention in Prey Sar's CC2 prison on 17 August 2016, in relation to their involvement in the "Black Monday" campaign. We also call on authorities to drop the spurious incitement charges against them, and allow for peaceful assemblies, such as those in support of the Black Monday campaign, as protected under Cambodian and international law.
Document
Open Letter: Call on the Human Rights Council to Adopt a Resolution Addressing Cambodia's Gravely Deteriorating Human Rights Situation
August 18, 2016
We, the undersigned international, regional, and Cambodian non-governmental organizations, urge your delegation to support the adoption of a resolution addressing Cambodia's gravely deteriorating human rights situation at the 33rd session of the Human Rights Council.
This resolution should highlight and condemn the ongoing and systematic human rights violations in the country and impunity for their perpetrators; build on the concerns expressed by a number of States at the Council's 32nd session; and urge the Cambodian Government to urgently take corrective action to preserve the legacy of the Paris Peace Agreements, ahead of their 25th anniversary and of key municipal and general elections.
Statement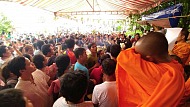 Cambodian Civil Society Condemns Outrageous Murder of Political Analyst Kem Ley
July 11, 2016
We, the undersigned civil society groups, are outraged at the brutal murder of political analyst and grassroots organiser Kem Ley yesterday morning, and call for a prompt, thorough and independent inquiry into his death.
Statement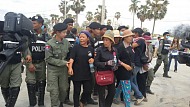 Civil Society Condemns Escalating Intimidation of Human Rights Defenders
May 10, 2016
Yesterday's detention of eight human rights workers and activists was an egregious violation of the right to freedom of expression in Cambodia, civil society groups said today. The detentions, which followed the pre-trial detention of four other rights workers and an election official last week, highlight an alarming surge in the Cambodian government's latest campaign of intimidation against civil society.
Statement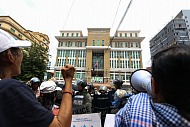 Civil Society Condemns Charging of Human Rights Defenders
May 2, 2016
We, the undersigned human rights and other civil society organisations, condemn in the strongest terms the politically-motivated charging of six human rights defenders from a Cambodian human rights group, the country's National Election Committee (NEC) and the United Nation's Office of the High Commissioner for Human Rights (UNOHCHR). The targeting of these individuals, five of whom were sent to pre-trial detention today, is the latest escalation in a far-reaching government assault on civil society ahead of upcoming local and national elections, and is a clear reprisal for support provided by rights workers in a politically-sensitive case.
Statement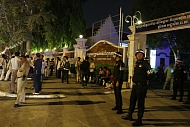 CSOs call upon authorities to immediately cease harassment of human rights defenders
April 29, 2016
We, the undersigned civil society organisations, strongly condemn the summonsing and interrogation of civil society members for conducting vital and legitimate activities to protect human rights. This amounts to an outrageous misuse of the Anti-Corruption Unit (ACU) as a political tool to attack and intimidate civil society.
Statement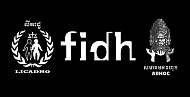 Cambodia: EU must demand an end to persecution of opposition during human rights dialogue
April 29, 2016
The European Union (EU) must use the upcoming human rights dialogue with Cambodia to demand that authorities stop the harassment, arbitrary arrest, and imprisonment of opposition MPs, members, and their supporters, FIDH and its member organizations, the Cambodian Human Rights and Development Association (ADHOC) and the Cambodian League for the Promotion and Defense of Human Rights (LICADHO), said today. This year's EU-Cambodia human rights dialogue is scheduled to take place from 2 to 4 May in Phnom Penh.
Statement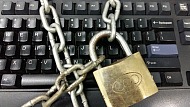 New Law on Telecommunications: A Legislative Attack on Individuals' Rights and Freedoms
March 31, 2016
Behind a façade of "technical" intent, the new Law on Telecommunications (Telecoms Law) poses a severe threat to freedom of expression in Cambodia, targeting not only online public expression but also any private communications made using telecommunications devices. In a briefing paper released today, LICADHO analyses the law's most egregious provisions – which, among others, allow the government to secretly intrude into the private lives of individuals, destroy evidence before criminal trials, and seize control of the entire telecoms industry if arbitrarily deemed warranted. Its excessive measures, particularly those creating new criminal offenses, reveal the true intent of the law: to intimidate individuals, punish the exercise of fundamental rights and freedoms and quash individual and group dissent.
Statement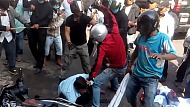 Boycott of Capitol Tours Following Brutal Suppression of Trade Union Activity Grows as 50 Civil Society Groups Declare Support
February 23, 2016
In response to the brutal attack on protesting workers on February 6, 2016, we, the undersigned trade unions, community representatives and civil society organizations (CSOs), declare our strong support for the ongoing boycott of Capitol Co. Ltd, also known as Capitol Tours, and call upon the general public to join the boycott in solidarity with the wrongfully dismissed Capitol employees, and the wider Cambodian trade union movement. Capitol Tours has relentlessly violated the labor rights and fundamental freedoms of its employees and we wish to unreservedly condemn the company's actions.
Statement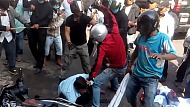 Civil Society Strongly Condemns Violence Against Demonstrating Bus Drivers
February 6, 2016
We, the undersigned civil society groups, strongly condemn this morning's violence by members of the Cambodia for Confederation Development Association (CCDA) against protesting bus drivers and their supporters, as well as the woefully inadequate police response, call for the release of two men arbitrarily arrested and demand an investigation into the violence.
Document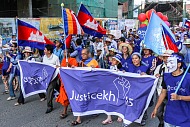 Joint Letter to US Secretary of State John F. Kerry
January 25, 2016
We, the undersigned Cambodian civil society groups, urge US Secretary of State John F. Kerry to call on the Royal Government of Cambodia to commit to upholding human rights and democratic obligations as a condition of strong and prosperous relations with the United States of America. During the Secretary of State's visit to Phnom Penh ahead of the US-ASEAN special summit at Sunnylands we request him to consider the numerous actions of the Cambodian government that clash with the fundamental values of the United States of America and are harmful to the rights of Cambodian citizens and the economic growth of Cambodia.