Topic
General Human Rights
Flash News
Amendments to Law on Political Parties passed in boycotted National Assembly session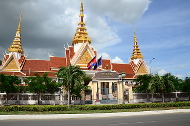 February 20, 2017 Today, the ruling-party members of the National Assembly approved amendments to the Law on Political Parties in a session boycotted by the opposition.
A draft of the law that became publicly available earlier this month contained articles creating unprecedented powers for the Supreme Court to dissolve political parties and ban political leaders for five years, at the request of the Ministry of Interior, on vague and ill-defined grounds such as potential harm to "national unity". The process has no hearing and explicitly forbids appeal.
The law would allow the Ministry of Interior to suspend political parties for a time period with no maximum duration. The law would also ban individuals with any conviction, spent or unspent, carrying a non-suspended custodial sentence from holding official roles within political parties.
The law, which still requires approval by the Senate, is designated "urgent" meaning it will be immediately implemented once it has been signed by the King.
Statement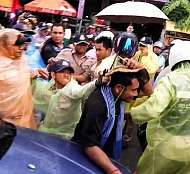 Human Rights Defenders Summonsed as 'Suspects' after Being Beaten by Para-Police
February 7, 2017
Two human rights defenders have been summonsed as suspects in relation to violence that occurred when para-police blocked a peaceful World Habitat Day march in October 2016. During the altercation, both men – LICADHO's Monitoring Manager Am Sam Ath, who was monitoring the event at the time, and Boeung Kak Lake community representative Chan Puthisak, who was documenting the march – were badly beaten by para-police in targeted attacks against them.
Statement
In Landmark Decision, UN Body Declares the Detention of Five Human Rights Defenders Arbitrary
December 18, 2016
FIDH, OMCT, CCHR, ADHOC and LICADHO welcome the recent Opinion adopted by the United Nations Working Group on Arbitrary Detention (WGAD) that recognises the arbitrary nature of the detention of human rights defenders Ny Chakrya, Ny Sokha, Yi Soksan, Nay Vanda, and Lim Mony. Our organisations call upon the Cambodian authorities to implement the Opinion of the WGAD by releasing the five human rights defenders immediately and providing them appropriate compensation.
Photo Album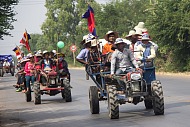 Justice 2016: Celebrating International Human Rights Day Across Cambodia
December 13, 2016
Over 11,000 people across Cambodia joined together in a series of events to celebrate International Human Rights Day 2016. Celebrations organised by Friends of December 10 across the country saw thousands speak on issues such as free and fair elections, land rights, a living wage for workers, a free and fair judiciary and an end to attacks on fundamental freedoms.
Statement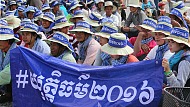 Thousands Celebrating International Human Rights Day across Cambodia
December 6, 2016
From December 2 until December 10, a series of 35 events across Cambodia will see thousands of people in 17 provinces and Phnom Penh celebrate International Human Rights Day 2016. Events will largely take place in rural Cambodia, where grassroots groups including communities affected by land conflicts, youth networks, associations, and monks as well as unions and NGOs around the country will hold a series of celebrations under the theme of 'Justice2016'. In Phnom Penh and four of Cambodia's provincial towns – Siem Reap, Battambang, Sisophon and Sihanoukville – larger events will see groups from surrounding communities coming together to celebrate in solidarity.
Statement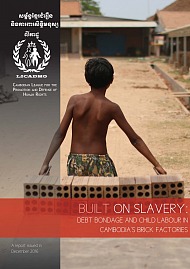 Built on Slavery: Debt Bondage and Child Labour in Cambodia's Brick Factories
December 2, 2016
On the International Day for the Abolition of Slavery, LICADHO publishes its report "Built on Slavery: Debt Bondage and Child Labour in Cambodia's Brick Factories" which presents evidence of the widespread use of contemporary forms of slavery in Cambodia's brick manufacturing industry. It finds that despite the existence of comprehensive and long-standing legislation criminalizing the use of debt bondage and prohibiting child labour, competent authorities are making no efforts to eradicate them and are in fact enabling their survival.
Photo Album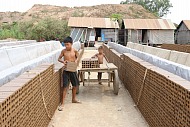 Built on Slavery: Debt Bondage and Child Labour in Cambodia's Brick Factories
December 2, 2016
To accompany publication of the report "Built on Slavery: Debt Bondage and Child Labour in Cambodia's Brick Factories" LICADHO is releasing this photo album which shows the different elements of the brick-making process and the living and working conditions of the adults and children who make the bricks.
Briefing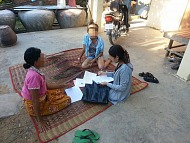 Getting Away With It – 2016 Update
November 28, 2016
A year ago, to mark the 2015 16 Days Against Gender Based Violence campaign, LICADHO published a report Getting Away With It: The Treatment of Rape in Cambodia's Justice System. The report was based on cases investigated by LICADHO in 2012, 2013 and 2014 and found that there were grave and systemic flaws in how rape cases are prosecuted in Cambodia and as a result, a disturbingly low number of convictions. There were several reasons for this: the extensive use of financial compensation to settle cases, widespread corruption amongst the police and the judiciary, poor understanding and application of the law by judges, and the prevalence of discriminatory attitudes towards women.
Document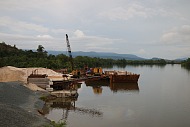 Joint Open Letter: Seeking Clarification Regarding Sand Exports
October 31, 2016
We, the undersigned civil society organizations, write to His Excellency Mr. Suy Sem, the Minister of Mines and Energy, to request clarification regarding sand exported overseas by Cambodia from 2007 to 2015. A Ministry spokesman has been quoted as saying that Cambodia's global sand exports amounted to just over 17 million tons between 2007 and 2015. However, the only official export data issued to date by the Cambodian government in relation to sand exports, from the Ministry of Commerce, only discloses sand exports to Singapore for the same period, totaling about 2.8 million tons. The Cambodian government is yet to explain to which other countries it is exporting sand to, or at what price this sand is being sold for.
Photo Album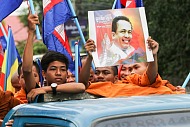 Dr. Kem Ley's 100 Day Funeral Procession
October 17, 2016
On Sunday, 16 October, thousands of people joined a 90-kilometre funeral procession, from Phnom Penh to Takeo, to mark 100 days since the assassination of political analyst Dr. Kem Ley. He was shot dead in a busy Caltex petrol station cafe in central Phnom Penh on 10 July 2016. Over the past three months since he was murdered, there has still been no independent and credible investigation into his murder.
The procession started from Wat Chas, a pagoda in Phnom Penh, where over the previous two days thousands of people had travelled to pay respect.
Statement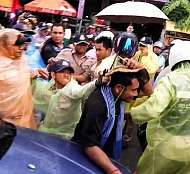 World Habitat Day Marred by Brutal Beatings of Human Rights Defenders
October 10, 2016
We, the undersigned civil society groups, are outraged by this morning's unjustified use of violence by district para-police officers during a march to peacefully celebrate World Habitat Day, and we strongly condemn this reprehensible attack.
Document
Open Letter: Call on the Human Rights Council to Adopt a Resolution Addressing Cambodia's Gravely Deteriorating Human Rights Situation
August 18, 2016
We, the undersigned international, regional, and Cambodian non-governmental organizations, urge your delegation to support the adoption of a resolution addressing Cambodia's gravely deteriorating human rights situation at the 33rd session of the Human Rights Council.
This resolution should highlight and condemn the ongoing and systematic human rights violations in the country and impunity for their perpetrators; build on the concerns expressed by a number of States at the Council's 32nd session; and urge the Cambodian Government to urgently take corrective action to preserve the legacy of the Paris Peace Agreements, ahead of their 25th anniversary and of key municipal and general elections.
Statement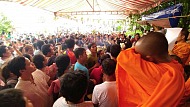 Cambodian Civil Society Condemns Outrageous Murder of Political Analyst Kem Ley
July 11, 2016
We, the undersigned civil society groups, are outraged at the brutal murder of political analyst and grassroots organiser Kem Ley yesterday morning, and call for a prompt, thorough and independent inquiry into his death.
Article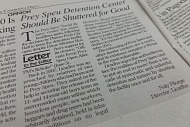 Prey Speu Detention Center Should be Shut for Good
June 8, 2016
Prey Speu "Social Affairs" center has made the headlines again recently following the decision by the Phnom Penh Municipality to keep the detention facility open despite Prime Minister Hun Sen's support for its closure (Cambodia Daily, "Officials Keep Prey Speu Open After PM's Rebuke", June 3, 2016).
Statement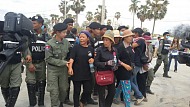 Civil Society Condemns Escalating Intimidation of Human Rights Defenders
May 10, 2016
Yesterday's detention of eight human rights workers and activists was an egregious violation of the right to freedom of expression in Cambodia, civil society groups said today. The detentions, which followed the pre-trial detention of four other rights workers and an election official last week, highlight an alarming surge in the Cambodian government's latest campaign of intimidation against civil society.