Topic
General Human Rights
Statement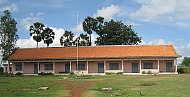 LICADHO Calls for Immediate Closure of Prey Speu Center Following Two Deaths
November 3, 2015

Following the deaths of two people unlawfully detained in the Prey Speu "Social Affairs" Center after having been arbitrarily arrested prior to Pchum Ben, LICADHO calls on relevant authorities to investigate the deaths and reiterates calls for the prompt closure of Prey Speu and all other such centers operating outside the criminal justice system. These are the second and third such deaths in less than a year.
Statement
CSOs call for an End to Impunity in Cambodia on the International Day to End Impunity for Crimes Against Journalists
November 2, 2015

To mark the United Nations' second International Day to End Impunity for Crimes against Journalists, we, the undersigned civil society organizations ("CSOs"), call upon the Royal Government of Cambodia to bring an end to Cambodia's rampant culture of impunity, and to ensure that the perpetrators of human rights violations are brought to justice.
Flash News
Political truce shaken as opposition leader removed from National Assembly vice presidency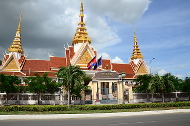 October 30, 2015 This morning, Cambodia National Rescue Party (CNRP) leader Kem Sokha was removed as first vice president of Cambodia's National Assembly in a vote passed unanimously by all 68 ruling party lawmakers following a walkout by all present CNRP lawmakers earlier this morning. The vote took place while almost half of CNRP's MPs are out of the country.
The removal comes four days after CPP-orchestrated protests in the capital calling for Kem Sokha to stand down outside the National Assembly left two CNRP MPs badly beaten, as well as protests against him by armed soldiers in northwestern Oddar Meanchey and Preah Vihear provinces. Two days after the protests, senior CPP lawmakers Pen Panha and Cheam Yeap officially requested for Kem Sokha to be removed.
Related Material:
Statement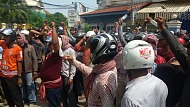 Civil Society Condemns Violence Against Cambodian Opposition MPs
October 27, 2015

ADHOC, CCHR, CCIM, CLEC, STT and LICADHO strongly condemn yesterday's violence outside the National Assembly and at the gate of an opposition leader that left two opposition CNRP MPs injured and bloodied, and call for an immediate independent and transparent investigation into the orchestrated violence. We further express deep concerns over the lack of police action to control a related gathering in front of Kem Sokha's house, which was surrounded this afternoon by several hundred individuals, some of who threw rocks at the front gates while others were heard calling for even further violence.
Photo Album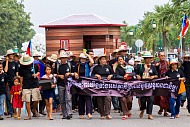 Communities from Across Cambodia Celebrate World Habitat Day in Phnom Penh
October 5, 2015
This morning, over 1,400 community members, monks and grassroots groups from across Cambodia gathered in Phnom Penh to celebrate the 30th World Habitat Day and to call on authorities to respect Cambodian people's right to housing.
Statement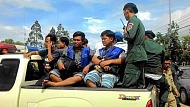 ADHOC, CLEC and LICADHO call for the immediate release of 17 activists and observers in Koh Kong
September 2, 2015

ADHOC, LICADHO and CLEC are outraged by the detention of 17 protestors, NGO staff and media workers in Koh Kong's provincial police station and call for their immediate release. The 17 were detained in the midst of a gathering calling for a solution to Chi Khor Krom community's land conflict. The gathering involved 50 youths and land activists who had also participated in daily peaceful protests against the arrest and imprisonment of three activists from NGO Mother Nature since August 19.
Statement
LICADHO Calls for Restoration of Open Access to Companies Register
June 25, 2015

The Cambodian League for the Promotion and Defense of Human Rights (LICADHO) deplores the apparent decision by the Ministry of Commerce to substantially reduce the amount of information about companies that it publicly discloses through its website. After a recent website upgrade by the ministry the only information now available on companies is the company name, the chairman's name, and a phone number. Coming so soon after LICADHO's request for greater transparency in relation to economic land concessions, this development is particularly disappointing.
Statement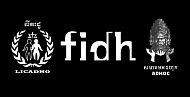 Cambodia: Withdraw Proposed Association Law and Make Legislative Drafting Process Transparent
May 11, 2015

The Cambodian government must withdraw the proposed Law on Associations and Non-Governmental Organizations (LANGO) and make the legislative drafting process in the country transparent, FIDH and its member organizations, the Cambodian Human Rights and Development Association (ADHOC) and the Cambodian League for the Promotion and Defense of Human Rights (LICADHO), said today.
Statement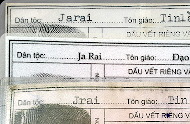 Cambodia Should Register, Not Return, Vietnamese Asylum Seekers
May 1, 2015

Cambodia's refusal to allow asylum seekers from Vietnam to register and seek refugee status demonstrates a dismal failing to abide by international refugee law, LICADHO and Human Rights Watch said today. In the last four months, Cambodia has forcibly deported 54 Vietnamese asylum seekers, and appears poised to deport 40 more.
Statement
Report Documents Cambodian Government's ongoing Failure to Implement ICCPR
March 3, 2015

The Cambodian government has failed to comply with its fundamental civil and political rights obligations, FIDH and its member organizations, the Cambodian Human Rights and Development Association (ADHOC) and the Cambodian League for the Promotion and Defense of Human Rights (LICADHO), said in a joint shadow report submitted to the UN Human Rights Committee (HRC).
Statement
Withdraw Armed Forces and Court Officials from Political Party Ranks to Strengthen Rule of Law and Democracy in Cambodia
February 26, 2015

We, the Electoral Reform Alliance (ERA) and Civil Society Organizations, condemn any political party which includes, or will include court officials and officers armed forces within political party's ranks. This inclusion is a violation of the constitution, the rule of law, and the principle of democracy, in particular free and fair elections.
Photo Album
Marching for International Human Rights Day 2014
December 15, 2014
To celebrate International Human Rights Day (IHRD) this year, 600 monks marched alongside land activists, associations, unions, rural and urban residents, and NGOs, on six national roads towards Phnom Penh from December 5 to December 10. This year's IHRD theme was "Respecting Human Rights Leads to Peace!" For the first time, indigenous communities in Ratanakiri province participated in IHRD by organizing their own march on National Road 7, which began on December 4.
Livestream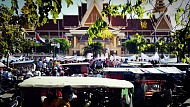 International Human Rights Day 2014
December 9, 2014
Tomorrow is International Human Rights Day and a number celebrations, led by a variety of groups, are due to take place in Phnom Penh. Hundreds of peace marchers, who have been walking from across the country over the last five days, will come together in the capital to submit petitions at the National Assembly. Events will also be held by unions, the opposition party and a coalition of NGOs. LICADHO will be livestreaming events from across the city throughout the day.
Statement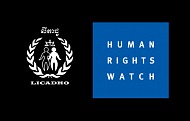 Death in Prey Speu Highlights Detention Center Abuses
December 7, 2014
The Cambodian government should promptly close all centers arbitrarily detaining people outside the criminal justice system, LICADHO and Human Rights Watch said today. The abusive nature of these centers was highlighted by the death on November 26, 2014, of a man who was arbitrarily detained and denied medical treatment at the Prey Speu center outside Phnom Penh.
Statement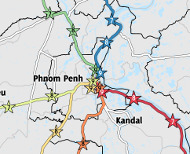 Monks to Lead International Human Rights Day March
December 2, 2014

Over 600 human rights activists, led by monks, will march along six national roads towards Phnom Penh between December 5 and December 10, 2014, to celebrate the 66th International Human Rights Day (IHRD). Joining them will be participants from communities affected by land disputes, associations, networks, unions and NGOs, as well as villagers from rural and urban communities along the designated routes.