Topic
Land Issues
Statement
Civil Society Groups Condemn the Groundless Detention of Equitable Cambodia Staff
September 12, 2014

We the undersigned condemn the continued intimidation and harassment of human rights defenders in Cambodia. We call upon the competent authorities to investigate those responsible for ordering the groundless detention of Equitable Cambodia Staff Meg Fukuzawa and Lida Sok.
Flash News
Five Lor Peang villagers provisionally released prior to trial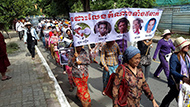 August 29, 2014 Today at around 4pm, five Lor Peang community members who were arrested and detained in the last month have been provisionally released by the Investigating Judge of Kampong Chhnang Provincial Court. Three of the villagers were arrested during a 60km-long peaceful march from Kampong Chhnang province to Phnom Penh. The march was undertaken to call for a resolution to a long-standing land dispute between the villagers and K.D.C Company, while also calling for the release of two community members, arrested weeks earlier.

All five members have been released under judicial supervision with three conditions: 1. That they appear before the court when summonsed; 2. That they do not change residence without informing the court; and 3. That they present themselves to their local police station every month.

The release follows repeated attempts by the Lor Peang community to submit petitions to various government institutions over their conflict with K.D.C Company.

Related Material: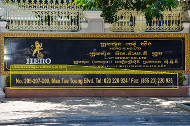 Statement
Response to Phnom Penh Sugar Company's Allegations Against Equitable Cambodia Executive Director Eang Vuthy
August 21, 2014

On August 18, 2014, the Phnom Penh Sugar Co. Ltd., took out advertisements in several major Cambodian newspapers accusing Equitable Cambodia's Executive Director, Mr. Eang Vuthy, of making false and misleading statements about Oknha Ly Yong Phat, and causing "irreparable damage" to the Senator's reputation as well as that of his business, Phnom Penh Sugar.

While the Senator may currently have no involvement in the management or ownership of Khon Kaen Sugar Company's in Koh Kong province or Mitr Pohl Sugar Company's in Oddar Meanchey province, there is strong evidence that Ly Yong Phat was involved with each of these companies and with the forcible eviction of thousands of villagers.
Statement
LICADHO Condemns the Violent Crackdown of a Peaceful March by Lor Peang Villagers
August 12, 2014

LICADHO condemns the violent dispersal of more than 50 villagers from Lor Peang community who had begun their 60km-long peaceful march from Kampong Chhnang province to Phnom Penh, calling for a resolution to their long-standing land dispute. Amid the violent dispersal, three villagers – including the husband of the main Lor Peang community representative Um Sophy – were arrested and sent to the provincial court.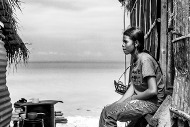 Video
Out of School and Working: The Story of an Evicted Girl
June 10, 2014

In the lead-up to World Day Against Child Labour, LICADHO is releasing a two-part digital photo essay series highlighting linkages between child labour and issues such as poverty, school drop-out rates and land eviction. The second video looks into the life of Kompieng , 16, who dropped out of school and started doing odd jobs to help support her family.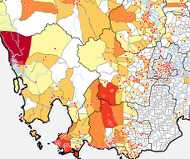 Statement
2014 Brings a New Wave of Cambodian Land Conflicts
April 1, 2014

The number of people affected by state-involved land conflicts in Cambodia since 2000 passed the half-million mark in March, according to data collected by LICADHO.

To mark this somber milestone, LICADHO has published a new video and map which together illustrate the wide distribution of conflicts and the rapid growth of land grabbing as an issue over the past 13 years. The first few months of 2014 have seen a renewed wave of violent land grabbing that has affected 2,246 families across the provinces monitored by LICADHO.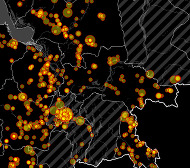 Video
Time-lapse: State-Involved Land Conflicts in Cambodia
April 1, 2014

Between January 2000 and March 2014, LICADHO documented more than 500,000 Cambodians affected by state-involved land conflicts in investigations covering roughly half the country. After 13 years, land grabbing shows little sign of slowing down and the first few months of 2014 have seen continued destruction of homes, forest and livelihoods.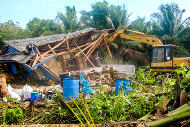 Article
Year 2013 in Review: Land, a Country in Crisis
March 21, 2014

Elections aside, land remained the single most contentious issue in Cambodia in 2013, as it has been for at least the last 10 years. Over 2.2 million hectares of Cambodian land have been granted to large firms in the form of economic land concessions (ELCs).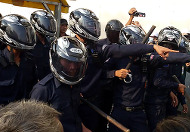 Video
Youth Beaten Bloody during Borei Keila Occupation Clampdown
February 14, 2014

At about 7am this morning, the road leading to Borei Keila was blocked and riot police, military police and security guards were deployed to remove the families from the building. Six people were seriously injured in the ensuing clashes, including one 7-month-pregnant woman.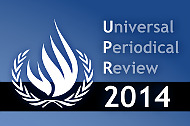 Documents
Submissions to the UN's Universal Periodic Review for Cambodia
January 28, 2014
Today, the United Nations will conduct a Universal Periodical Review (UPR) of Cambodia to look into some of the key human rights issues affecting the country, from systematic attacks against human rights defenders to labour trafficking and obstacles against basic freedoms such as right to assembly and expression. LICADHO, by itself and with partners, has contributed to this process by submitting a number of documents.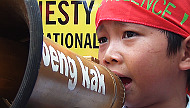 Video
Boeung Kak Activist Yorm Bopha - A Year in Jail
September 4, 2013

Today marks one year of detention since the arrest of Boeung Kak activist and prisoner of conscience Yorm Bopha. This video tells her story, from her strong stance in support of detained community members to her arrest and groundless conviction.
Statement
Child Labor on Sugar Plantations in Cambodia is Well Documented
July 23, 2013

The Guardian newspaper recently ran a damning expose of child labor on the KSL Group sugar plantations in Cambodia that supply the sugar giant Tate & Lyle Sugars. Rather than acting quickly to address the abuses, the companies seem to have resorted to a strategy of denial and legal bullying in an attempt to defend their tarnished reputations.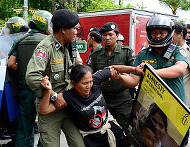 Statement
Continued Violence Intensifies the Need for Resolution to Ongoing Land Conflicts in Phnom Penh
July 3, 2013

In the wake of another two days of protests by members of the Boeung Kak community in Phnom Penh, who are demanding just resolution to a long-standing land conflict affecting their community before the national election on 28 July, we the undersigned non-governmental organizations (NGOs) wish to condemn the use of disproportionate force against protesters by the municipal police and other security forces. These protests are just the latest in a series of protests which have resulted in the use of violence or disproportionate force against protesters calling for an end to land disputes.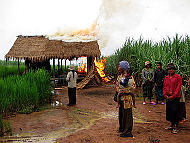 Statement
Cambodian NGOs allege serious abuses linked to Thai sugar giant, Mitr Phol Sugar Corporation
May 31, 2013

Two Cambodian NGOs, LICADHO and Equitable Cambodia filed a petition on behalf of 602 complainants about serious human rights violations linked to large sugar concessions held by Thai sugar giant, Mitr Phol Sugar Corporation.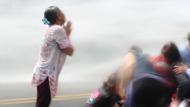 Video
Water Cannons Used against Peaceful Land Protesters in Cambodia's Capital
May 30, 2013

This morning near Phnom Penh city hall, authorities called in three fire trucks, which used high-pressure water from their hoses to disperse peaceful protesters from the Boeung Kak, Borei Keila and airport communities. Firefighters also targeted some community members who came to rescue colleagues who had fallen down due to the impact of the water. This video was taken at the scene.