Topic
Land Issues
Flash News
Siem Reap communities come together to seek solution to land disputes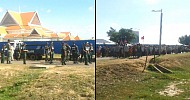 May 22, 2015 This morning, around 700 members of communities affected by land disputes gathered in Siem Reap town to march and submit a petition to the provincial governor. Around 100 police and military police prevented the group from marching, citing the possibility of traffic disruption and also stating that the governor was not in the office. This afternoon 17 community representatives were allowed to meet with the governor whilst the other community members waited outside.
The petition listed ten land cases from seven districts within the province and gave details of the number of affected families and the location of the disputed land. It also named the parties with whom the communities are in dispute, including the Apsara Authority, private companies and members of the military.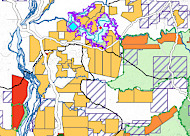 Statement
LICADHO Opens up its Land Concessions Data, Urges Full Transparency from the Government
March 30, 2015

The Cambodian League for the Promotion and Defense of Human Rights (LICADHO) is today releasing to the public its land concession dataset and urges the government to follow suit by publicly disclosing details of all land concessions granted in Cambodia. The information released is the culmination of five years of investigation into this sector.
Article
Cambodian Women on the Front Line: Six Stories of Resistance
March 13, 2015

To celebrate International Women's Day 2015 LICADHO, together with the Highlanders Association of Cambodia, organised a forum in Ban Lung, Ratanakiri for people affected by land grabbing. The forum was attended by over 100 representatives from eight different indigenous communities from within Ratanakiri and by land rights activists from other provinces around the country. The theme of the forum was the effect of land conflicts on women and the majority of the participants were women. The participants shared their experiences and ideas and many performed songs they had written telling the stories of their land disputes. We profile six of the women who attended the forum. Their stories illustrate the many hardships faced by women affected by land disputes as well as their remarkable spirit and resilience.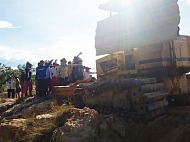 Statement
Renewed Surge in Land Disputes Must be Addressed Not Denied
February 19, 2015

The Cambodian League for the Promotion and Defense of Human Rights (LICADHO) strongly expresses its concern at the surge in land disputes documented by its offices in 2014, which resulted in a threefold increase in the number of families newly affected by land conflicts during that year when compared to the previous year.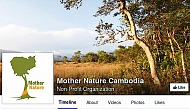 Statement
Civil Society Groups Condemn Use of Visa Denial to Curb Activism
February 17, 2015

We, the undersigned civil society groups, condemn the recent decision to deny a visa renewal for prominent environmental activist Alejandro Gonzalez-Davidson. Mr Gonzalez-Davidson has been at the forefront of a campaign by local Non-Governmental Organization (NGO), Mother Nature, to halt the controversial development of a hydroelectric dam in Areng valley, Koh Kong province.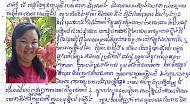 Article
Spotlight on the 19: Ly Seav Minh
January 28, 2015
Ly Seav Minh is 23 years old and lives with her mother, father and brother in Toul Kork district, Phnom Penh. The family has lived on the land for 35 years and despite possessing evidence of their lengthy occupation of the land, they have been involved in a long-running land dispute with the municipality and the Khun Sea Company, to which the municipality sold the land in 2010. Originally six other families were involved in the dispute but all have now accepted compensation payments and moved away after facing consistent intimidation from the company.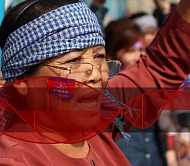 Audio Book
"Good Wives": Four Women Land Activists Tell Their Stories
January 8, 2015

This Khmer audio book contains two radio shows that were originally broadcast during the 2014 campaign, 16 Days of Activism against Gender Violence. The shows accompany the report "Good Wives": Women Land Campaigners and the Impact of Human Rights Activism, and include interviews with four female land activists who discuss how their lives have been changed by their activism and share their experiences of domestic violence and family breakdown.
Photo Album
Marching for International Human Rights Day 2014
December 15, 2014
To celebrate International Human Rights Day (IHRD) this year, 600 monks marched alongside land activists, associations, unions, rural and urban residents, and NGOs, on six national roads towards Phnom Penh from December 5 to December 10. This year's IHRD theme was "Respecting Human Rights Leads to Peace!" For the first time, indigenous communities in Ratanakiri province participated in IHRD by organizing their own march on National Road 7, which began on December 4.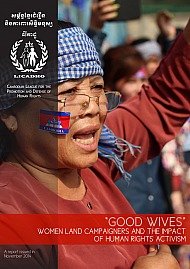 Report
"Good Wives": Women Land Campaigners and the Impact of Human Rights Activism
November 23, 2014
To mark the start of the global campaign, 16 Days of Activism against Gender Violence, LICADHO has published a report exploring how the lives of women campaigners are changed by their activism. It reveals the high price women pay, suffering not only serious economic and emotional impacts but also often domestic violence and family breakdown.
Photo Album
Four Supporters of Boeung Kak 7 Arrested Outside Phnom Penh Court
November 12, 2014
On the morning of Tuesday, November 11, approximately 50 representatives from several land communities gathered outside the Phnom Penh Municipal Court to protest the detention of seven Boeung Kak Lake activists who had been arrested the day before while protesting outside Phnom Penh City Hall against the alleged failure of city authorities to deal with the issue of flooding around the site of the former lake.
Over 100 riot police and security guards violently broke up the protest in front of the court and arrested three additional land activists and one monk.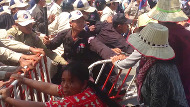 Video
Yet Another Violent Dispersal of Land Protesters near the Prime Minister's Home
October 21, 2014

On October 20, 2014, security guards in Phnom Penh were once again captured senselessly beating peaceful land protesters. About 80 villagers from Preah Vihear province had come to Phnom Penh to ask for assistance from national institutions, to help resolve their land dispute which has affected over 200 families. However, shortly after noon, the villagers were violently dispersed by the guards while military police and police officers stood by near the Prime Minister's home.
The violence left a total of 18 people injured. Several of them, including an 18 year-old boy, suffered head wounds.
Statement
Oddar Meanchey Authorities' Continued Illegal Conduct Towards Equitable Cambodia's Staff
October 16, 2014

We, the undersigned civil society groups, condemn the actions of the Oddar Meanchey authorities who have, since September 2014, been engaged in the obstruction, harassment, intimidation, and assault of rights workers. Most recently, a four-person team from Equitable Cambodia ("EC") was in the province to conduct field research on the impacts of forced evictions resulting from economic land concessions granted for the development of sugarcane plantations. The plantations are owned by the Mitr Phol Group, one of Coca-Cola's top three global suppliers. Research data collected will be provided to the National Human Rights Commission of Thailand ("NHRCT"), which is investigating Mitr Phol's operations in Cambodia.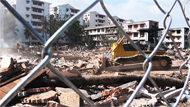 Video
Borei Keila Evictees: Justice Overdue
October 6, 2014

Today as communities all over the world stand in solidarity for World Habitat Day, some 600 community members gathered at the National Assembly to demand 'development for all' and an end to forced evictions across Cambodia. This video highlights the ongoing land dispute between the Borei Keila community in Phnom Penh and local development company, Phanimex.
Statement
Civil Society Groups Condemn the Groundless Detention of Equitable Cambodia Staff
September 12, 2014

We the undersigned condemn the continued intimidation and harassment of human rights defenders in Cambodia. We call upon the competent authorities to investigate those responsible for ordering the groundless detention of Equitable Cambodia Staff Meg Fukuzawa and Lida Sok.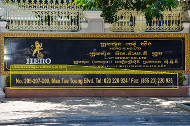 Statement
Response to Phnom Penh Sugar Company's Allegations Against Equitable Cambodia Executive Director Eang Vuthy
August 21, 2014

On August 18, 2014, the Phnom Penh Sugar Co. Ltd., took out advertisements in several major Cambodian newspapers accusing Equitable Cambodia's Executive Director, Mr. Eang Vuthy, of making false and misleading statements about Oknha Ly Yong Phat, and causing "irreparable damage" to the Senator's reputation as well as that of his business, Phnom Penh Sugar.
While the Senator may currently have no involvement in the management or ownership of Khon Kaen Sugar Company's in Koh Kong province or Mitr Pohl Sugar Company's in Oddar Meanchey province, there is strong evidence that Ly Yong Phat was involved with each of these companies and with the forcible eviction of thousands of villagers.