Topic
Land Issues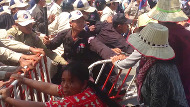 Video
Yet Another Violent Dispersal of Land Protesters near the Prime Minister's Home
October 21, 2014

On October 20, 2014, security guards in Phnom Penh were once again captured senselessly beating peaceful land protesters. About 80 villagers from Preah Vihear province had come to Phnom Penh to ask for assistance from national institutions, to help resolve their land dispute which has affected over 200 families. However, shortly after noon, the villagers were violently dispersed by the guards while military police and police officers stood by near the Prime Minister's home.

The violence left a total of 18 people injured. Several of them, including an 18 year-old boy, suffered head wounds.
Flash News
17 injured following violent dispersal of protestors near Prime Minister's home
October 20, 2014 Following the violent dispersal of protestors nearby Prime Minister Hun Sen's home earlier today, LICADHO is now treating 17 patients. At least 4 of them (one woman and three men) have moderate injuries from beatings sustained by security guards. One of the injured is an 18 year old boy who was beaten on the head. He is currently being observed and may be admitted to hospital later.

The protestors from Kantuot commune, Choan Ksan district, Preah Vihear province, included men, women, and young children who were protesting in Phnom Penh to request assistance in ongoing land conflicts that have affected over 200 families.

They intended to march to the Chinese, Russian, and Australian embassies, before submitting a petition to the home of Prime Minister Hun Sen. However, the protestors were blocked on their way to the Prime Minister's house, where they were severely beaten.

Related Material:
Statement
Oddar Meanchey Authorities' Continued Illegal Conduct Towards Equitable Cambodia's Staff
October 16, 2014

We, the undersigned civil society groups, condemn the actions of the Oddar Meanchey authorities who have, since September 2014, been engaged in the obstruction, harassment, intimidation, and assault of rights workers. Most recently, a four-person team from Equitable Cambodia ("EC") was in the province to conduct field research on the impacts of forced evictions resulting from economic land concessions granted for the development of sugarcane plantations. The plantations are owned by the Mitr Phol Group, one of Coca-Cola's top three global suppliers. Research data collected will be provided to the National Human Rights Commission of Thailand ("NHRCT"), which is investigating Mitr Phol's operations in Cambodia.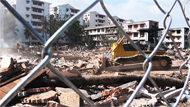 Video
Borei Keila Evictees: Justice Overdue
October 6, 2014

Today as communities all over the world stand in solidarity for World Habitat Day, some 600 community members gathered at the National Assembly to demand 'development for all' and an end to forced evictions across Cambodia. This video highlights the ongoing land dispute between the Borei Keila community in Phnom Penh and local development company, Phanimex.
Statement
Civil Society Groups Condemn the Groundless Detention of Equitable Cambodia Staff
September 12, 2014

We the undersigned condemn the continued intimidation and harassment of human rights defenders in Cambodia. We call upon the competent authorities to investigate those responsible for ordering the groundless detention of Equitable Cambodia Staff Meg Fukuzawa and Lida Sok.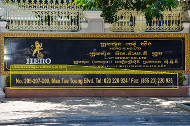 Statement
Response to Phnom Penh Sugar Company's Allegations Against Equitable Cambodia Executive Director Eang Vuthy
August 21, 2014

On August 18, 2014, the Phnom Penh Sugar Co. Ltd., took out advertisements in several major Cambodian newspapers accusing Equitable Cambodia's Executive Director, Mr. Eang Vuthy, of making false and misleading statements about Oknha Ly Yong Phat, and causing "irreparable damage" to the Senator's reputation as well as that of his business, Phnom Penh Sugar.

While the Senator may currently have no involvement in the management or ownership of Khon Kaen Sugar Company's in Koh Kong province or Mitr Pohl Sugar Company's in Oddar Meanchey province, there is strong evidence that Ly Yong Phat was involved with each of these companies and with the forcible eviction of thousands of villagers.
Statement
LICADHO Condemns the Violent Crackdown of a Peaceful March by Lor Peang Villagers
August 12, 2014

LICADHO condemns the violent dispersal of more than 50 villagers from Lor Peang community who had begun their 60km-long peaceful march from Kampong Chhnang province to Phnom Penh, calling for a resolution to their long-standing land dispute. Amid the violent dispersal, three villagers – including the husband of the main Lor Peang community representative Um Sophy – were arrested and sent to the provincial court.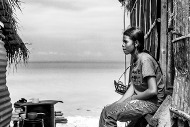 Video
Out of School and Working: The Story of an Evicted Girl
June 10, 2014

In the lead-up to World Day Against Child Labour, LICADHO is releasing a two-part digital photo essay series highlighting linkages between child labour and issues such as poverty, school drop-out rates and land eviction. The second video looks into the life of Kompieng , 16, who dropped out of school and started doing odd jobs to help support her family.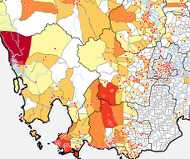 Statement
2014 Brings a New Wave of Cambodian Land Conflicts
April 1, 2014

The number of people affected by state-involved land conflicts in Cambodia since 2000 passed the half-million mark in March, according to data collected by LICADHO.

To mark this somber milestone, LICADHO has published a new video and map which together illustrate the wide distribution of conflicts and the rapid growth of land grabbing as an issue over the past 13 years. The first few months of 2014 have seen a renewed wave of violent land grabbing that has affected 2,246 families across the provinces monitored by LICADHO.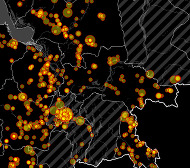 Video
Time-lapse: State-Involved Land Conflicts in Cambodia
April 1, 2014

Between January 2000 and March 2014, LICADHO documented more than 500,000 Cambodians affected by state-involved land conflicts in investigations covering roughly half the country. After 13 years, land grabbing shows little sign of slowing down and the first few months of 2014 have seen continued destruction of homes, forest and livelihoods.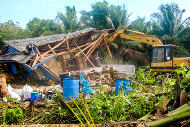 Article
Year 2013 in Review: Land, a Country in Crisis
March 21, 2014

Elections aside, land remained the single most contentious issue in Cambodia in 2013, as it has been for at least the last 10 years. Over 2.2 million hectares of Cambodian land have been granted to large firms in the form of economic land concessions (ELCs).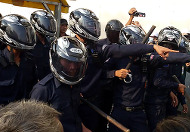 Video
Youth Beaten Bloody during Borei Keila Occupation Clampdown
February 14, 2014

At about 7am this morning, the road leading to Borei Keila was blocked and riot police, military police and security guards were deployed to remove the families from the building. Six people were seriously injured in the ensuing clashes, including one 7-month-pregnant woman.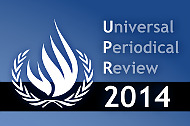 Documents
Submissions to the UN's Universal Periodic Review for Cambodia
January 28, 2014
Today, the United Nations will conduct a Universal Periodical Review (UPR) of Cambodia to look into some of the key human rights issues affecting the country, from systematic attacks against human rights defenders to labour trafficking and obstacles against basic freedoms such as right to assembly and expression. LICADHO, by itself and with partners, has contributed to this process by submitting a number of documents.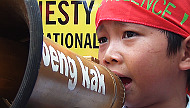 Video
Boeung Kak Activist Yorm Bopha - A Year in Jail
September 4, 2013

Today marks one year of detention since the arrest of Boeung Kak activist and prisoner of conscience Yorm Bopha. This video tells her story, from her strong stance in support of detained community members to her arrest and groundless conviction.
Statement
Child Labor on Sugar Plantations in Cambodia is Well Documented
July 23, 2013

The Guardian newspaper recently ran a damning expose of child labor on the KSL Group sugar plantations in Cambodia that supply the sugar giant Tate & Lyle Sugars. Rather than acting quickly to address the abuses, the companies seem to have resorted to a strategy of denial and legal bullying in an attempt to defend their tarnished reputations.