Topic
Land
Flash News
Tep Vanny Awaits Appeal Verdict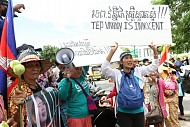 July 27, 2017 The conviction of land rights activist Tep Vanny over her participation in a peaceful protest was considered by the Court of Appeal today as supporters protested outside almost a year after she was first detained. No plaintiffs or prosecution witnesses were present at the hearing, preventing cross-examination and – as in the first instance trial in February – no credible evidence was presented.
At a 2013 protest in Phnom Penh – over the jailing of another activist – para-police brutally beat and injured Vanny and other protestors. Nonetheless, she was convicted on 23 February 2017 for "intentional violence with aggravating circumstances" in a trial which fell far short of acceptable legal standards, including a lack of cross-examination of the plaintiffs (security guards known as para-police).
The appeal seeks to overturn a two years and six months' sentence as well as fines and compensation to the plaintiffs amounting to 14 million riel ($3,500). Since her arrest on 15 August 2016, Tep Vanny has spent 346 days in detention. A verdict will be announced on 8 August 2017.
Related Material:
Statement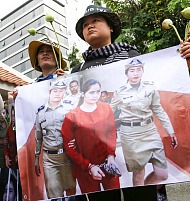 Civil Society Calls for Justice for Tep Vanny at Appeal Court
July 27, 2017
We, the undersigned, call on the Court of Appeal to overturn the unjust conviction of Ms. Tep Vanny on charges of intentional violence with aggravating circumstances based on her peaceful activism at a 2013 protest, for which she received a draconian sentence of two years and six months' imprisonment on 23 February 2017. The Court of Appeal will hear Ms. Tep Vanny's appeal against conviction tomorrow. On 15 August 2017, Ms. Tep Vanny will have spent one year in detention; her imprisonment is a clear attempt to silence one of Cambodia's most fearless and outspoken defenders of human rights ahead of the national elections in July 2018.
Document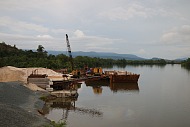 Joint Open Letter: Seeking Clarification Regarding Sand Exports
October 31, 2016
We, the undersigned civil society organizations, write to His Excellency Mr. Suy Sem, the Minister of Mines and Energy, to request clarification regarding sand exported overseas by Cambodia from 2007 to 2015. A Ministry spokesman has been quoted as saying that Cambodia's global sand exports amounted to just over 17 million tons between 2007 and 2015. However, the only official export data issued to date by the Cambodian government in relation to sand exports, from the Ministry of Commerce, only discloses sand exports to Singapore for the same period, totaling about 2.8 million tons. The Cambodian government is yet to explain to which other countries it is exporting sand to, or at what price this sand is being sold for.
Photo Album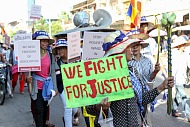 Thousands Demand Justice for Human Rights Day Celebrations
December 17, 2015
To celebrate International Human Rights Day (IHRD), about 10,000 people from rural and urban communities participated in 20 marches and events across the country from December 6 to December 10. These were organized by the informal network Friends of December 10th, which includes youth, land communities, associations, farmers, monks, and NGOs. On December 10, groups peacefully marched from various locations in Phnom Penh toward the Ministry of Justice to demand that the government resolve Cambodia's land conflict epidemic; reform the judicial system and release human rights defenders and activists; raise the minimum wage and respect labour rights; end state-sponsored violence; and respect freedoms of expression, association and peaceful assembly. This year's IHRD theme was 'Justice'.
Statement
Thousands Set to Celebrate International Human Rights Day Across the Country
December 4, 2015
Thousands of Cambodians in 16 provinces will gather to celebrate the 67th International Human Rights Day (IHRD), culminating in a joint celebration in Phnom Penh on December 10. From December 6 onward, grassroots groups such as communities affected by land conflicts, youth networks, associations, and monks as well as unions and NGOs across the country will hold a series of celebrations under an overall theme of 'Justice'.
Video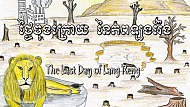 The Last Day of Lang Reng
November 20, 2015
Today marks the 26th anniversary of the United Nations Convention on the Rights of the Child (UNCRC). The Cambodian government ratified the CRC on October 15, 1992, thus guaranteeing the protection and promotion of the four main baskets of rights of children in Cambodia: "the right to survival; to develop to the fullest; to protection from harmful influences, abuse and exploitation; and to participate fully in family, cultural and social life."
In the spirit of the CRC, the Child Protection Group (CPG) network, with support from LICADHO, is releasing a storybook video: "The Last Day of Lang Reng." This fictional work voices the concerns of young Cambodians regarding the rapid deforestation and environmental destruction they see taking place across their country.
Photo Album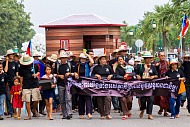 Communities from Across Cambodia Celebrate World Habitat Day in Phnom Penh
October 5, 2015
This morning, over 1,400 community members, monks and grassroots groups from across Cambodia gathered in Phnom Penh to celebrate the 30th World Habitat Day and to call on authorities to respect Cambodian people's right to housing.
Statement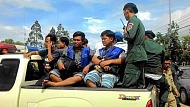 ADHOC, CLEC and LICADHO Call for the Immediate Release of 17 Activists and Observers in Koh Kong
September 2, 2015
ADHOC, LICADHO and CLEC are outraged by the detention of 17 protestors, NGO staff and media workers in Koh Kong's provincial police station and call for their immediate release. The 17 were detained in the midst of a gathering calling for a solution to Chi Khor Krom community's land conflict. The gathering involved 50 youths and land activists who had also participated in daily peaceful protests against the arrest and imprisonment of three activists from NGO Mother Nature since August 19.
Video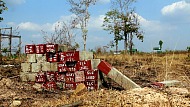 On Stony Ground: The Struggle to Survive in a Cambodian Social Land Concession
June 24, 2015
In March 2003, the Cambodian government unveiled a potentially progressive land policy with the aim of transferring land to landless and poor Cambodians – Social Land Concessions (SLCs). LICADHO recently investigated a $13 million SLC project, called LASED, that was implemented by the Cambodian government with support from the World Bank and the German development agency GIZ. In direct contrast with the rosy conclusions reported by both agencies, LICADHO found that the project largely failed to benefit rural poor Cambodians.
Report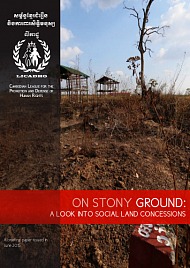 On Stony Ground: A Look into Social Land Concessions
June 24, 2015
In March 2003, the Cambodian government unveiled a potentially progressive policy with the aim of transferring land to landless and poor Cambodians – Social Land Concessions (SLCs). However, some of the first SLCs were implemented with a total disregard for the legal framework and failed miserably.
LICADHO recently investigated the Land Allocation for Social and Economic Development (LASED) project which was meant to prove that SLCs could contribute to reducing rural poverty by transferring land to landless Cambodians for residential and farming purposes.
Statement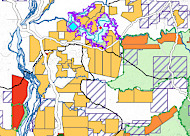 LICADHO Opens up its Land Concessions Data, Urges Full Transparency from the Government
March 30, 2015
The Cambodian League for the Promotion and Defense of Human Rights (LICADHO) is today releasing to the public its land concession dataset and urges the government to follow suit by publicly disclosing details of all land concessions granted in Cambodia. The information released is the culmination of five years of investigation into this sector.
Article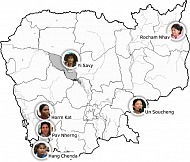 Cambodian Women on the Front Line: Six Stories of Resistance
March 13, 2015
To celebrate International Women's Day 2015 LICADHO, together with the Highlanders Association of Cambodia, organised a forum in Ban Lung, Ratanakiri for people affected by land grabbing. The forum was attended by over 100 representatives from eight different indigenous communities from within Ratanakiri and by land rights activists from other provinces around the country. The theme of the forum was the effect of land conflicts on women and the majority of the participants were women. The participants shared their experiences and ideas and many performed songs they had written telling the stories of their land disputes. We profile six of the women who attended the forum. Their stories illustrate the many hardships faced by women affected by land disputes as well as their remarkable spirit and resilience.
Statement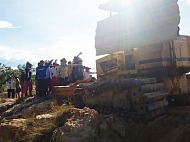 Renewed Surge in Land Disputes Must be Addressed Not Denied
February 19, 2015
The Cambodian League for the Promotion and Defense of Human Rights (LICADHO) strongly expresses its concern at the surge in land disputes documented by its offices in 2014, which resulted in a threefold increase in the number of families newly affected by land conflicts during that year when compared to the previous year.
Statement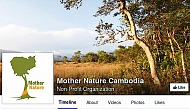 Civil Society Groups Condemn Use of Visa Denial to Curb Activism
February 17, 2015
We, the undersigned civil society groups, condemn the recent decision to deny a visa renewal for prominent environmental activist Alejandro Gonzalez-Davidson. Mr Gonzalez-Davidson has been at the forefront of a campaign by local Non-Governmental Organization (NGO), Mother Nature, to halt the controversial development of a hydroelectric dam in Areng valley, Koh Kong province.
Article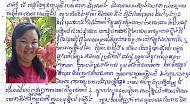 Spotlight on the 19: Ly Seav Minh
January 28, 2015
Ly Seav Minh is 23 years old and lives with her mother, father and brother in Toul Kork district, Phnom Penh. The family has lived on the land for 35 years and despite possessing evidence of their lengthy occupation of the land, they have been involved in a long-running land dispute with the municipality and the Khun Sea Company, to which the municipality sold the land in 2010. Originally six other families were involved in the dispute but all have now accepted compensation payments and moved away after facing consistent intimidation from the company.