Topic
Judiciary & Rule of Law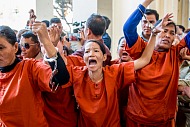 Statement
Civil Society Groups Condemn the Ongoing Detention of 11 Activists
January 26, 2015
We the undersigned civil society groups condemn the indefensible verdicts issued this morning by the Court of Appeal in the cases of ten land activists and one monk.
Flash News
11 of 'Free the 19' have convictions upheld
January 26, 2015 The Court of Appeal has upheld the convictions of two cases concerning 10 wrongfully convicted Beoung Kak Lake (BKL) activists and one Buddhist monk.
In the first case, Tep Vanny's sentence has been upheld with a reduced fine of $375. Song Srey Leap, Kong Chantha, Phan Chhunreth, Po Chorvy, and Nong Sreng have received reduced sentences of 10 months in prison with a $375 fine. Nget Khun received a reduced sentence of 6 months in prison and a $250 fine.
In the second case, Heng Pich, Im Srey Touch, and Phoung Sopheap all had their convictions upheld with a reduced sentence of 10 months in prison and a fine of $375.Venerable Seung Hai had his conviction and sentence upheld.
International observers included the United Nations Office of the High Commissioner for Human Rights (UNOHCHR), UN Women in Cambodia, the European Union, and the German embassy.
Related Material:
Statement
Veng Sreng Anniversary: Still no Justice for the Dead, Missing and Injured
January 1, 2015

One year on from the state violence of early January 2014 which led to the deaths of at least four men and the hospitalization of dozens, the disappearance of a teenage boy and the wrongful imprisonment of 23 union leaders, activists and workers, we the undersigned civil society organizations condemn the lack of progress made in investigating these human rights violations and in punishing those responsible.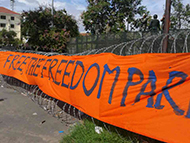 Statement
LICADHO Condemns Politically Motivated Allegations Against CNRP Officials and Supporters
December 22, 2014

Eleven officials and supporters of the opposition Cambodia National Rescue Party (CNRP) have recently been summonsed to appear for trial at the Phnom Penh Municipal Court on December 25, 2014, to answer charges of either leading or participating in an "insurrectionary movement." LICADHO strongly condemns the continued criminal proceedings on these politically motivated allegations and takes this opportunity to release a detailed timeline of events since July 15, 2014, showing the course of criminal proceedings against opposition party members and supporters alongside political negotiations between the ruling Cambodia People's Party (CPP) and the opposition CNRP.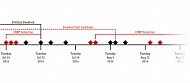 Briefing Paper
Freedom Park Violence, CNRP Arrests, and Political Deal: Timeline of Events July – November 2014
December 22, 2014
The violence that erupted at Freedom Park on July 15, 2014, led to a series of politically orchestrated events at the hand of the ruling Cambodian People's Party (CPP). The arrests of various officials from the Cambodia National Rescue Party (CNRP), including elected Members of Parliament (MPs), alongside ongoing political negotiations offers clear evidence that the judiciary is firmly within the hands of the CPP, once again raising serious concerns about the legitimacy and independence of Cambodia's legal system.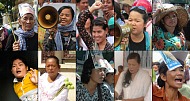 Photo Album
Free the 19: Spotlight on the Boeung Kak 10
December 8, 2014
On November 10 and 11, 10 Boeung Kak land rights activists were arrested while staging peaceful protests in Phnom Penh. By November 12, all had been sentenced to a year in prison. The imprisonment of the women occured during a wave of arrests which targeted not only land rights activists but also opposition party members and activist monks. Nineteen of those arrested remain in detention.
This photo album focuses on the 10 female Boeung Kak activists whose struggle for a just resolution to their land dispute has now lasted seven years. For five of them, this is their second prison term.
Statement
LICADHO Calls for the Release of the 19 Men and Women Wrongfully Imprisoned in Prey Sar's CC1 and CC2 Prisons
December 8, 2014

On Wednesday, Cambodia will celebrate International Human Rights Day. LICADHO takes this opportunity to recall attention to the 19 men and women who have been wrongfully imprisoned following a recent spate of arrests in Phnom Penh. LICADHO condemns these imprisonments and the continued abuse of the judicial system by the ruling party and well-connected individuals.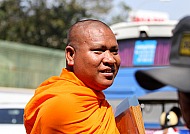 Livestream
Trial of Cambodian "Multi-media Monk" Venerable Sovath
November 24, 2014
Renowned human rights defender Venerable Loun Sovath will appear before the Phnom Penh Municipal Court in a flawed and protracted judicial process aiming to silence him. He has been charged with "incitement to commit a felony" for joining and supporting demonstrations by victims of land disputes throughout Cambodia.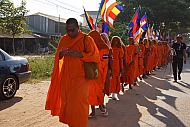 Statement
Groundless Charges against Venerable Loun Sovath Need to be Dropped
November 23, 2014

We, the 16 endorsing non-governmental organizations, urge the Cambodian authorities to drop the charges against renowned human rights defender Venerable Luon Sovath. He is facing trial on 25 November 2014 in a flawed and protracted judicial process that clearly aims to silence him. Venerable Sovath is internationally known as the "multi-media monk," and his efforts to voice the human rights abuses against vulnerable communities and human rights defenders in Cambodia have been recognized globally.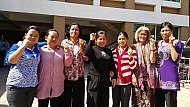 Statement
Civil Society Groups Condemn Arrest and Detention of the Boeung Kak Lake Seven
November 12, 2014

We, the undersigned civil society groups, condemn the arrest, detention, and conviction of the seven Boeung Kak Lake community representatives following protests outside Phnom Penh City Hall on the morning of November 10, 2014.
Briefing Paper
Legal Analysis of Cambodia's Draft Law on Unions of Enterprises
September 18, 2014
Today, CLEC and LICADHO release a legal analysis of the latest draft of the Law on Unions of Enterprises (Trade Union Law) obtained at the end of May, this year. As unions yesterday began a nationwide campaign for a $177 per month minimum wage, the draft Trade Union Law underlines the government's intent to interfere with and infringe upon union formation and activities.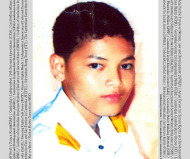 Statement
Rights groups call for an end to enforced disappearances in ASEAN
August 30, 2014

Today, on the occasion of International Day of the Victims of Enforced Disappearances, we, the undersigned organizations, urge ASEAN member states to end acts of enforced disappearances in Southeast Asia.
Cases of enforced disappearances continue to occur in the region. Victims include human rights defenders as well as ordinary citizens. Enforced disappearances also continue to target vulnerable groups, such as children. Three new cases of enforced disappearance that took place over the past year clearly illustrate this worrying pattern.
Statement
LICADHO Condemns the Violent Crackdown of a Peaceful March by Lor Peang Villagers
August 12, 2014

LICADHO condemns the violent dispersal of more than 50 villagers from Lor Peang community who had begun their 60km-long peaceful march from Kampong Chhnang province to Phnom Penh, calling for a resolution to their long-standing land dispute. Amid the violent dispersal, three villagers – including the husband of the main Lor Peang community representative Um Sophy – were arrested and sent to the provincial court.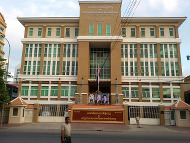 Statement
Abuse of the Court to Suit Political Agenda Must Cease and Charges against CNRP Members Should be Dropped
August 7, 2014

We, the undersigned organizations, condemn the flagrant abuse of the Cambodian legal system and the trumped up charges that have been used to manipulate the outcome of political negotiations between the Cambodia National Rescue Party (CNRP) and the Cambodian People's Party (CPP), following the latest arrests of three CNRP youth members, and urges all charges to be dropped.
Statement
Seven Opposition MPs Detained Amid Ongoing Restrictions on Peaceful Assembly
July 18, 2014

The Cambodian government must release all seven Members of Parliament (MPs) and one official of Cambodia's main opposition party, the Cambodia National Rescue Party (CNRP), and immediately lift the ban on public gatherings of more than 10 people, FIDH and its member organizations the Cambodian Human Rights and Development Association (ADHOC) and the Cambodian League for the Promotion and Defense of Human Rights (LICADHO) said today.