Topic
Judiciary & Rule of Law
Flash News
Supporters Petition for Tep Vanny's Release After One Year in Prison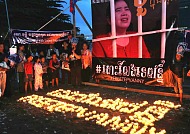 August 15, 2017 Supporters of land activist and human rights defender, Tep Vanny, have marked the one year anniversary of her unjust detention by calling for international help to secure her release.
A group from Boeung Kak Lake community delivered petitions to embassies and international organisations, starting Monday at the United Nations Office of the High Commissioner for Human Rights (OHCHR) and at six embassies of the Association of Southeast Asian Nations (ASEAN). They continued Tuesday at nine others, including the US, Japan, Germany and the European Union.
Tep Vanny was arrested a year ago and charged during a peaceful protest supporting five jailed human rights defenders who are now released on bail. She was subsequently convicted of "insulting a public official" and sentenced to six days in prison. While she was imprisoned, three long dormant cases related to other peaceful protests were re-opened in politically-motivated trials which fell far short of acceptable legal standards. She is currently serving a 30 month sentence. A further six month sentence is awaiting a final appeal decision and she is on trial on a third re-activated charge.
Representatives from Boeung Kak Lake will hold a candlelight vigil in the community along with NGOs and other civil society groups on Tuesday evening from 5pm to mark the anniversary and to call again on Cambodian authorities to release her.
Their call has been supported in a joint media statement endorsed by 65 national and international civil society organisations as well as in other joint statements and advocacy initiatives from international and regional NGOs.
Related Material:
Statement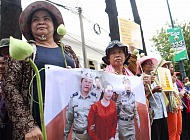 On the First Anniversary of the Grossly Unjust Imprisonment of Land Activist and Human Rights Defender Tep Vanny, CSOs Call for Her Release
August 15, 2017
Tep Vanny, one of Cambodia's most prominent land activists and human rights defenders, will have spent one year in prison on 15 August for defending her community and exercising her human rights. We, the undersigned, condemn her arbitrary imprisonment. We call for her convictions to be overturned, for all ongoing politically motivated and unsubstantiated charges against her to be dropped, and for her immediate release from prison.
Statement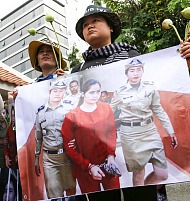 Civil Society Calls for Justice for Tep Vanny at Appeal Court
July 27, 2017
We, the undersigned, call on the Court of Appeal to overturn the unjust conviction of Ms. Tep Vanny on charges of intentional violence with aggravating circumstances based on her peaceful activism at a 2013 protest, for which she received a draconian sentence of two years and six months' imprisonment on 23 February 2017. The Court of Appeal will hear Ms. Tep Vanny's appeal against conviction tomorrow. On 15 August 2017, Ms. Tep Vanny will have spent one year in detention; her imprisonment is a clear attempt to silence one of Cambodia's most fearless and outspoken defenders of human rights ahead of the national elections in July 2018.
Document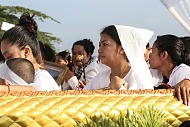 Joint Open Letter: Request to Create a Commission of Inquiry into the killing of Kem Ley
July 10, 2017
Ahead of the one-year anniversary of the killing of Kem Ley, we, the undersigned, reiterate our concerns regarding the apparent lack of progress in investigating this case, as well as the inadequate investigation and trial of Oeuth Ang, the only person yet convicted or charged in relation to Kem Ley's death. In light of the inadequacy of the investigation, we urge the Royal Government of Cambodia ("RGC") to establish an independent and impartial Commission of Inquiry, in line with international standards, to continue the investigation.
Statement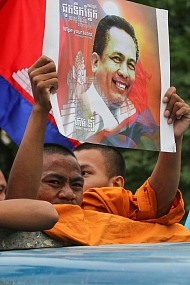 A Call for Justice: Civil Society Demands Independent Inquiry in Kem Ley Murder Case
July 8, 2017
One year after the murder of Kem Ley, we, the undersigned civil society groups, believe that justice has not yet been served for the late political analyst and the family, friends and colleagues he left behind.
The well-known political analyst and anti-corruption campaigner was shot dead at point blank range on 10 July 2016 while drinking coffee in a Phnom Penh petrol station. There has been no transparency in the murder investigation, and there are still many unanswered questions in the case.
Statement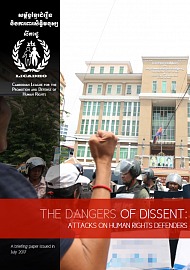 The Dangers of Dissent: Attacks on Cambodia's Human Rights Defenders
July 3, 2017
As Cambodia's human rights situation continues to backslide, exposing and speaking out against state-perpetrated abuses is ever more crucial. In the last two years, however, human rights defenders and other critical or independent voices have been among the main victims of Cambodia's fractious political situation.
In this latest in a series of briefing papers, LICADHO sets out threats facing those who stand up for human rights in today's Cambodia. Long-standing tactics used to silence human rights defenders – judicial harassment by a politicized court system; state-sponsored violence; and intolerance of peaceful protest – have been reinforced by new incapacitating laws and targeted digital surveillance. Although the examples presented in this paper are by no means exhaustive, taken together they provide a snapshot into the kinds of abuses that human rights defenders have been routinely subjected to in Cambodia over the last two years.
Statement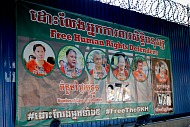 Cambodian and International CSOs Condemn Removal of Banners Calling for the Release of Human Rights Defenders
May 9, 2017
We, the undersigned Cambodian and international civil society organizations, condemn the removal by district and commune police authorities of banners calling for the release of six human rights defenders. Banners were removed from the offices of the Cambodian Human Rights and Development Association (ADHOC), the Cambodian League for the Promotion and Defense of Human Rights (LICADHO) and Mother Nature in Koh Kong's Smach Meanchey commune on 2 May 2017, as well as from three residences in Koh Kong province's Srae Ambel district on 3 May 2017.
Statement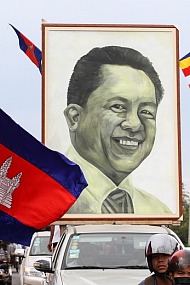 After Conviction, Civil Society Demands Independent Inquiry into Murder of Kem Ley
March 23, 2017
Three weeks after a four-hour trial hearing, the Phnom Penh Municipal Court today convicted Oeuth Ang – otherwise known as 'Chuob Samlab' – of the premeditated murder of prominent political analyst Dr. Kem Ley as well as illegal possession of a weapon under Articles 200 and 490 of Cambodia's Criminal Code. Presiding judge Leang Samnat sentenced Oeuth Ang to life imprisonment.
Despite compelling evidence that Oeuth Ang was the gunman who shot and killed Dr. Kem Ley, the lack of transparency in the investigation of Dr. Kem Ley's death, the brevity of the trial proceedings, and the failure to fully investigate motive, potential accomplices and the circumstances of Oeuth Ang's arrest, raise serious concerns about the adequacy of this criminal process. In light of the inadequacies in the investigation into Dr. Kem Ley's death, as well as in the trial proceedings, we, the undersigned civil society organizations, call for the establishment of an independent Commission of Inquiry into the circumstances of his murder, in accordance with international best practices.
Statement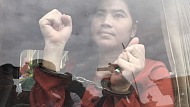 International and Cambodian Civil Society Condemns Continued Arbitrary Detention, Calls for an End to Judicial Harassment and Violence against Human Rights Defenders
March 5, 2017
We, the undersigned international and Cambodian civil society organizations, strongly condemn the brazen attacks carried out against Cambodian human rights defenders over recent weeks, in what appears to be a deliberate strategy by the Cambodian authorities to punish and deter any expression of dissent ahead of the upcoming commune and national elections, scheduled for June 2017 and July 2018 respectively.
Statement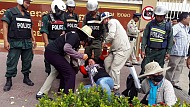 Tep Vanny Convicted Again as Para-Police Attack Supporters
February 23, 2017
We, the undersigned civil society groups, condemn today's unjust conviction and sentencing of Tep Vanny and the latest outrageous violence perpetrated by para-police against her supporters outside Phnom Penh Municipal Court.
Statement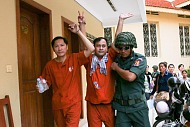 CSOs Call for the Immediate Implementation of the Decision of the UN Working Group on Arbitrary Detention
January 21, 2017
Two months after the UN Working Group on Arbitrary Detention's (WGAD) ruled that the ongoing detention of ADHOC staff members Lim Mony, Ny Sokha, Nay Vanda, and Yi Soksan, and NEC Deputy Secretary-General, Ny Chakrya is arbitrary, we, the undersigned civil society organizations, reiterate our call upon the Cambodian authorities to implement the decision of the WGAD and immediately release them. Nearly nine months after the five were first detained, Cambodia has taken no action to cease or remedy its unlawful treatment of the five, and remains in a continuing state of non-compliance with its binding legal obligations under the International Covenant on Civil and Political Rights (ICCPR). Our organizations condemn in the strongest terms the failure of the Cambodian authorities to implement the recommendations of the WGAD.
Audio Book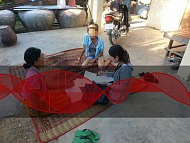 Break the Silence to End Impunity for Rape in the Cambodian Justice System
January 6, 2017
This audio book contains the edited highlights of two radio shows exploring how the Cambodian justice system responds to cases of rape. The shows were originally broadcast during the 2016 16 Days of Activism against Gender Based Violence Campaign. In the two clips, a young rape victim and the father of a rape victim describe their experiences of the Cambodian justice system and there is a discussion of the main findings of LICADHO's most recent report on rape "Getting Away With It – 2016 Update" which reviews the outcomes of cases investigated by LICADHO in 2015.
Statement
In Landmark Decision, UN Body Declares the Detention of Five Human Rights Defenders Arbitrary
December 18, 2016
FIDH, OMCT, CCHR, ADHOC and LICADHO welcome the recent Opinion adopted by the United Nations Working Group on Arbitrary Detention (WGAD) that recognises the arbitrary nature of the detention of human rights defenders Ny Chakrya, Ny Sokha, Yi Soksan, Nay Vanda, and Lim Mony. Our organisations call upon the Cambodian authorities to implement the Opinion of the WGAD by releasing the five human rights defenders immediately and providing them appropriate compensation.
Statement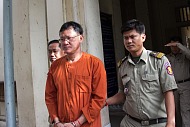 Civil Society Condemns Upholding of Conviction of Human Rights Defender Ny Chakrya
December 15, 2016
We, the undersigned civil society groups, condemn in the strongest terms the upholding of the unjustified conviction of the former Head of the Human Rights and Monitoring Section of the Cambodian Human Rights and Development Association (ADHOC) and current Deputy Secretary-General of the National Election Committee (NEC), Mr. Ny Chakrya, in a verdict handed down by the Court of Appeal today.
Statement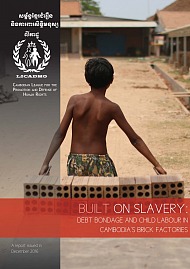 Built on Slavery: Debt Bondage and Child Labour in Cambodia's Brick Factories
December 2, 2016
On the International Day for the Abolition of Slavery, LICADHO publishes its report "Built on Slavery: Debt Bondage and Child Labour in Cambodia's Brick Factories" which presents evidence of the widespread use of contemporary forms of slavery in Cambodia's brick manufacturing industry. It finds that despite the existence of comprehensive and long-standing legislation criminalizing the use of debt bondage and prohibiting child labour, competent authorities are making no efforts to eradicate them and are in fact enabling their survival.