Topic
Judiciary & Rule of Law
Flash News
Tep Vanny Returned to CC2 Prison as Two Activists Convicted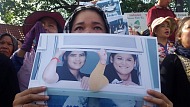 August 22, 2016 This morning, Boeung Kak Lake activists Tep Vanny and Bov Sophea were convicted of 'insulting a public official' relating to a peaceful Black Monday protest last week and sentenced to six days' imprisonment. Tep Vanny, facing pre-trial detention under charges of intentional violence which were brought last week relating to a 2013 protest, will be returned to Prey Sar's CC2 prison. Bov Sophea should be released later today.
After just 18 minutes of deliberation, following a ninety-minute trial, the trial judge Pech Vicheator unexpectedly altered their charge to 'insult of a public official' (Criminal Code Article 502) – announcing the change during the delivery of his verdict – and sentenced Tep Vanny and Bov Sophea to the maximum six days' imprisonment. After presenting a defense against the original incitement offences, lawyers were given no opportunity to defend against the altered insult charges, in a violation of the rights for adequate time and resources to prepare a defense.
On Friday, Tep Vanny was brought from provisional detention in CC2 prison to Phnom Penh Municipal Court for interview in relation to a protest outside Prime Minister Hun Sen's house in 2013 and subsequently charged with intentional violence. The protest in question ended in one of the most violent crackdowns against the community, leaving five citizens injured, including some with broken bones.
Related Material:
Statement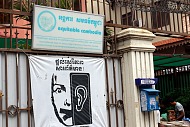 Legal Proceedings Against Equitable Cambodia Staff Members
August 22, 2016
Equitable Cambodia (EC), Cambodian League for the Promotion and Defense of Human Rights (LICADHO), and Center for Alliance of Labor and Human Rights (CENTRAL) are extremely disheartened by today's verdict against Eang Vuthy, Chheang Phea and Phen Kimsong. From the outset, it has been our position that there was no legal basis for this case. This was made clear during the trial hearing, when the prosecutor informed the trial judge during his closing remarks that there was no evidence to support the charge of defamation.
Statement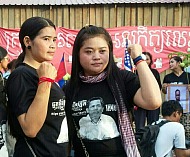 Civil Society Calls for Immediate Release of Boeung Kak Lake Activists
August 18, 2016
We, the undersigned civil society groups, demand the immediate release of two Boeung Kak Lake activists – Ms. Tep Vanny and Ms. Bov Sophea – who were charged and sent to provisional detention in Prey Sar's CC2 prison on 17 August 2016, in relation to their involvement in the "Black Monday" campaign. We also call on authorities to drop the spurious incitement charges against them, and allow for peaceful assemblies, such as those in support of the Black Monday campaign, as protected under Cambodian and international law.
Statement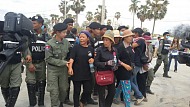 Civil Society Condemns Escalating Intimidation of Human Rights Defenders
May 10, 2016
Yesterday's detention of eight human rights workers and activists was an egregious violation of the right to freedom of expression in Cambodia, civil society groups said today. The detentions, which followed the pre-trial detention of four other rights workers and an election official last week, highlight an alarming surge in the Cambodian government's latest campaign of intimidation against civil society.
Statement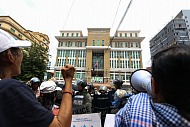 Civil Society Condemns Charging of Human Rights Defenders
May 2, 2016
We, the undersigned human rights and other civil society organisations, condemn in the strongest terms the politically-motivated charging of six human rights defenders from a Cambodian human rights group, the country's National Election Committee (NEC) and the United Nation's Office of the High Commissioner for Human Rights (UNOHCHR). The targeting of these individuals, five of whom were sent to pre-trial detention today, is the latest escalation in a far-reaching government assault on civil society ahead of upcoming local and national elections, and is a clear reprisal for support provided by rights workers in a politically-sensitive case.
Statement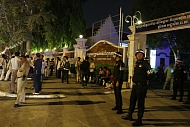 CSOs call upon authorities to immediately cease harassment of human rights defenders
April 29, 2016
We, the undersigned civil society organisations, strongly condemn the summonsing and interrogation of civil society members for conducting vital and legitimate activities to protect human rights. This amounts to an outrageous misuse of the Anti-Corruption Unit (ACU) as a political tool to attack and intimidate civil society.
Statement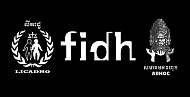 Cambodia: EU must demand an end to persecution of opposition during human rights dialogue
April 29, 2016
The European Union (EU) must use the upcoming human rights dialogue with Cambodia to demand that authorities stop the harassment, arbitrary arrest, and imprisonment of opposition MPs, members, and their supporters, FIDH and its member organizations, the Cambodian Human Rights and Development Association (ADHOC) and the Cambodian League for the Promotion and Defense of Human Rights (LICADHO), said today. This year's EU-Cambodia human rights dialogue is scheduled to take place from 2 to 4 May in Phnom Penh.
Audio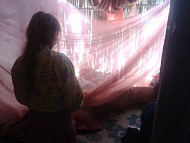 Getting Away With It: The Treatment of Rape in Cambodia's Justice System
March 7, 2016
Tomorrow is International Women's Day. To mark the event LICADHO is releasing a new audio book and summary audio clip titled Getting Away With It: The Treatment of Rape in Cambodia's Justice System. Both the book and the summary present evidence of the immense failure of the Cambodian justice system to properly investigate and prosecute cases of rape involving women and children. They provide details of multiple systemic flaws – corruption, discriminatory attitudes towards women and girls, misinterpretation of the law, and lack of resources – which, together, mean that many perpetrators of rape receive only very lenient punishment or go completely unpunished.
Statement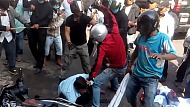 Boycott of Capitol Tours Following Brutal Suppression of Trade Union Activity Grows as 50 Civil Society Groups Declare Support
February 23, 2016
In response to the brutal attack on protesting workers on February 6, 2016, we, the undersigned trade unions, community representatives and civil society organizations (CSOs), declare our strong support for the ongoing boycott of Capitol Co. Ltd, also known as Capitol Tours, and call upon the general public to join the boycott in solidarity with the wrongfully dismissed Capitol employees, and the wider Cambodian trade union movement. Capitol Tours has relentlessly violated the labor rights and fundamental freedoms of its employees and we wish to unreservedly condemn the company's actions.
Statement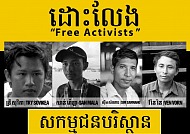 CSOs Declare Support for Mother Nature and Condemn Crackdown Against the Organization
February 15, 2016
In response to the latest unjust charges brought against three further members of the environmental NGO Mother Nature, we, the undersigned civil society organizations (CSOs), declare our support for Mother Nature, and condemn the Royal Government of Cambodia (RGC)'s crackdown on the organization and Cambodian civil society in general.
Document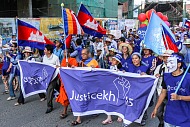 Joint Letter to US Secretary of State John F. Kerry
January 25, 2016
We, the undersigned Cambodian civil society groups, urge US Secretary of State John F. Kerry to call on the Royal Government of Cambodia to commit to upholding human rights and democratic obligations as a condition of strong and prosperous relations with the United States of America. During the Secretary of State's visit to Phnom Penh ahead of the US-ASEAN special summit at Sunnylands we request him to consider the numerous actions of the Cambodian government that clash with the fundamental values of the United States of America and are harmful to the rights of Cambodian citizens and the economic growth of Cambodia.
Photo Album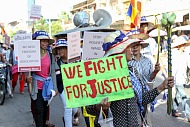 Thousands Demand Justice for Human Rights Day Celebrations
December 17, 2015
To celebrate International Human Rights Day (IHRD), about 10,000 people from rural and urban communities participated in 20 marches and events across the country from December 6 to December 10. These were organized by the informal network Friends of December 10th, which includes youth, land communities, associations, farmers, monks, and NGOs. On December 10, groups peacefully marched from various locations in Phnom Penh toward the Ministry of Justice to demand that the government resolve Cambodia's land conflict epidemic; reform the judicial system and release human rights defenders and activists; raise the minimum wage and respect labour rights; end state-sponsored violence; and respect freedoms of expression, association and peaceful assembly. This year's IHRD theme was 'Justice'.
Livestream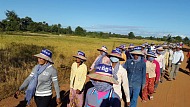 Groups Across Cambodia Celebrate International Human Rights Day 2015
December 9, 2015
From December 6 to December 10, groups across Cambodia are celebrating the 67th anniversary of IHRD under the theme of 'Justice'. Join us as we share events across the country and recap on events so far.
Report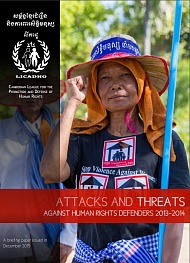 Attacks and Threats Against Human Rights Defenders 2013-2014
December 9, 2015
This briefing paper documents a non-exhaustive list of attacks and threats against human rights defenders in 2013 and 2014, as well as three key trends that emerged over the two years: an escalation in state-sponsored violence, the prevalence of human rights defenders silenced by the criminal justice system, and finally, the resistance and resilience shown by Cambodian human rights defenders as they continued to, and intensified, their calls for a more just Cambodia.
Statement
Thousands Set to Celebrate International Human Rights Day Across the Country
December 4, 2015
Thousands of Cambodians in 16 provinces will gather to celebrate the 67th International Human Rights Day (IHRD), culminating in a joint celebration in Phnom Penh on December 10. From December 6 onward, grassroots groups such as communities affected by land conflicts, youth networks, associations, and monks as well as unions and NGOs across the country will hold a series of celebrations under an overall theme of 'Justice'.