Topic
Women & Children Issues
Flash News
Free The 19-land activist, Ly Seav Minh, denied bail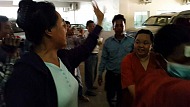 March 19, 2015 The Phnom Penh Municipal Court today denied a bail request for 'Free the 19' activist, Ly Seav Minh. Whilst today was originally scheduled for a trial, the judge agreed to hear a request for bail. After listening for about 20 minutes to arguments raised by the defense lawyers, the prosecutor and Ly Seav Minh herself, the judge denied bail after 5 minutes' deliberation and without providing any reasons.
Ly Seav Minh was arrested on November 18, 2014 and has been imprisoned under pre-trial detention ever since. She is charged with the offence of violence against the possessor of immoveable property (Land Law article 253) following a complaint filed by the Khun Sea Company, a well-connected company that has long sought to oust Ly Seav Minh and her family from their property. The complaint relates to events on April 29, 2013 but was only filed at court on September 5, 2014.
After leaving the courtroom today Ly Seav Minh said, "Today I feel very disappointed about court decision because I didn't get justice. But because I have all the support from community and NGO I feel strong and can continue to struggle for justice." Her trial was re-scheduled for 2pm on March 25, 2014. No reason was given for the postponement.
Related Material: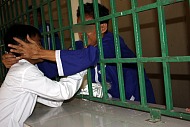 Statement
Long-term Solutions Necessary for the Welfare of Children whose Mothers Face Imprisonment
March 18, 2015

Following the recent release of 22 women from prison, LICADHO welcomes news that the Ministries of Justice and Interior will discuss longer term solutions to ensuring the welfare of children whose mothers face prison sentences.
LICADHO has recently conducted detailed research into the arrest and sentencing of mothers with dependent children and has found that the welfare of the child is rarely taken into account when a mother is sent to pre-trial detention or at sentencing. Many women interviewed told LICADHO that judges did not even ask them if they had children or not before sending them to prison.
Article
Cambodian Women on the Front Line: Six Stories of Resistance
March 13, 2015

To celebrate International Women's Day 2015 LICADHO, together with the Highlanders Association of Cambodia, organised a forum in Ban Lung, Ratanakiri for people affected by land grabbing. The forum was attended by over 100 representatives from eight different indigenous communities from within Ratanakiri and by land rights activists from other provinces around the country. The theme of the forum was the effect of land conflicts on women and the majority of the participants were women. The participants shared their experiences and ideas and many performed songs they had written telling the stories of their land disputes. We profile six of the women who attended the forum. Their stories illustrate the many hardships faced by women affected by land disputes as well as their remarkable spirit and resilience.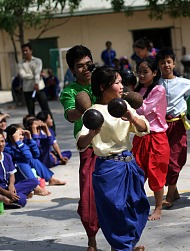 Statement
LICADHO Cancels its Long-Time International Women's Day Activities in Prisons due to Government Restrictions
March 5, 2015

It is with deep regret that LICADHO announces it will not conduct annual activities in Cambodian prisons this year for International Women's Day, which will be celebrated on March 8.
For over 15 years LICADHO has visited Cambodian prisons on International Women's Day (IWD) to provide care packages to female prisoners, female guards and to the children living in prison with their mothers. In the past 10 years, LICADHO has also coordinated special entertainment in prisons including speeches, games, traditional dancing and shows performed by the prisoners themselves. The activities have been well received by the prisoners and used to be supported by the prison authorities.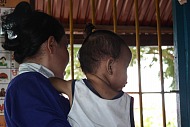 Statement
Release of Imprisoned Mothers and Pregnant Women Will Provide Some Relief but Does Not Address Underlying Issues
March 2, 2015

Late last week a committee headed by the Ministry of Justice announced that 16 incarcerated women, including 15 women with children and one pregnant woman, will be released before International Women's Day on March 8, 2015. The committee also stated that the government plans to release pregnant women and women with children every year.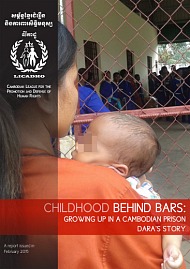 Report
Childhood Behind Bars - Growing up in a Cambodian Prison – Dara's Story
February 15, 2015
As of November 2014 there were 40 children between the ages of one month and almost four years living with their mothers in the Cambodian prisons monitored by LICADHO. Approximately half of them were born in prison and have never experienced life beyond the prison walls. Whilst there have been few detailed studies assessing the long-term impact of prison life on a child's development, it is clear that for some children early life behind bars can have devastating physical and psychological consequences and life in Cambodian prisons is no exception.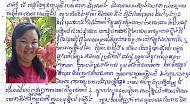 Article
Spotlight on the 19: Ly Seav Minh
January 28, 2015
Ly Seav Minh is 23 years old and lives with her mother, father and brother in Toul Kork district, Phnom Penh. The family has lived on the land for 35 years and despite possessing evidence of their lengthy occupation of the land, they have been involved in a long-running land dispute with the municipality and the Khun Sea Company, to which the municipality sold the land in 2010. Originally six other families were involved in the dispute but all have now accepted compensation payments and moved away after facing consistent intimidation from the company.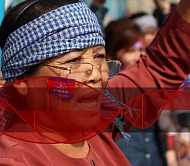 Audio Book
"Good Wives": Four Women Land Activists Tell Their Stories
January 8, 2015

This Khmer audio book contains two radio shows that were originally broadcast during the 2014 campaign, 16 Days of Activism against Gender Violence. The shows accompany the report "Good Wives": Women Land Campaigners and the Impact of Human Rights Activism, and include interviews with four female land activists who discuss how their lives have been changed by their activism and share their experiences of domestic violence and family breakdown.
Photo Album
Marching for International Human Rights Day 2014
December 15, 2014
To celebrate International Human Rights Day (IHRD) this year, 600 monks marched alongside land activists, associations, unions, rural and urban residents, and NGOs, on six national roads towards Phnom Penh from December 5 to December 10. This year's IHRD theme was "Respecting Human Rights Leads to Peace!" For the first time, indigenous communities in Ratanakiri province participated in IHRD by organizing their own march on National Road 7, which began on December 4.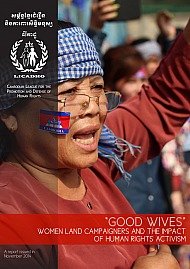 Report
"Good Wives": Women Land Campaigners and the Impact of Human Rights Activism
November 23, 2014
To mark the start of the global campaign, 16 Days of Activism against Gender Violence, LICADHO has published a report exploring how the lives of women campaigners are changed by their activism. It reveals the high price women pay, suffering not only serious economic and emotional impacts but also often domestic violence and family breakdown.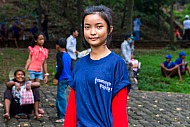 Video
A Child's Hope
November 20, 2014

Today marks the 25th anniversary of the Convention on the Rights of the Child (CRC). On October 15, 1992, the Cambodian government ratified the CRC, thus pledging to protect and promote four fundamental rights of children everywhere: "the right to survival; to develop to the fullest; to protection from harmful influences, abuse and exploitation; and to participate fully in family, cultural and social life".
On this day, LICADHO releases a video of Seng Sokhim, a 16 year old girl who actively promotes and protects the rights of children in her community in Bak Keng commune, Phnom Penh. Sokhim is part of LICADHO's Child Protection Groups (CPGs) network that operates on the grassroots level to empower children, youths, and adults to be children's rights advocates.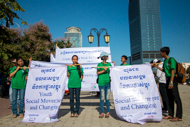 Photo Album
International Youth Day 2014
August 12, 2014
On August 12 International Youth Day, LICADHO is releasing profiles of youths who are part of our Child Protection Groups (CPGs) network, and actively promote child rights in their respective communities. LICADHO works with 73 CPGs, six of which represent youth and comprise 81 members across four target areas: Phnom Penh/Kandal, Preah Sihanouk, Koh Kong, and Siem Reap. This year, some youth CPG members from Phnom Penh/Kandal participated in International Youth Day celebrations in Phnom Penh organized by other youth networks. The theme was, "Youth Social Movement and Change." The group marched from Freedom Park to the National Assembly where youth CPG members submitted a statement calling on the government to promote child rights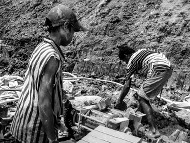 Statement
On World Day Against Child Labour, LICADHO Urges Authorities To End Root Causes of Child Labour
June 11, 2014

LICADHO will mark World Day Against Child Labour 2014 by organizing community events in two locations: Sangkat Dang Tung, Koh Kong; and Stung Haov district, Preah Sihanouk. The aim of these events is to raise awareness of child labour in various sectors and to encourage communities to raise critical questions, and offer suggestions to local authorities on how to end child labour. World Day Against Child Labour officially falls on June 12.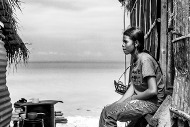 Video
Out of School and Working: The Story of an Evicted Girl
June 10, 2014

In the lead-up to World Day Against Child Labour, LICADHO is releasing a two-part digital photo essay series highlighting linkages between child labour and issues such as poverty, school drop-out rates and land eviction. The second video looks into the life of Kompieng , 16, who dropped out of school and started doing odd jobs to help support her family.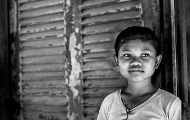 Video
Too Young to Work: The Life of a Former Shoe Factory Worker
June 9, 2014

In the lead-up to World Day Against Child Labour, LICADHO is releasing a two-part digital photo essay series highlighting linkages between child labour and issues such as poverty, school drop-out rates and land eviction. The first video looks into the life of Prum Dina, 14, who when she was 12 dropped out of school to work at a shoe factory.