Topic
Women & Children Issues
Audio Book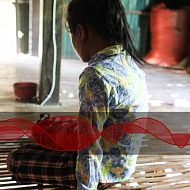 Unite against Impunity for Rape in Cambodia Radio Show
January 11, 2016

This audio book contains the edited highlights of a radio show that was originally broadcast during the 2015 16 Days of Activism against Gender-Based Violence campaign. The show, titled "Unite against Impunity for Rape in Cambodia" accompanied publication of the report "Getting Away With It: The Treatment of Rape in Cambodia's Justice System" and includes a discussion of the main findings and recommendations of the report as well as an interview with the father of a rape victim.
Photo Album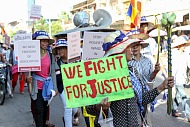 Thousands Demand Justice for Human Rights Day Celebrations
December 17, 2015
To celebrate International Human Rights Day (IHRD), about 10,000 people from rural and urban communities participated in 20 marches and events across the country from December 6 to December 10. These were organized by the informal network Friends of December 10th, which includes youth, land communities, associations, farmers, monks, and NGOs. On December 10, groups peacefully marched from various locations in Phnom Penh toward the Ministry of Justice to demand that the government resolve Cambodia's land conflict epidemic; reform the judicial system and release human rights defenders and activists; raise the minimum wage and respect labour rights; end state-sponsored violence; and respect freedoms of expression, association and peaceful assembly. This year's IHRD theme was 'Justice'.
Report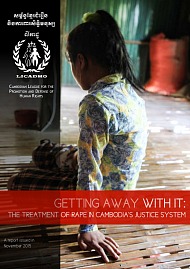 Getting Away With It: The Treatment of Rape in Cambodia's Justice System
November 29, 2015
Today, to mark the global campaign 16 Days of Activism against Gender-Based Violence, which began on November 25 and runs until December 10, LICADHO is publishing a new report Getting Away With It: The Treatment of Rape in Cambodia's Justice System. The report presents evidence of the immense failure of the Cambodian justice system to properly investigate and prosecute cases of rape involving women and children. It provides details of multiple systemic flaws – corruption, discriminatory attitudes towards women and girls, misinterpretation of the law, and lack of resources – which, together, mean that many perpetrators of rape receive only very lenient punishment or go completely unpunished.
Video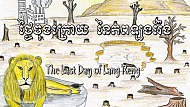 The Last Day of Lang Reng
November 20, 2015

Today marks the 26th anniversary of the United Nations Convention on the Rights of the Child (UNCRC). The Cambodian government ratified the CRC on October 15, 1992, thus guaranteeing the protection and promotion of the four main baskets of rights of children in Cambodia: "the right to survival; to develop to the fullest; to protection from harmful influences, abuse and exploitation; and to participate fully in family, cultural and social life."
In the spirit of the CRC, the Child Protection Group (CPG) network, with support from LICADHO, is releasing a storybook video: "The Last Day of Lang Reng." This fictional work voices the concerns of young Cambodians regarding the rapid deforestation and environmental destruction they see taking place across their country.
Flash News
Young people celebrate International Youth Day in Siem Reap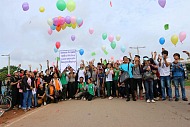 August 12, 2015 This morning, about 200 youths aged 18-25 celebrated International Youth Day in Siem Reap with a bike ride, balloon release and public forum under the theme 'Youth are important for development'.
About 200 more children joined the youths for the forum which also included traditional dancing, games and music. The question-and-answer session of the event revealed that the most common concerns among those present are poverty and economic opportunities, education and corruption in the education system, and youth engagement in such political, social and economic issues. Today's event was organised by about 10 youth groups from different districts and organisations across Siem Reap.
Opinion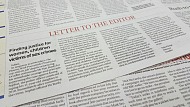 Finding justice for women, children victims of sex crimes
August 12, 2015
In response to the article "Provincial cop 'still on job' despite sentencing" (Phnom Penh Post, 11 August 2015), LICADHO commends Mr Yun Bunly for his remarkable courage and principle in pursuing the case against Korng Sophat, the police officer convicted of raping his 11-year old daughter in 2010. Immediately after committing the crime, Sophat offered Mr Bunly and his family a sizeable sum of money to drop the complaint against him. Instead the family chose to pursue the case through the courts but five years later they have been woefully failed by Cambodia's justice system.
Article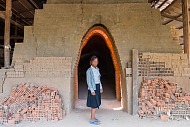 World Day Against Child Labour: The Plight of Child Labourers in Cambodian Brick Factories
June 12, 2015

To commemorate June 12 World Day Against Child Labour (WDACL) 2015, LICADHO is publishing personal testimonies of five children and one adult who work in Cambodian brick factories.
These testimonies provide a glimpse into brick factory child labour, which is considered to be one of the worst forms of child labour, and demonstrate the negative effects of brick factory child labour on children.
Video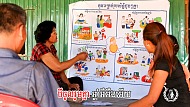 The Bird of First June
June 1, 2015

In the lead-up to June 1st, International Children's Day, LICADHO is releasing a music video, "The Bird of First June," advocating respect for the four baskets of children's rights, as set out in the United Nations Convention on the Rights of the Child (CRC): the right to survival, the right to protection, the right to development, and the right to participation. The video was conceptualized by youth Child Protection Group members in Phnom Penh, and the song was sung over a popular local soundtrack. The youth were inspired to make the video to raise awareness amongst children of their basic rights, and to encourage adults to take care of children.
Statement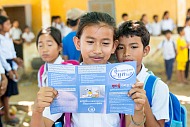 LICADHO Urges Government to Support Child Rights and to Protect Youth in Prisons
May 31, 2015

LICADHO's Children's Rights Office (CRO), in partnership with the Child Protection Group (CPG) network, will celebrate International Children's Day 2015 in several locations. On 28 May, early celebrations took place in Dangkor Middle School, Phnom Penh. On 1 June, the official date of International Children's Day, celebrations will take place in the morning (8:30am-11:00am) at Sangkat Norkor Thom, Siem Reap, Sal Mohorsrop Theater, Koh Kong, and at Build Bright University in Sihanoukville, Preah Sihanouk. At these locations, the CRO and CPGs will organize public forums and interactive theatre performances concerning child rights, and help distribute social assistance packages to the families of vulnerable children and youth. Approximately 2,350 people are expected to attend the celebrations.
Statement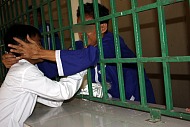 Long-term Solutions Necessary for the Welfare of Children whose Mothers Face Imprisonment
March 18, 2015

Following the recent release of 22 women from prison, LICADHO welcomes news that the Ministries of Justice and Interior will discuss longer term solutions to ensuring the welfare of children whose mothers face prison sentences.
LICADHO has recently conducted detailed research into the arrest and sentencing of mothers with dependent children and has found that the welfare of the child is rarely taken into account when a mother is sent to pre-trial detention or at sentencing. Many women interviewed told LICADHO that judges did not even ask them if they had children or not before sending them to prison.
Article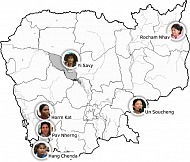 Cambodian Women on the Front Line: Six Stories of Resistance
March 13, 2015

To celebrate International Women's Day 2015 LICADHO, together with the Highlanders Association of Cambodia, organised a forum in Ban Lung, Ratanakiri for people affected by land grabbing. The forum was attended by over 100 representatives from eight different indigenous communities from within Ratanakiri and by land rights activists from other provinces around the country. The theme of the forum was the effect of land conflicts on women and the majority of the participants were women. The participants shared their experiences and ideas and many performed songs they had written telling the stories of their land disputes. We profile six of the women who attended the forum. Their stories illustrate the many hardships faced by women affected by land disputes as well as their remarkable spirit and resilience.
Statement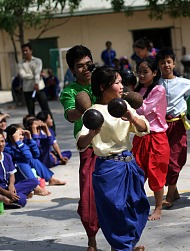 LICADHO Cancels its Long-Time International Women's Day Activities in Prisons due to Government Restrictions
March 5, 2015

It is with deep regret that LICADHO announces it will not conduct annual activities in Cambodian prisons this year for International Women's Day, which will be celebrated on March 8.
For over 15 years LICADHO has visited Cambodian prisons on International Women's Day (IWD) to provide care packages to female prisoners, female guards and to the children living in prison with their mothers. In the past 10 years, LICADHO has also coordinated special entertainment in prisons including speeches, games, traditional dancing and shows performed by the prisoners themselves. The activities have been well received by the prisoners and used to be supported by the prison authorities.
Statement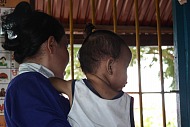 Release of Imprisoned Mothers and Pregnant Women Will Provide Some Relief but Does Not Address Underlying Issues
March 2, 2015

Late last week a committee headed by the Ministry of Justice announced that 16 incarcerated women, including 15 women with children and one pregnant woman, will be released before International Women's Day on March 8, 2015. The committee also stated that the government plans to release pregnant women and women with children every year.
Report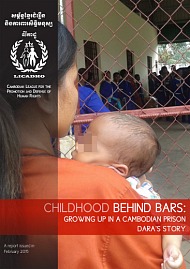 Childhood Behind Bars - Growing up in a Cambodian Prison – Dara's Story
February 15, 2015
As of November 2014 there were 40 children between the ages of one month and almost four years living with their mothers in the Cambodian prisons monitored by LICADHO. Approximately half of them were born in prison and have never experienced life beyond the prison walls. Whilst there have been few detailed studies assessing the long-term impact of prison life on a child's development, it is clear that for some children early life behind bars can have devastating physical and psychological consequences and life in Cambodian prisons is no exception.
Article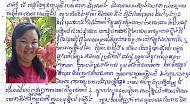 Spotlight on the 19: Ly Seav Minh
January 28, 2015
Ly Seav Minh is 23 years old and lives with her mother, father and brother in Toul Kork district, Phnom Penh. The family has lived on the land for 35 years and despite possessing evidence of their lengthy occupation of the land, they have been involved in a long-running land dispute with the municipality and the Khun Sea Company, to which the municipality sold the land in 2010. Originally six other families were involved in the dispute but all have now accepted compensation payments and moved away after facing consistent intimidation from the company.