Flash News
Opposition Senator Convicted, Sentenced to Seven Years for Facebook Video
Published on November 7, 2016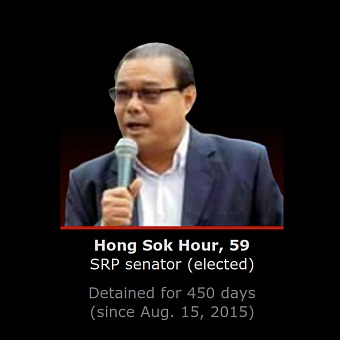 Enlarge this picture
As of November 7, 2016.
This afternoon, marking his 450th day in jail, Phnom Penh Municipal Court convicted opposition senator Hong Sok Hour of forgery and incitement charges, handing down a seven-year prison sentence.
In August 2015, Hong Sok Hour was charged with forgery of public documents, use of forged public documents, and incitement to commit a crime after posting a video containing images of an altered version of a reproduction of the 1979 treaty between Cambodia and Vietnam on Facebook. During his trial, which began in October 2015 and resumed just two weeks ago after more than a year's postponement, Hong Sok Hour's defence lawyers were prevented from publicly presenting exculpatory evidence by trial judge Ros Piseth. He has now been detained in CC1 prison since his arrest in August 2015 by special forces on the orders of Prime Minister Hun Sen.
Exiled opposition president Sam Rainsy has also been charged as an accomplice in the same case, but not brought to trial.