Article
Detained Sambok Chap villagers not forgotten at Prey Sar Prison
Published on September 7, 2006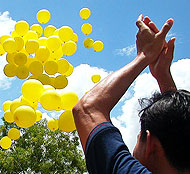 Family members released balloons symbolizing their demand to free the three detained men
Wednesday September 6, 2006 marked the three-month anniversary of the detention of two villagers - Chan Ra and Chhen Sovan - from Sambok Chab village and Hem Chhun, a journalist from Khmer newspaper Samrek Yuthetor (Scream for Justice). The three had been arrested and detained in connection to the Sambok Chab eviction which, on June 6 2006, culminated in an excessive display of force by the authorities to empty the village.
Assembling inside a pagoda nearby Phnom Penh's Prey Sar prison, family members of the three men, surrounded by over 200 supporters, spoke to the media and the crowd. In grief, the family members pleaded for the King, and the King-Father and Queen-Mother to free their loved ones. They reiterated the innocence of the three men and their wrongful detention by the Phnom Penh municipal authorities. They also asked human rights organizations keep lobbying the government and the municipal court for their release.

Guards blocked the road to Prey Sar prison with a barbed wire fenceThe family members and supporters later walked towards the front gate of the prison, hoping to release balloons to symbolically demand the freedom of the three men. However prison guards barricaded the road to the prison with a barbed wire fence, stopping the crowd before it could reach the prison. Guards refused to let the crowd near the outside walls of the prison and also prevented the family members from paying a visit to their sons inside the prison.
The crowd returned to the pagoda after releasing the balloons in front of the barricade to receive a blessing from the monks.
Within the last year there has been a striking increase in land disputes within Cambodia. The authorities continue to misuse the judicial system to threaten communities with arrest and imprisonment, and to use excessive force -- including through the deployment of military -- during evictions. Thousands of landowners and occupiers are forcefully displaced, and often reduced to destitute living conditions without adequate food, water, shelter, and health, education and other services.
An unfortunate by-product of the land grabbing issue is those innocent villagers who are detained by the authorities for trying to protect their land. Since beginning of 2006, LICADHO counted 123 individuals detained in relation to land disputes throughout Cambodia; thirteen still remain imprisoned.