Article
30 Land Protestors Arrested in Clash with Cambodian Military Police
Published on August 24, 2009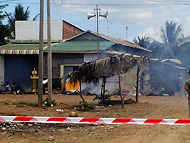 Protestors burn car tires in an attempt to blockade their homes
On July 24, 2009, 30 protestors were arrested in connection with a land dispute in Kbal Spean Village, Poipet Commune, Poipet City, Banteay Meanchey Province. The day before, 50 armed military and police officers had escorted court prosecutor Tan Sei Hak, investigating judge Ang Meal Tei and court officials to enforce an eviction notice by blockading the area and surrounding the houses. In response, residents barricaded their houses and set fire to car tires in attempt to defend their homes. Police managed to break the dead lock by using water cannons and an excavator to level the houses.
Among those arrested were Mong Puthik, the Banteay Meanchey branch office director of the NGO Independent Democratic Informal Economy Association (IDEA), and his two colleagues Uk Vanna and Sem Thean. They had been monitoring the protest from about 50 meters away, wearing shirts clearly printed with the words "Human Rights Monitor." Commune council member Kong Rithy of the opposition party SRP was also apprehended by mixed forces after driving across the blockaded area to greet court officials on the other side.
On July 25, 25 of the protestors were charged with attempted murder, attempted destruction of property, and incitement to commit a crime. Another 5 people, including IDEA staff members and the SRP commune council member, were charged with causing a fire, defamation, and incitement to commit a crime.
The disputed land had been bought by Oun Sok and Pon Ra, who had been living there since 1999. In 2001, Heng Meng Ly, Theng Chanthan, and businessman Touch Sovan Phally sued the couple in the Banteay Meanchey Court, accusing them of stealing the land. On November 20, 2008, the Supreme Court granted ownership to Touch Sovan Phally with a final eviction notice being issued on June 3, 2009.
On July 30 LICADHO and other human rights NGOs submitted letters to the Banteay Meanchey Court calling for their release. In response to the intervention letters 28 of the protestors were released on bail, although Mong Puthik of IDEA and SRP council member Kong Rithy remained in detention.
On August 14 the Banteay Meanchey Court at an open hearing granted Mong Puthik and Kong Rithy bail and upon thier release were welcomed by a group of about 50 IDEA activists, family members and NGO workers. The court has not yet set a date for the trial.
LICADHO condemns the use of armed military and police to enforce evictions, and denounces the use of criminal charges and arrests to intimidate protestors and human rights monitors.