Article
Cambodian Teacher Convicted of Defamation in Land Dispute with School Principal
Published on December 8, 2009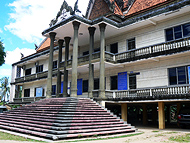 Prey Veng Provincial Court
The Prey Veng provincial court has found Neak Loeung Secondary School teacher Chin Rithy guilty of defaming the school's principal following a land dispute. The November 11, 2009, decision imposed a fine of 5 million riels (USD$1250) and ordered Chin Rithy to pay 5 million riel in compensation to the principal, Youen Sovuthy.
The defamation charge stemmed from a complaint filed by Chin Rithy to the Provincial Education Department on April 30, 2009, accusing Yoeun Sovuthy of selling school land to fellow teacher Pang Samet. Chin Rithy is director of the Prey Veng Cambodian Independent Teachers Association (CITA), a group which also disputed the land sale.
The 3-hour trial was held on November 5, 2009, and was attended by 15 CITA members, including CITA president, Rong Chhun, and other NGOs supporting Chin Rithy.
Dispute background
The school is built on land which had been previously used as a military base. Following the fall of the Khmer Rouge, provincial authorities designated half of the 17,640m2 plot for the construction of a secondary school. The remainder of the land was provided to teachers and residents to build temporary homes in 1987. Due to the high number of residents on the land, authorities have allowed them to occupy the land ever since.
In 1995, a family rented an eastern part of the land from the former school principal and built a house on the plot. Yoeun Sovuthy was the deputy school director at the time. In 1998, the family moved and sold the house to Pang Samet.
In 2000, Yoeun Sovuthy was promoted to school director. Chin Rithy claimed that, following Yoeun Sovuthy's appointment as principal, he asked Pang Samet to build a 3.5m x 6m chicken cage close to the school building to house chickens belonging to a high-ranking Education Department official. Under these auspices, Pang Samet extended the wooden fence of his house closer to the school building. Meanwhile, Pang Samet continued living in the house he purchased from the family in 1998.
In mid-April 2009, Yoeun Sovuthy built a fence around the school, despite CITA's opposition to the plan. The dispute centered over the location of the fence. It did not encompass Pang Samet's house and 128.4m2 plot of land, which he now claimed was a gift from his mother-in-law in 1994. Pang Samet continued to plant trees and set chicken cages on the disputed land, despite not having a proper land title.
On April 30, 2009, Chin Rithy filed a complaint with the Ministry of Education in Prey Veng accusing Yoeun Sovuthy of illegally selling school property to Pang Samet.
On May 1, 2009, provincial education department officials began an investigation into the dispute. Negotiations failed to produce any resolution, as the school director maintained that the land belonged to Pang Samet, and that the school fence could not encompass it.
Legal Proceedings
On May 4, 2009, Yoeun Sovuthy filed a complaint to the provincial court, accusing Chin Rithy of defaming him.
On August 17, 2009, the hearing was convened before an audience of Chan Rithy supporters, including CITA members, CITA president, Rong Chhun and NGO representatives. However the hearing was abruptly postponed as the Deputy Prosecutor handling the case had been appointed to a new position at the Supreme Court in Phnom Penh. The case was eventually transferred to a new prosecutor and the trial was held on November 5, 2009.
On November 25, 2009, Chin Rithy lodged an appeal against the court decision.
Attacks on CITA
This is not the first time that the CITA, which is traditionally affiliated with the main opposition Sam Rainsy Party, have come under attack from the government in recent years: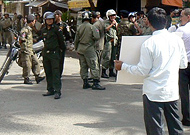 CITA members confronted by riot police during their march[[bull]] On October 5, 2009, riot police dispersed a peaceful march of 70 CITA members in Phnom Penh marking World Teacher Day. The teachers were displaying banners calling for increases in teacher salaries, which currently range between 280,000 to 300,000 riel ($70 to $75) a month.
• In January 2009, Treal Secondary School Teacher (Kompong Thom province) and CITA member, Sun Thun was forcibly transferred from his position after he spoke out about alleged corrupt practices undertaken by his fellow teachers.
• On June 21, 2006, Wat Mohamontrey Primary School teacher and CITA member, Em Pun Ny, suffered head injuries after being beaten with a stone. She had been distributing information regarding a proposed CITA strike to demand increased salaries and improved working conditions. Em Pun Ny claimed that she was attacked by Yim Sokha, deputy director of the District Education Department, and filed a complaint to the Phnom Penh municipal court. To date, no progress has been reported in the case.
• In October 2005, CITA President Rong Chhun was arrested and charged with defamation and incitement in connection with a press statement signed by him and three other members of the Cambodia Watchdog Council, a coalition of trade unions and associations. The statement related to the Cambodian government's signing of the Cambodia-Vietnam border treaty. He was released on bail on January 17, 2006.
LICADHO reiterates its call to the courts to stop resorting to the use of groundless legal charges against critics of public figures. The illegal selling of public stand land, such as school grounds, remains a serious issue which should be dealt with.
Topics & Tags
Related Material