Article
Cambodia Monthly News Summary - August 2010
Published on September 1, 2010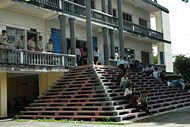 Sokchoeun's supporters wait outside the court house during the trial
Cambodia-Thai Diplomatic Relations Improved
25 August 2010. After a longstanding diplomatic deadlock Cambodia and Thailand made steps towards normalizing their diplomatic relations, by reinstating their respective ambassadors in each country. The announcement comes after the resignation of fugitive former premier Thaksin Sinawatra as an economic adviser of the government of Cambodia.
Thailand had initially recalled its ambassador after Thaksin was appointed as an economic adviser in November 2009, prompting Cambodia to do the same. The Thai ambassador arrived back in Phnom Penh on 24 August, 2010 and Cambodian ambassador arrived in Bangkok on 26 August, 2010.
LICADHO Staff Member Convicted of Disinformation and Sentenced to 2 years Imprisonment
30 August 2010. The trial for LICADHO staff member, Leang Sokchoeun was held in Takeo provincial court. Leang was charged with disinformation for allegedly distributing anti-government leaflets in January 2010.
The trial lasted four and a half hours, as LICADHO staff members and representatives of human rights NGOs, unions, students, medias and UN watched the hearing and rallied outside of the court in support of Leang.
At 3:30pm the court announced its verdict, finding Leang together with Tach Vannak and Tach Le guilty and sentenced each of them to two years imprisonment and fining them two million riel (USD$500) each. A fourth person, Tach Kong Phoung was tried in absentia and sentenced to three years imprisonment and fined six million riel (USD$1500). Mr. Leang lost consciousness after he heard the announcement and was later taken to hospital.
International human rights NGOs including Human Rights Watch, OMCT, FIDH, and Amnesty International issued a joint statement condemning the verdict as baseless and appealing for his immediate unconditional release.
President of Human Rights Party's Parliamentary Immunity to be Removed
30 August 2010. President of the Human Rights Party (HRP), Kem Sokha, was summoned by Phnom Penh municipal court to appear before the court on September 6, 2010 concerning a complaint lodged by his former staff members when he was a president of NGO Cambodian Center for Human Rights (CCHR). Sources from the court confirmed that a letter from the court had been sent to the National Assembly requesting they strip Kem Sokha of his parliamentary immunity.