Article
International Human Rights Day 2010
Published on December 10, 2010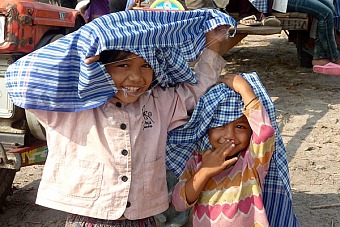 Enlarge this picture
International Human Rights Day 2010 at Banteay Srey district, Siam Reap province
More than 20,000 Cambodians celebrated the 62nd International Human Rights day on Dec 10th, 2010.
In 65 events across the country, civil society groups including trade unionists, students, farmers, fishermen, musicians, youths, entertainment workers, tuk tuk drivers, motorcycle drivers and NGO workers celebrated IHRD within their communities.
Throughout Cambodia, the celebrations were held under the common theme of 'We all want justice and sustainable livelihoods!' and a common symbol representing the role of human rights defenders in Cambodia, the blue Kramar.
IHRD is celebrated every year on December 10, marking the day that the UNDHR was signed in 1948. Since then, the Declaration has been and continues to be a source of inspiration for national and international efforts to promote and protect human rights.
IHRD aims to promote a widespread knowledge and understanding among people of what their rights are and how they can be defended; the celebrations serve as a reminder of the ongoing human rights struggles which continue to affect societies and communities around the world. IHRD bears witness to and highlights pervasive human rights abuses, as well as standing as a call for action. They mark an opportunity for civil society, governments, international organizations and citizens themselves to highlight their efforts in securing recognition and observance of human rights principles.
With the help of Friends of December 10, an informal group of individuals working to support and assist local initiatives to celebrate IHRD, civil society groups all over Cambodia celebrated local achievements made in human rights. Events also focused on the many human rights issues still facing Cambodian citizens, including exploitation of land and natural resources; restrictions to the freedoms of expression, association and assembly; and violations of labor rights.
This year, 21,227 people participated in IHRD events across 19 provinces, marking the highest number of IHRD participants in Cambodia to date. Celebrations included:
• A march of over 3,000 people in Phnom Penh, including students, factory workers, land activists, NGO workers, trade unionists and civil servants.
• A concert in Siem Reap, attended by over 1,000 people,
• Numerous awareness-raising workshops held within and between communities across Cambodia.
The growing awareness and popularity of IHRD in Cambodia was mirrored in the extensive media coverage. 5 radio stations, 3 TV channels, 2 foreign language newspapers and 2 local newspapers covered IHRD events, as well as comments from organizers, community representatives and activists.