Flash News
Mother Nature Activists Arrested Filming Suspected Sand Smuggling
Published on September 13, 2017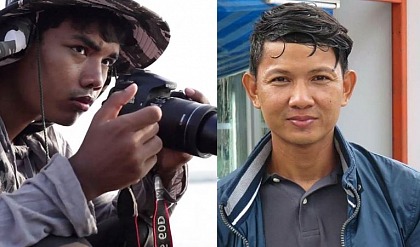 Enlarge this picture
Doem Kundy and Hun Vannak. Credit: Mother Nature Cambodia
Two activists from the Mother Nature environmental group, arrested while filming suspected sand smuggling activities in Koh Kong province, have been charged on suspicion of violating privacy and incitement to commit a felony. Dem Kundy and Hun Vannak were arrested in Kiri Sakor district Tuesday – just two days after Mother Nature posted an online video highlighting potential smuggling of silica sand to Taiwan.
The video has been viewed more than 950,000 times on Facebook. The group has repeatedly sought to expose discrepancies in trade figures indicating large scale sand smuggling to several countries including India and Singapore.
If convicted of the two charges, the activists face up to two years in prison and maximum fines of six million riel (US$1,500) under article 495 (incitement to commit a felony) and article 302 of the Criminal Code (unauthorized recording of a person's image).
Three other Mother Nature activists were arrested while campaigning against illegal sand dredging in August 2015 and sentenced to 18 months in prison. The group's co-founder Alejandro Gonzalez-Davidson, a Spanish national, was arrested and deported in February 2015.
50%
0%
33%
17%