Human Rights Education Office

empowering people from the village level and up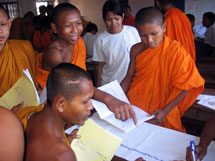 Go to Photo AlbumBecause of the turmoil of Cambodia's recent history and a succession of repressive regimes, many Cambodians have a limited understanding of their human rights. The Human Rights Education Office works to teach respect for individual rights and to promote a society free from violence.

Since 1992, LICADHO has worked to raise the awareness of human rights and what those rights mean for ordinary citizens. While there remains a need to build general awareness, LICADHO is currently trying to advance the human rights situation in Cambodia by focusing on advocacy and training.
LICADHO's Solution
Targeted group training
These specialized three-day courses target key groups in Cambodian society, most often police, monks, civil servants, commune councils and upper secondary school students. With course material tailored for different audiences, these intensive sessions intend to educate target groups of approximately 20 people about human rights and their responsibilities in upholding those rights. While training of community groups is provided free of charge to participants, non-government organizations and international organizations can also request LICADHO's three-day courses. Each year, LICADHO conducts 12 targeted training courses in each of the provinces LICADHO works in, educating between 500 and 900 participants a month.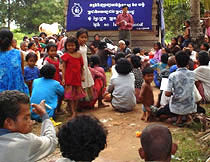 Community members participating in a Human Rights dissemination session
Facilitating community discussions
At the village level, LICADHO provides half-day education sessions to groups of approximately 50 people. An overview of human rights is presented to the group and discussion of local problems is encouraged. The large numbers of women and young people participating in these community courses indicates the ongoing need for such forums.

When local issues are identified, the group discusses possible solutions, and LICADHO's provincial coordinator and Monitoring Office assist communities as they try to resolve problems. With more than 1,000 participants each month, community courses also establish an informal network of citizens who can assist victims and report human rights abuses to LICADHO or other relevant organizations. This mobilization and empowerment at the village level is bringing about social change and forcing the government to respond.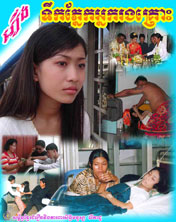 Read LICADHO's educational photo-novel 'Tears of the Victim'
Disseminating up-to-date on human rights
The human rights situation in Cambodia is always changing. Therefore, each year LICADHO conducts four training sessions for the trainers themselves, updating their knowledge of human rights trends and improving their teaching techniques. Regular reviews of training manuals help identify which teaching tools need to updated to better suit the community.
Mainstream human rights in education
LICADHO is currently providing technical assistance to a Ministry of Education project which aims to incorporate human rights issues into the curriculum of Cambodian schools.
LICADHO training helps end domestic violence
In March 2002, one of LICADHO's Human Rights Education trainers was conducting a dissemination session in Kampong Chhnang province when the subject of domestic violence arose. The President of LICADHO was present and began talking about gender, human dignity, and equal rights between men and woman. After her talk, as she led a brainstorming session among the participants, a middle-aged man named Sam Oeun raised his hand.

He stood up and said, "I used to be violent and beat my wife almost every day, even for small reasons, like if I returned from work and the food hadn't been cooked yet, or if something in the house had been lost, or if I asked her for some money and she didn't give it to me. I beat my wife most often when I was drunk. I also beat my children when they didn't follow my orders."

However, after previously attending a three-day LICADHO training course, "I stopped beating my wife and children, because I became aware that my wife and children have the same human dignity that I have. They are not my possessions, like a tool or an animal. I also learned that beating my wife and children is a crime that can be punished." Sam Oeun continued, "Committing acts of violence against one's wife is equal to destroying the future of our family and children; therefore I would like to beg all husbands, please stop beating your wife and children."

According to a recent report from LICADHO's trainer in Kampong Chhnang, the village chief in Sam Oeun's village confirmed that Sam Oeun has now stopped beating his wife and children, and even helps to educate his neighbors about human rights, especially domestic violence.